Sunny, the Shelter Dog Who Once Had 48 Hours Left to Live, to Play Sandy in the Broadway Revival of 'Annie'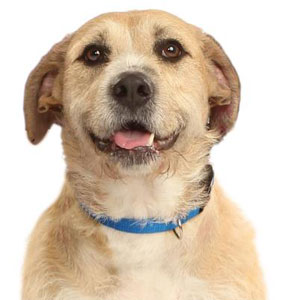 Here's a story that I promise will make you happy. Sunny, a shelter dog from Houston who had been given only 48 hours to live, is the new Sandy in the Broadway revival of Annie.
William Berloni, an animal trainer and a 2011 Tony Honor recipient, found Sunny while he was searching for a dog to play Sandy. When he saw the the 2-year old terrier-mix was about to be put down, he adopted her in an effort to help her find a good home.
He told the AP that he didn't think she was right for Sandy, but when he finally met her, his mind was changed. "I met her and went, 'Wow, she could really be a candidate. She's going to be fantastic."
But that's not where the good news ends. The producers of Annie and PEDIGREE® have teamed up to help raise $1 million to help dogs find loving homes. For each Annie the Musical ticket sold through December 31, 2013, PEDIGREE will donate $2, up to $1 million, to PEDIGREE Foundation, a nonprofit organization dedicated to helping dogs find loving homes. In addition, co-branded merchandise will be available at the theatre and online with 100 percent of the proceeds going to PEDIGREE Foundation.
Since its 1977 debut, all productions of Annie on Broadway have starred real-life shelter dogs as Sandy, Annie's adopted and loyal companion, with all of the dogs discovered and trained by Berloni. Continuing that tradition, Berloni will train Sunny and her understudy, Casey, who was rescued from a PEDIGREE-sponsored shelter near the brand's hometown in Nashville, Tennessee.
"We are extremely excited to have the PEDIGREE Brand as our partner because of our shared interest in finding homes for shelter animals," Annie Producer Arielle Tepper Madover said. "Annie is about a girl and her dog desperately seeking a place to call home, and we're hoping Sunny's story inspires audiences to consider adopting their next pet."
Annie opens November 8 at the Palace Theater (1567 Broadway at 47th Street).  Previews begin October 3.  Tickets are on sale now at Ticketmaster.com. For more information on The PEDIGREE® Adoption Drive and other brand initiatives, visit www.pedigree.com or www.facebook.com/pedigree.
Latest Videos
http://www.dailyactor.com/wp-content/uploads/2014/08/bryan-cranston-emmy-award-speech.jpg
Watch: Bryan Cranston's Emmy Award Speech: "I love to act. It is a passion of mine and I will do it until my last breath."
The Emmy Awards weren't the most exciting awards show this year but with Bryan Cranston winning for Outstanding Actor in a Drama for Breaking Bad, we at least got to hear one heck of a fantastic acceptance speech. "I was a kid who always looked for the shortcut," he said. "I did happen to stumble […]
http://www.dailyactor.com/2014/08/watch-bryan-cranston-and-aaron-pauls-emmy-award-speeches/
http://www.dailyactor.com/wp-content/uploads/2014/08/audition-tapes-gerard-butler-aud.jpg
Audition Tapes: Gerard Butler Auditions for 'Dracula 2000′
Check out Gerard Butler auditioning for the role of Dracula in the movie, Dracula 2000. The film, about a group of thieves who break into a chamber expecting to find paintings, but instead find Dracula himself, also starred Christopher Plummer, Jonny Lee Miller and Nathan Fillion. Bulter has some sweet rock star hair, huh?
http://www.dailyactor.com/2014/08/audition-tapes-gerard-butler-dracula-2000/
http://www.dailyactor.com/wp-content/uploads/2014/08/interview-matt-dillon-and-carla.jpg
Interview: Matt Dillon and Carla Gugino Talk 'Wayward Pines'
FOX has a new limited-series that's got a terrific cast and interesting premise. It's called Wayward Pines and stars Matt Dillon, Carla Gugino, Melissa Leo, Toby Jones, Terrance Howard, Juliette Lewis, Tim Griffin and Shannyn Sossamon. The show, whose pilot was directed by M. Night Shyamalan, is about a Secret Service agent (Dillon) goes to […]
http://www.dailyactor.com/2014/08/interview-matt-dillon-carla-gugino-wayward-pines-comic-con/
http://www.dailyactor.com/wp-content/uploads/2014/08/interview-wayward-pines-stars-ti.jpg
Interview: 'Wayward Pines' Stars Tim Griffin and Shannyn Sossamon on the Show, Their Characters and More!
Griffin and Sossamonwere at Comic-Con where they sat in on some roundtable interviews to talk about the show.
http://www.dailyactor.com/2014/08/interview-wayward-pines-stars-tim-griffin-shannyn-sossamon-comic-con/
http://www.dailyactor.com/wp-content/uploads/2014/08/interview-m-night-shyamalan-talk.jpg
Interview: M. Night Shyamalan Talks 'Wayward Pines' and Why He Expanded a Young Actors Role on the Show
I talked to Shyamalan at Comic-Con in a roundtable interview where he talked about the cast, what he learned from working in TV and how young actor Charlie Tahan started out with a small part but as the story grew, so did his role.
http://www.dailyactor.com/2014/08/interview-m-night-shyamalan-wayward-pines-comic-con/