The Amazing Spider-Man's Sally Field and Martin Sheen on Why They Never Watch Dailies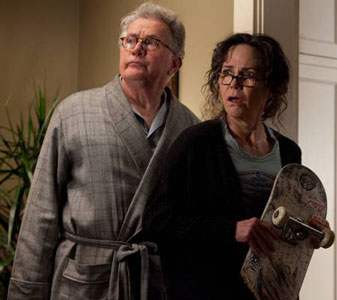 When the respective careers of Sally Field and Martin Sheen are considered, the word "legacy" should immediately come to mind. With the combined acting careers of both incredible actors, there is more than one hundred years of experience in which to boast.
In the new Marc Webb film, The Amazing Spider-Man, Field and Sheen portray two integral characters to the "Spider-Man" franchise: "Aunt May," and "Uncle Ben." Despite the incredible continued success of both actors, both Field and Sheen recognize the major pull of insecurity for all actors.
Field and Sheen recently spoke with Ed Symkus of GateHouse News Service about how they handle doubts associated with being an actor.
The beginning stages of any actor's career are often marked with passionate encouragement to embrace one's image on screen. On-camera acting classes far and wide play back actors' "takes," in order to provide a way to learn from prior mistakes.
However, Sally Field expressed how this can be destructive while working on set. "It's not a good idea for actors to watch dailies, because the whole task of an actor is to not have any actual mental vision of yourself outside of yourself, because then you start imitating yourself. That's the difficult thing even about watching a film that you've done, because you become aware of your own physicality."
Martin Sheen seemed to agree with Field's opinion. "I agree that it's a mistake for actors to continue to see themselves… Watching myself on television, for example, I always warned the family what was coming. I could control the audience when a television came on."
Sheen went on to explain that he takes a different approach when movies come out. "With movies, I prefer to go after it had opened, and see it with an audience to get an honest reaction. "
Field went on to explain that she believes that actor self-awareness can sometimes be destructive to future roles. "You see young actors who start out and seem so free and easy and natural. Then all of a sudden, third or fourth movie down the line, they look posey, they're all careful with what they're doing. Like Marty, for instance (laughs)."
To this, Sheen joked, "Yeah, I was so good until I became successful."
http://www.dailyactor.com/wp-content/uploads/2015/02/Helen-Mirren-The-Queen.jpg
Helen Mirren on Winning an Oscar: "It's an indescribable moment"
"It's hard to say, because you don't know what would have happened if you hadn't won" - Helen Mirren When Asked If Winning an Oscar Changed Her Career
http://www.dailyactor.com/2015/02/helen-mirren-on-winning-an-oscar/
http://www.dailyactor.com/wp-content/uploads/2015/02/anna-chlumsky-james-earl-jones.jpg
Anna Chlumsky on Her Broadway Debut: "For me, it was an opportunity to go in the direction that I hadn't played in a while"
"I think my personality lends itself to ensembles" - Anna Chlumsky
http://www.dailyactor.com/2015/02/anna-chlumsky-broadway-debut-ensemble/
http://www.dailyactor.com/wp-content/uploads/2015/02/joanne-froggatt-downton-abbey.jpg
'Downton Abbey' Star Joanne Froggatt on Creating Her Own Backstory and How She's "Not a Big-Budget Hollywood Type"
"They want the model type, classically beautiful, and I'm not" - Joanne Froggatt on Working in Hollywood
http://www.dailyactor.com/2015/02/downton-abbey-star-joanne-froggatt-character-backstory-hollywood/
http://www.dailyactor.com/wp-content/uploads/2015/01/al-pacino-the-humbling.jpg
Al Pacino on Acting: "It becomes such a part of your nature you rarely ever think about quitting"
After working infrequently in film over the last decade, Al Pacino appears in several films released in 2015, including The Humbling, an indie drama directed by Barry Levinson.
http://www.dailyactor.com/2015/02/al-pacino-on-acting-it-becomes-such-a-part-of-your-nature/
http://www.dailyactor.com/wp-content/uploads/2015/01/still-alice-julianne-moore.jpg
Julianne Moore Talks Her Research for 'Still Alice' and How the Movie Came Together
Moore talks about shooting Still Alice, research of Alzheimer's patients and how she didn't expect that the film would come together on such a small budget.
http://www.dailyactor.com/2015/02/julianne-moore-research-for-still-alice/