Project Cornlight: Expanding Film and Performing Arts in Iowa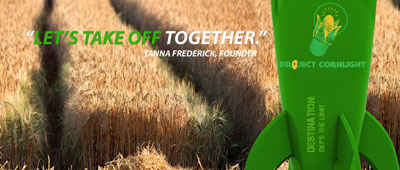 Actress Tanna Frederick's Project Cornlight's mission is to expand the film and performing arts industries in Iowa; to foster Iowa filmmakers, actors and writers; to give Iowans the opportunity to work with and learn from Hollywood professionals, and to stimulate the economy and tourism by growing artistically strong and commercially viable feature films from the Heartland. Project Cornlight will develop professional creative arts projects which utilize Iowa resources for locations, talent, crew, screenings, performances and presentations.
These actions will create Iowa jobs and stimulate economic activity as Project Cornlight encourages new opportunities for Iowa's creative workers. Project Cornlight is Co-Directed by Kimberly and John Busbee, two well known Iowa film industry professionals who also are working respectively as Casting Director/ Producer and Locations Manager/Production Supervisor for THE FARM, the first of the Project Cornlight film initiative to help revitalize the film industry in Iowa.
Directed by Ron Vignone (Say I Do, The Back Nine) and written by Frederick's childhood mentor and friend, Richard Schinnow, THE FARM is about a single mother who returns to her Iowa childhood home when her grandfather becomes ill, and must deal with her abandoned daughter and her past. In addition to Tanna Frederick who will play the leading role of Kathy, THE FARM will have other Hollywood actors with Iowa connections including Tom Bower (Die Hard 2, Crazy Heart, The Killer Inside Me), Joel West (The Smokers, Heroes, CSI: Miami) and Rylie Behr (I Heart Shakey, Nanuq, Impulse), and also will utilize many Iowa-based talent and crew members.
Frederick has made a real difference to Iowa. She graduated with Honors from the University of Iowa and also will be honored there in June with the 2012 Distinguished Alumni Award – Young Alumni.  In addition to being the catalyst for her legacy, Project Cornlight, she is an award-winning actress, director, environmentalist and founder of the Iowa Independent Film Festival in Mason City (www.iowaindie.org).
Latest Videos
http://www.dailyactor.com/wp-content/uploads/2014/07/bill-hader.jpg
Bill Hader: "I kind of fell into acting" (video)
Bill Hader, starring in the soon to be released The Skeleton Twins, talks about the film and how he fell into acting and then got "crazy lucky" in this quick video from USA Today. Share on Tumblr
http://www.dailyactor.com/2014/07/bill-hader-fell-into-acting-video/
http://www.dailyactor.com/wp-content/uploads/2014/07/director-john-carney-narrates-a.jpg
Director John Carney Narrates a Scene from 'Begin Again' Starring Kiera Knightley and Mark Ruffalo
Director John Carney (Once) narrates a scene from his new film, Begin Again. Starring Keira Knightley and Mark Ruffalo, the scene shows the first time the two characters meet. I haven't seen it yet but I've heard it's great.
http://www.dailyactor.com/2014/07/begin-again-scene-director-john-carney-keira-knightley-mark-ruffalo/
http://www.dailyactor.com/wp-content/uploads/2014/07/holler-if-you-hear-me-gma.jpg
Watch the Cast of Broadway's 'Holler If You Hear Me' Perform 'California Love' on GMA
The cast of Broadway's newest musical, Holler If You Hear Me with music from Tupac Shakur, performed on Good Morning America this morning. Singing 'California Love', the cast (including the teriffic Christopher Jackson – read our interview here), show why they're the most energetic and inspiring group of actors on Broadway. Holler If Ya Hear [...]
http://www.dailyactor.com/2014/07/watch-cast-broadways-holler-hear-perform-california-love-gma/
http://www.dailyactor.com/wp-content/uploads/2014/07/behind-the-scenes-of-dawn-of-the.jpg
Behind the Scenes of 'Dawn of the Planet of the Apes' with Performance Capture Actor Terry Notary
Actor Terry Notary is 1 of 5 actors playing the apes in the new Dawn of the Planet of the Apes. "When you see armies of apes," he says, that's "five of us." Check out the video where you can watch his performance capture work.
http://www.dailyactor.com/2014/07/dawn-planet-apes-performance-capture-actor-terry-notary/
http://www.dailyactor.com/wp-content/uploads/2014/07/melissa-mccarthy-daily-show.jpg
Melissa McCarthy and John Stewart Talk About Terrible Commercial Auditions on 'The Daily Show'
Melissa McCarthy stopped by The Daily Show last week to plug about her new movie, Tammy. She talked about how she loved working with her husband, Ben Falcone (director of Tammy) and then segued into talking about some horrible working situations. The always hilarious McCarthy then started to tell host John Stewart about a particular [...]
http://www.dailyactor.com/2014/07/melissa-mccarthy-john-stewart-commercial-auditions-the-daily-show/