Project Cornlight: Expanding Film and Performing Arts in Iowa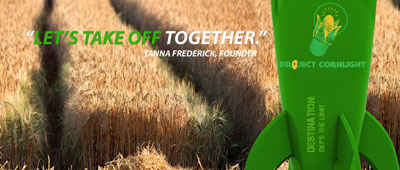 Actress Tanna Frederick's Project Cornlight's mission is to expand the film and performing arts industries in Iowa; to foster Iowa filmmakers, actors and writers; to give Iowans the opportunity to work with and learn from Hollywood professionals, and to stimulate the economy and tourism by growing artistically strong and commercially viable feature films from the Heartland. Project Cornlight will develop professional creative arts projects which utilize Iowa resources for locations, talent, crew, screenings, performances and presentations.
These actions will create Iowa jobs and stimulate economic activity as Project Cornlight encourages new opportunities for Iowa's creative workers. Project Cornlight is Co-Directed by Kimberly and John Busbee, two well known Iowa film industry professionals who also are working respectively as Casting Director/ Producer and Locations Manager/Production Supervisor for THE FARM, the first of the Project Cornlight film initiative to help revitalize the film industry in Iowa.
Directed by Ron Vignone (Say I Do, The Back Nine) and written by Frederick's childhood mentor and friend, Richard Schinnow, THE FARM is about a single mother who returns to her Iowa childhood home when her grandfather becomes ill, and must deal with her abandoned daughter and her past. In addition to Tanna Frederick who will play the leading role of Kathy, THE FARM will have other Hollywood actors with Iowa connections including Tom Bower (Die Hard 2, Crazy Heart, The Killer Inside Me), Joel West (The Smokers, Heroes, CSI: Miami) and Rylie Behr (I Heart Shakey, Nanuq, Impulse), and also will utilize many Iowa-based talent and crew members.
Frederick has made a real difference to Iowa. She graduated with Honors from the University of Iowa and also will be honored there in June with the 2012 Distinguished Alumni Award – Young Alumni.  In addition to being the catalyst for her legacy, Project Cornlight, she is an award-winning actress, director, environmentalist and founder of the Iowa Independent Film Festival in Mason City (www.iowaindie.org).
Latest Videos
http://www.dailyactor.com/wp-content/uploads/2014/08/bryan-cranston-emmy-award-speech.jpg
Watch: Bryan Cranston's Emmy Award Speech: "I love to act. It is a passion of mine and I will do it until my last breath."
The Emmy Awards weren't the most exciting awards show this year but with Bryan Cranston winning for Outstanding Actor in a Drama for Breaking Bad, we at least got to hear one heck of a fantastic acceptance speech. "I was a kid who always looked for the shortcut," he said. "I did happen to stumble […]
http://www.dailyactor.com/2014/08/watch-bryan-cranston-and-aaron-pauls-emmy-award-speeches/
http://www.dailyactor.com/wp-content/uploads/2014/08/audition-tapes-gerard-butler-aud.jpg
Audition Tapes: Gerard Butler Auditions for 'Dracula 2000′
Check out Gerard Butler auditioning for the role of Dracula in the movie, Dracula 2000. The film, about a group of thieves who break into a chamber expecting to find paintings, but instead find Dracula himself, also starred Christopher Plummer, Jonny Lee Miller and Nathan Fillion. Bulter has some sweet rock star hair, huh?
http://www.dailyactor.com/2014/08/audition-tapes-gerard-butler-dracula-2000/
http://www.dailyactor.com/wp-content/uploads/2014/08/interview-matt-dillon-and-carla.jpg
Interview: Matt Dillon and Carla Gugino Talk 'Wayward Pines'
FOX has a new limited-series that's got a terrific cast and interesting premise. It's called Wayward Pines and stars Matt Dillon, Carla Gugino, Melissa Leo, Toby Jones, Terrance Howard, Juliette Lewis, Tim Griffin and Shannyn Sossamon. The show, whose pilot was directed by M. Night Shyamalan, is about a Secret Service agent (Dillon) goes to […]
http://www.dailyactor.com/2014/08/interview-matt-dillon-carla-gugino-wayward-pines-comic-con/
http://www.dailyactor.com/wp-content/uploads/2014/08/interview-wayward-pines-stars-ti.jpg
Interview: 'Wayward Pines' Stars Tim Griffin and Shannyn Sossamon on the Show, Their Characters and More!
Griffin and Sossamonwere at Comic-Con where they sat in on some roundtable interviews to talk about the show.
http://www.dailyactor.com/2014/08/interview-wayward-pines-stars-tim-griffin-shannyn-sossamon-comic-con/
http://www.dailyactor.com/wp-content/uploads/2014/08/interview-m-night-shyamalan-talk.jpg
Interview: M. Night Shyamalan Talks 'Wayward Pines' and Why He Expanded a Young Actors Role on the Show
I talked to Shyamalan at Comic-Con in a roundtable interview where he talked about the cast, what he learned from working in TV and how young actor Charlie Tahan started out with a small part but as the story grew, so did his role.
http://www.dailyactor.com/2014/08/interview-m-night-shyamalan-wayward-pines-comic-con/