Broadway Actress Morgan James Trashes, Then Apologizes for Trashing, Shakespeare in the Park Production of 'Into the Woods'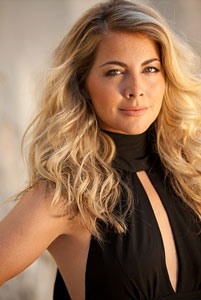 If you don't have something nice to say, as our mothers used to say, don't say anything at all!
Of course, being that I am a movie and theatre critic I often have to write things that aren't very nice, but obviously in situations where criticism isn't warranted or asked for it's best to leave well enough alone.  Especially when the people you criticize are potentially your future co-workers. 
Morgan James, a Broadway actress who has appeared in The Addams Family, Wonderland, and Godspell, learned that lesson very quickly when she took to Twitter to express very negative criticism after attending the first preview performance of Into the Woods, the current Shakespeare in the Park production of the Stephen Sondheim play at the Delacorte Theatre in Central Park, New York. 
The tweet read, "HOW can you **** up Into the Woods?? I fear musicianship is dead in musical theatre. And acting, for that matter. #horrified"  Though she soon removed the original tweet, she continued to criticize the show in follow-up messages with a far-more-diplomatic "It just wasn't for me."
Naturally this wasn't taken too kindly by James' fellow actors including from Matt Doyle, who recently starred in War Horse.  Doyle tweeted, "Really don't like seeing Broadway actors trashing other shows on Twitter. Have a little tact. We're all in this together." After a period of criticism aimed at her, James deleted the tweet and then tweeted, "I am really sorry for this firestorm. For my words, for responses, for the chaos. I am so sorry. I had NO idea this would turn into this. And I apologize to the cast, crew and creatives of the show and everyone at the Public."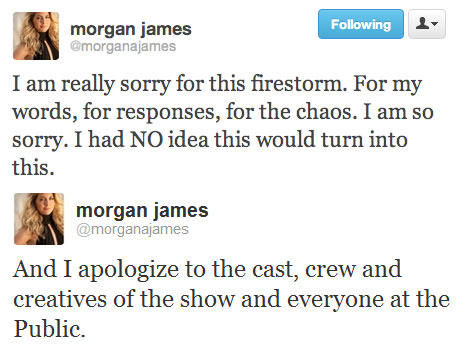 While James is obviously entitled to her opinion, unnecessarily expressing that opinion publicly when she is still building a career on Broadway is not a smart move from an employment standpoint — sure, she got her name out there, but for all the wrong reasons.  In this era of social networking, it's important to remember that comments we write to our friends and followers can still easily reach others who we might not want to read them, and this might include people we really ought to support.  Keep that in mind next time you publicly criticize the work of others in your industry, whatever it may be — there's a good chance that you'll end up burning a bridge that you really shouldn't torch!
via The Guardian
http://www.dailyactor.com/wp-content/uploads/2015/03/steve-buscemi-boardwalk-empire.jpg
Steve Buscemi's "Ask Me Anything" Chat on Reddit: "I don't think you can point to any one character and say that that's 'me'"
"With any role I play, I only have myself" - Steve Buscemi
http://www.dailyactor.com/2015/03/steve-buscemi-ask-me-anything-chat-on-reddit/
http://www.dailyactor.com/wp-content/uploads/2015/03/sally-field-hello-my-name-is-doris.jpg
Sally Field On Improvisation, How She Chooses Her Roles and 'Hello, My Name is Doris'
"There's a dearth of roles for women. I turn down a lot of stuff because there's just nothing in it for me to do." – Sally Field Actress Sally Field put in an appearance at SXSW last week to promote her new film, Hello My Name is Doris. Michael Showalter has directed the movie […]
http://www.dailyactor.com/2015/03/sally-field-improvisation-roles-hello-my-name-is-doris/
http://www.dailyactor.com/wp-content/uploads/2015/03/Will-Ferrell-Get-Hard.jpg
Will Ferrell on His Comedy Roots, 'Get Hard' and His Favorite Roles to Play
Ferrell was on hand to take part in a Q&A and spoke more about how working with Hart came about. When asked if he chooses his projects based on who he wants to work with, or the script itself, Ferrell explained that each project was different.
http://www.dailyactor.com/2015/03/will-ferrell-on-his-comedy-roots-get-hard-and-his-favorite-roles-to-play/
http://www.dailyactor.com/wp-content/uploads/2015/03/daniel-dae-kim.jpg
Hawaii Five-0's Daniel Dae Kim Talks Directorial Debut: "The first day I had to yell action, it was kind of odd"
Hawaii Five-0's Daniel Dae Kim, who fans know best as Chin Ho Kelly, recently made his directorial debut on the CBS series. Kim shared his experience with The Hollywood Reporter, saying that his experience was "weird at first," as he had to direct his co-stars. "The first day I had to yell action, it was […]
http://www.dailyactor.com/2015/03/hawaii-five-0-daniel-dae-kim-directorial-debut/
http://www.dailyactor.com/wp-content/uploads/2015/03/Ellie-Kemper-Unbreakable-Kimmy-Schmidt.jpg
Ellie Kemper on 'Unbreakable Kimmy Schmidt', Doomsday Cults and Tina Fey
When Ellie Kemper joined The Office in season 5, her character Erin Hannon wasn't intended to be one of the show's primary characters. However, Kemper won producers over with her portrayal of the cheerful, naive receptionist and Erin was heavily featured in the series' final seasons. Her portrayal also impressed 30 Rock producers Tina Fey […]
http://www.dailyactor.com/2015/03/ellie-kemper-unbreakable-kimmy-schmidt-tina-fey/