'Modern Family' Cast Sues Fox Over Contract Negoitations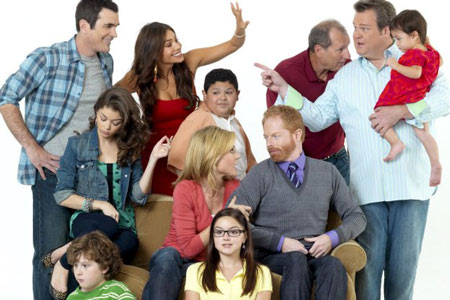 Contract negotiations for a hit television series often become very ugly… just ask the voice actors on The Simpsons, who have had many disputes trying to get more money for their two-decade plus run on the most successful television series of all time. 
Currently going through the same difficult process is the cast of ABC's Modern Family, with six of the primary cast members (Ed O'Neill, Ty Burrell, Julie Bowen, Jesse Tyler Ferguson, Eric Stonestreet and Sofia Vergara) suing 20th Century Fox Television, which produces the series, to void their contracts on the basis that their contracts violate California's "7 Year Rule," which limits personal service contracts to seven years.  Like many other actors starring in hit shows, the cast is seeking to renegotiate their contracts since the series has become a huge hit. 
Initially O'Neill was negotiating a new contract on his own since he has a different contract than his co-stars (he is paid more), but he has decided to join his cast members in the lawsuit.  The cast (minus O'Neill) earned a reported $65,000 per episode for the third season (O'Neill earned a reported $105,000 per episode), and the current terms being offered by Fox to the five other cast members are increases to $150,000 per episode plus a $50,000 per episode bonus for season 4, $200,000 per episode for season 5, $225,000 for season 6, and up to $325,000 for a (potential) season 9, however the cast is seeking much higher salaries for the upcoming fourth and future seasons beyond that.
With the show averaging 13.1 million viewers per episode, it brought ABC $164 million in advertising revenue in 2011 and also brought Fox a lucrative syndication package with the USA Network, which begins airing reruns in 2013.  Obviously the actors want a bigger piece of the action for their work in helping to make that happen.
I'm glad I'm not involved in this.  I think I would find it extremely difficult to negotiate with Sofia Vergara because she could easily talk me into giving her just about anything she wanted!
Latest Videos
http://www.dailyactor.com/wp-content/uploads/2014/08/audition-tapes-gerard-butler-aud.jpg
Audition Tapes: Gerard Butler Auditions for 'Dracula 2000′
Check out Gerard Butler auditioning for the role of Dracula in the movie, Dracula 2000. The film, about a group of thieves who break into a chamber expecting to find paintings, but instead find Dracula himself, also starred Christopher Plummer, Jonny Lee Miller and Nathan Fillion. Bulter has some sweet rock star hair, huh?
http://www.dailyactor.com/2014/08/audition-tapes-gerard-butler-dracula-2000/
http://www.dailyactor.com/wp-content/uploads/2014/08/interview-matt-dillon-and-carla.jpg
Interview: Matt Dillon and Carla Gugino Talk 'Wayward Pines'
FOX has a new limited-series that's got a terrific cast and interesting premise. It's called Wayward Pines and stars Matt Dillon, Carla Gugino, Melissa Leo, Toby Jones, Terrance Howard, Juliette Lewis, Tim Griffin and Shannyn Sossamon. The show, whose pilot was directed by M. Night Shyamalan, is about a Secret Service agent (Dillon) goes to […]
http://www.dailyactor.com/2014/08/interview-matt-dillon-carla-gugino-wayward-pines-comic-con/
http://www.dailyactor.com/wp-content/uploads/2014/08/interview-wayward-pines-stars-ti.jpg
Interview: 'Wayward Pines' Stars Tim Griffin and Shannyn Sossamon on the Show, Their Characters and More!
Griffin and Sossamonwere at Comic-Con where they sat in on some roundtable interviews to talk about the show.
http://www.dailyactor.com/2014/08/interview-wayward-pines-stars-tim-griffin-shannyn-sossamon-comic-con/
http://www.dailyactor.com/wp-content/uploads/2014/08/interview-m-night-shyamalan-talk.jpg
Interview: M. Night Shyamalan Talks 'Wayward Pines' and Why He Expanded a Young Actors Role on the Show
I talked to Shyamalan at Comic-Con in a roundtable interview where he talked about the cast, what he learned from working in TV and how young actor Charlie Tahan started out with a small part but as the story grew, so did his role.
http://www.dailyactor.com/2014/08/interview-m-night-shyamalan-wayward-pines-comic-con/
http://www.dailyactor.com/wp-content/uploads/2014/08/interview-wayward-pines-producer.jpg
Interview: 'Wayward Pines' Producers and Writer Talk Casting and the 10-Episode Format
FOX's upcoming limited series Wayward Pines looks very cool. The show is supposed to be very Twin Peaks-ish in tone which, just hearing that, definitely sparks my interest. The pilot was directed by M. Night Shyamalan and stars Matt Dillon, Carla Gugino, Melissa Leo, Toby Jones, Terrance Howard and Juliette Lewis and is about a […]
http://www.dailyactor.com/2014/08/interview-wayward-pines-creators-comic-con/