'Modern Family' Cast Sues Fox Over Contract Negoitations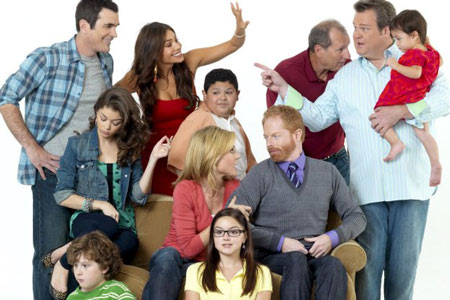 Contract negotiations for a hit television series often become very ugly… just ask the voice actors on The Simpsons, who have had many disputes trying to get more money for their two-decade plus run on the most successful television series of all time. 
Currently going through the same difficult process is the cast of ABC's Modern Family, with six of the primary cast members (Ed O'Neill, Ty Burrell, Julie Bowen, Jesse Tyler Ferguson, Eric Stonestreet and Sofia Vergara) suing 20th Century Fox Television, which produces the series, to void their contracts on the basis that their contracts violate California's "7 Year Rule," which limits personal service contracts to seven years.  Like many other actors starring in hit shows, the cast is seeking to renegotiate their contracts since the series has become a huge hit. 
Initially O'Neill was negotiating a new contract on his own since he has a different contract than his co-stars (he is paid more), but he has decided to join his cast members in the lawsuit.  The cast (minus O'Neill) earned a reported $65,000 per episode for the third season (O'Neill earned a reported $105,000 per episode), and the current terms being offered by Fox to the five other cast members are increases to $150,000 per episode plus a $50,000 per episode bonus for season 4, $200,000 per episode for season 5, $225,000 for season 6, and up to $325,000 for a (potential) season 9, however the cast is seeking much higher salaries for the upcoming fourth and future seasons beyond that.
With the show averaging 13.1 million viewers per episode, it brought ABC $164 million in advertising revenue in 2011 and also brought Fox a lucrative syndication package with the USA Network, which begins airing reruns in 2013.  Obviously the actors want a bigger piece of the action for their work in helping to make that happen.
I'm glad I'm not involved in this.  I think I would find it extremely difficult to negotiate with Sofia Vergara because she could easily talk me into giving her just about anything she wanted!
http://www.dailyactor.com/wp-content/uploads/2015/01/watch-al-pacino-talks-the-humbli.jpg
Watch: Al Pacino Talks 'The Humbling' and His Extraordinary Career
In this conversation with Al Pacino talks about his role in The Humbling -- including working with Greta Gerwig -- and his historic acting career
http://www.dailyactor.com/2015/01/watch-al-pacino-extraordinary-career/
http://www.dailyactor.com/wp-content/uploads/2015/01/watch-oscar-nominee-steve-carell.jpg
Watch: Oscar Nominee Steve Carell Talks Improv, Auditioning for 'The Office' and 'Foxcatcher'
Carell talks about his entire career as an actor, including his background in improv, how he landed the Michael Scott role on The Office, and Foxcatcher
http://www.dailyactor.com/2015/01/oscar-nominee-steve-carell-improv-auditioning-for-the-office-foxcatcher/
http://www.dailyactor.com/wp-content/uploads/2015/01/ethan-hawke-ellar-coltrane-boyhood.jpg
Ethan Hawke Calls 'Boyhood' the "most special endeavor of my life"
Ethan Hawke is riding high with his fourth Oscar nomination for the Richard Linklater-directed Boyhood. In a recent "Ask Me Anything" on Reddit, the 44-year-old actor gave some thoughtful insight into his career and the 12-year creative endeavor that became the biggest film of the Oscar season. When asked what was the most difficult thing about […]
http://www.dailyactor.com/2015/01/ethan-hawke-boyhood-reddit-amaife/
http://www.dailyactor.com/wp-content/uploads/2015/01/martha-plimpton-a-delicate-balance.jpg
Martha Plimpton Takes a Refreshing Approach to a Long-Lasting Career
Martha Plimpton is an actress who enjoys the work, she's not in it for the fame. The proof is in her continually excellent work that she is doing on-screen and on the stage. She's currently starring in A Delicate Balance on Broadway. It's the audience who gives her the ultimate thrill. "I try to get […]
http://www.dailyactor.com/2015/01/martha-plimpton-long-lasting-career/
http://www.dailyactor.com/wp-content/uploads/2015/01/watch-michael-keaton-talks-candi.jpg
Watch: Michael Keaton Talks Candidly About His Career and His Approach to Acting in 'Birdman'
In this nearly 90 minute conversation, Michael Keaton is his usual affable self but is also remarkably candid about his career and his approach to acting.
http://www.dailyactor.com/2015/01/michael-keaton-career-approach-to-acting-birdman/