'Modern Family' Cast Sues Fox Over Contract Negoitations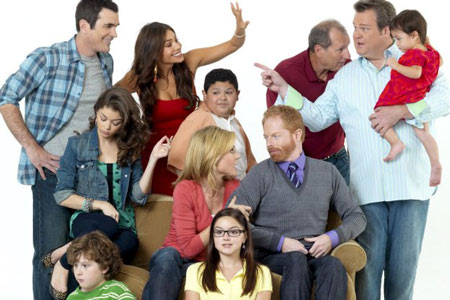 Contract negotiations for a hit television series often become very ugly… just ask the voice actors on The Simpsons, who have had many disputes trying to get more money for their two-decade plus run on the most successful television series of all time. 
Currently going through the same difficult process is the cast of ABC's Modern Family, with six of the primary cast members (Ed O'Neill, Ty Burrell, Julie Bowen, Jesse Tyler Ferguson, Eric Stonestreet and Sofia Vergara) suing 20th Century Fox Television, which produces the series, to void their contracts on the basis that their contracts violate California's "7 Year Rule," which limits personal service contracts to seven years.  Like many other actors starring in hit shows, the cast is seeking to renegotiate their contracts since the series has become a huge hit. 
Initially O'Neill was negotiating a new contract on his own since he has a different contract than his co-stars (he is paid more), but he has decided to join his cast members in the lawsuit.  The cast (minus O'Neill) earned a reported $65,000 per episode for the third season (O'Neill earned a reported $105,000 per episode), and the current terms being offered by Fox to the five other cast members are increases to $150,000 per episode plus a $50,000 per episode bonus for season 4, $200,000 per episode for season 5, $225,000 for season 6, and up to $325,000 for a (potential) season 9, however the cast is seeking much higher salaries for the upcoming fourth and future seasons beyond that.
With the show averaging 13.1 million viewers per episode, it brought ABC $164 million in advertising revenue in 2011 and also brought Fox a lucrative syndication package with the USA Network, which begins airing reruns in 2013.  Obviously the actors want a bigger piece of the action for their work in helping to make that happen.
I'm glad I'm not involved in this.  I think I would find it extremely difficult to negotiate with Sofia Vergara because she could easily talk me into giving her just about anything she wanted!
Latest Videos
http://www.dailyactor.com/wp-content/uploads/2014/07/bill-hader.jpg
Bill Hader: "I kind of fell into acting" (video)
Bill Hader, starring in the soon to be released The Skeleton Twins, talks about the film and how he fell into acting and then got "crazy lucky" in this quick video from USA Today. Share on Tumblr
http://www.dailyactor.com/2014/07/bill-hader-fell-into-acting-video/
http://www.dailyactor.com/wp-content/uploads/2014/07/director-john-carney-narrates-a.jpg
Director John Carney Narrates a Scene from 'Begin Again' Starring Kiera Knightley and Mark Ruffalo
Director John Carney (Once) narrates a scene from his new film, Begin Again. Starring Keira Knightley and Mark Ruffalo, the scene shows the first time the two characters meet. I haven't seen it yet but I've heard it's great.
http://www.dailyactor.com/2014/07/begin-again-scene-director-john-carney-keira-knightley-mark-ruffalo/
http://www.dailyactor.com/wp-content/uploads/2014/07/holler-if-you-hear-me-gma.jpg
Watch the Cast of Broadway's 'Holler If You Hear Me' Perform 'California Love' on GMA
The cast of Broadway's newest musical, Holler If You Hear Me with music from Tupac Shakur, performed on Good Morning America this morning. Singing 'California Love', the cast (including the teriffic Christopher Jackson – read our interview here), show why they're the most energetic and inspiring group of actors on Broadway. Holler If Ya Hear [...]
http://www.dailyactor.com/2014/07/watch-cast-broadways-holler-hear-perform-california-love-gma/
http://www.dailyactor.com/wp-content/uploads/2014/07/behind-the-scenes-of-dawn-of-the.jpg
Behind the Scenes of 'Dawn of the Planet of the Apes' with Performance Capture Actor Terry Notary
Actor Terry Notary is 1 of 5 actors playing the apes in the new Dawn of the Planet of the Apes. "When you see armies of apes," he says, that's "five of us." Check out the video where you can watch his performance capture work.
http://www.dailyactor.com/2014/07/dawn-planet-apes-performance-capture-actor-terry-notary/
http://www.dailyactor.com/wp-content/uploads/2014/07/melissa-mccarthy-daily-show.jpg
Melissa McCarthy and John Stewart Talk About Terrible Commercial Auditions on 'The Daily Show'
Melissa McCarthy stopped by The Daily Show last week to plug about her new movie, Tammy. She talked about how she loved working with her husband, Ben Falcone (director of Tammy) and then segued into talking about some horrible working situations. The always hilarious McCarthy then started to tell host John Stewart about a particular [...]
http://www.dailyactor.com/2014/07/melissa-mccarthy-john-stewart-commercial-auditions-the-daily-show/