Joe Manganiello on Acting Shirtless and the Only Thing He Has Conrol Over: His Work Ethic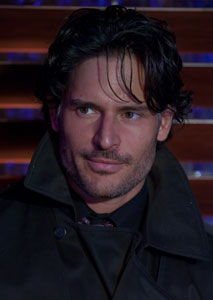 Joe Manganiello is becoming really well-known for taking his shirt off.  The 35-year-old, who recent characters feature the actor sans shirt, is now starring as a male stripper in Steven Soderbergh's Magic Mike and werewolf Alcide in HBO's True Blood.
But, he doesn't really care. "The only hesitation was just that voice in my head that said, 'Okay, everybody makes such a big deal out of you being shirtless on True Blood.  Now you're going to be a male stripper,'" he told NBC New York.  "So there was just a thought about that—but who cares?  I'm known for being shirtless in projects helmed by Oscar winners. So what?  Fine.  I think that if it was a male stripper movie with most anyone else you probably would look at it cross-eyed, but it's Steven.  Then you go, 'Okay, it's Steven.  It's Channing [Tatum.]  It's [Matthew] McConaughey."
Manganiello, who graduated from Carnegie Mellon School of Drama, said that he "spent the first half of my career doing nothing but classical material. We're talking Shakespeare and Ibsen and Chekhov and ancient Greek.  So that doesn't go anywhere.  I'm not really worried about it.  I wasn't in this kind of shape before True Blood.  This is the kind of shape that I got into to play the character.  It just so happens that there's been this succession of parts in a certain line."
He went on to say: "Work ethic is the only thing that I have control over, so the fact that even if I was cast because of my abs—so what?  I work my ass off for that stuff.  Steven Soderbergh cast me in Magic Mike because of my appearance on Chelsea Handler.  He was flipping channels and went, 'That guy is great.  That's the sense of humor we need.'  Alan Ball cast me [for True Blood] with my shirt on, coming in and reading for his show. What am I supposed to say?  I think that I just bring as much as I can to roles and if the part calls for that kind of stuff, then I'm going to do it 110 percent like Edward Norton did back in American History X and the way Robert DeNiro did in Cape Fear."
Magic Mike is in theaters now. True Blood airs on Sundays at 10pm on HBO.
Latest Videos
http://www.dailyactor.com/wp-content/uploads/2014/07/bill-hader.jpg
Bill Hader: "I kind of fell into acting" (video)
Bill Hader, starring in the soon to be released The Skeleton Twins, talks about the film and how he fell into acting and then got "crazy lucky" in this quick video from USA Today. Share on Tumblr
http://www.dailyactor.com/2014/07/bill-hader-fell-into-acting-video/
http://www.dailyactor.com/wp-content/uploads/2014/07/director-john-carney-narrates-a.jpg
Director John Carney Narrates a Scene from 'Begin Again' Starring Kiera Knightley and Mark Ruffalo
Director John Carney (Once) narrates a scene from his new film, Begin Again. Starring Keira Knightley and Mark Ruffalo, the scene shows the first time the two characters meet. I haven't seen it yet but I've heard it's great.
http://www.dailyactor.com/2014/07/begin-again-scene-director-john-carney-keira-knightley-mark-ruffalo/
http://www.dailyactor.com/wp-content/uploads/2014/07/holler-if-you-hear-me-gma.jpg
Watch the Cast of Broadway's 'Holler If You Hear Me' Perform 'California Love' on GMA
The cast of Broadway's newest musical, Holler If You Hear Me with music from Tupac Shakur, performed on Good Morning America this morning. Singing 'California Love', the cast (including the teriffic Christopher Jackson – read our interview here), show why they're the most energetic and inspiring group of actors on Broadway. Holler If Ya Hear [...]
http://www.dailyactor.com/2014/07/watch-cast-broadways-holler-hear-perform-california-love-gma/
http://www.dailyactor.com/wp-content/uploads/2014/07/behind-the-scenes-of-dawn-of-the.jpg
Behind the Scenes of 'Dawn of the Planet of the Apes' with Performance Capture Actor Terry Notary
Actor Terry Notary is 1 of 5 actors playing the apes in the new Dawn of the Planet of the Apes. "When you see armies of apes," he says, that's "five of us." Check out the video where you can watch his performance capture work.
http://www.dailyactor.com/2014/07/dawn-planet-apes-performance-capture-actor-terry-notary/
http://www.dailyactor.com/wp-content/uploads/2014/07/melissa-mccarthy-daily-show.jpg
Melissa McCarthy and John Stewart Talk About Terrible Commercial Auditions on 'The Daily Show'
Melissa McCarthy stopped by The Daily Show last week to plug about her new movie, Tammy. She talked about how she loved working with her husband, Ben Falcone (director of Tammy) and then segued into talking about some horrible working situations. The always hilarious McCarthy then started to tell host John Stewart about a particular [...]
http://www.dailyactor.com/2014/07/melissa-mccarthy-john-stewart-commercial-auditions-the-daily-show/