Interview: What is H. John Benjamin's Biggest Challenge on 'Archer'? "The subway, to get there sometimes" (video)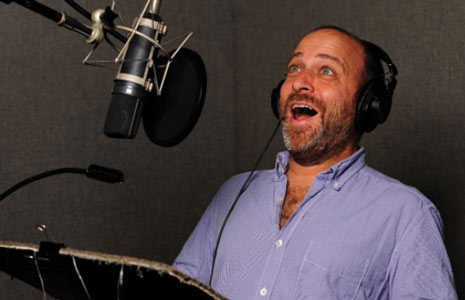 Comic-Con 2012: H. John Benjamin stars as the voice of master spy, Sterling Archer on FX's hit animated comedy, Archer. With new episodes of the show coming soon, I got a chance to talk with Benjamin at Comic-Con where as usual, he was freakin hilarious.
For those of you who haven't watched yet, Archer is an animated, half-hour comedy that revolves around the International Secret Intelligence Service (ISIS) and the lives of its employees. The series features the voices of Benjamin; Aisha Tyler as Archer's fellow agent and ex-girlfriend, 'Lana Kane'; Judy Greer as Malory's loquacious secretary, 'Cheryl Tunt'; Amber Nash as the discordant director of human resources for ISIS, 'Pam Poovey'; and series creator/writer Adam Reed as the gay voice of reason at ISIS, 'Ray Gillette.'
In this quick but downright funny interview, Benjamin chats about his biggest challenge working on Archer and the worst voice-over job he's ever been offered. Ok, it was a joke… but it's still probably the worst job anyone could ever be offered.
Archer airs on FX with new episodes coming soon

For the full interview, check out the video below!
What is the biggest challenge for you about Archer? 
H Jon Benjamin:  The Subway, to get there sometimes.  I ride my bike in New York so more bike lanes would be better for me.  Sixth Avenue in particular.  I would like a bike lane on that.  Because that takes me right back down to the village.
I know that's a snarky answer, but –.
No, no.  So you're saying it's pretty easy to do.
H Jon Benjamin:  Yeah.  Yeah, I mean, with my talent?  It's pretty easy. It was not as easy as it is now, but it's pretty easy now.
It's pretty much on auto pilot?
H Jon Benjamin:  Well, yeah.  I mean, I think it's a testament to Adam Reed.  His writing is really confident now and it's really easy to do.  I just yell.  I just go and yell and yell for an hour or something. I just yell a line. He always says I do a good job. 
How did you get into voice-overs?
H Jon Benjamin:  I got a job in Cambridge, Massachusetts.  I was a comedian in Boston when I started and I got a job on the show Dr. Katz, which was an animated show on Comedy Central and that's how it started.  And then that company made a bunch of other animated shows and through nepotism and getting work, and yeah.
Now that Archer is so popular, are you getting a lot more offers to do voiceover work?
H Jon Benjamin:  No.  Not really, no.  I get some bad offers. 
What's the worst offer you've gotten?
To narrate somebody jerking off.  [laughs] No, I'm kidding.  That would be a great offer.  That's not a bad offer.  That's a great opportunity.  Can you imagine?  There he is, look at him go.  He's really getting – no, not a lot.  I don't really try to seek out much voiceover work. 
What about on-camera?
H Jon Benjamin:  Yeah, I've done that too.  That hasn't worked out too well either.  But no, my voiceover, doing voices for cartoons has been really great and it wasn't like a thing that I wanted to do, so maybe that's why I'm good at it.
Is there anything that you want to see Archer do that he's not?  Any crazy scenario you want to see him in?
H Jon Benjamin:  I don't know, because I feel like it'd be hard to see the show – maybe like a Cop Rock kind of thing, or something like that.  He hasn't sung yet. 
Can you sing?
H Jon Benjamin:  Maybe.  Yeah, I little bit. I think somebody did say, oh you should do a musical episode.  That might be good.  I'll look into it.  Other than that, I don't know.  I just want to see Archer be an asshole.  It'd be hard to see him turn around.
He's good at it.
H Jon Benjamin:  Yeah.  I was going to say I'd like to see him get some really like crying about his mom and just getting it all straightened out.  Maybe that'll be the last episode.  Just like 20 minutes of him crying.
How long are you in the booth for each show?  Do you read lines multiple lines?
H Jon Benjamin:  Yeah, they do that, but it goes pretty quickly.  Maybe a couple of hours, you know?  Sometimes less.  Depending on the amount of lines, so yeah, it's pretty quick. 
Do you only do one episode at a time?
H Jon Benjamin:  I do one at a time, yeah.  I think he is writing them as he goes – I think he writes one and they record it and he writes another – it's pretty grueling for him.  But for me? A total cake walk.
http://www.dailyactor.com/wp-content/uploads/2015/02/Helen-Mirren-The-Queen.jpg
Helen Mirren on Winning an Oscar: "It's an indescribable moment"
"It's hard to say, because you don't know what would have happened if you hadn't won" - Helen Mirren When Asked If Winning an Oscar Changed Her Career
http://www.dailyactor.com/2015/02/helen-mirren-on-winning-an-oscar/
http://www.dailyactor.com/wp-content/uploads/2015/02/anna-chlumsky-james-earl-jones.jpg
Anna Chlumsky on Her Broadway Debut: "For me, it was an opportunity to go in the direction that I hadn't played in a while"
"I think my personality lends itself to ensembles" - Anna Chlumsky
http://www.dailyactor.com/2015/02/anna-chlumsky-broadway-debut-ensemble/
http://www.dailyactor.com/wp-content/uploads/2015/02/joanne-froggatt-downton-abbey.jpg
'Downton Abbey' Star Joanne Froggatt on Creating Her Own Backstory and How She's "Not a Big-Budget Hollywood Type"
"They want the model type, classically beautiful, and I'm not" - Joanne Froggatt on Working in Hollywood
http://www.dailyactor.com/2015/02/downton-abbey-star-joanne-froggatt-character-backstory-hollywood/
http://www.dailyactor.com/wp-content/uploads/2015/01/al-pacino-the-humbling.jpg
Al Pacino on Acting: "It becomes such a part of your nature you rarely ever think about quitting"
After working infrequently in film over the last decade, Al Pacino appears in several films released in 2015, including The Humbling, an indie drama directed by Barry Levinson.
http://www.dailyactor.com/2015/02/al-pacino-on-acting-it-becomes-such-a-part-of-your-nature/
http://www.dailyactor.com/wp-content/uploads/2015/01/still-alice-julianne-moore.jpg
Julianne Moore Talks Her Research for 'Still Alice' and How the Movie Came Together
Moore talks about shooting Still Alice, research of Alzheimer's patients and how she didn't expect that the film would come together on such a small budget.
http://www.dailyactor.com/2015/02/julianne-moore-research-for-still-alice/