Interview: Aisha Tyler talks Voice Work and 'Archer' (video)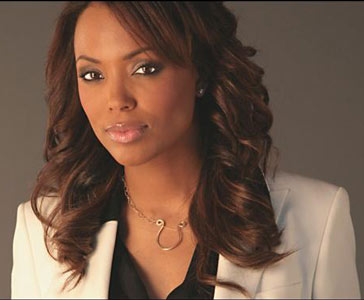 Comic-Con 2012: Aisha Tyler sat down with me and a small group of press at Comic-Con and talked about the hit FX show, Archer.
For those of you who haven't watched yet, Archer is an animated, half-hour comedy that revolves around the International Secret Intelligence Service (ISIS) and the lives of its employees. The series features the voices of H. Jon Benjamin as master spy, 'Sterling Archer'; Tyler as Archer's fellow agent and ex-girlfriend, 'Lana Kane'; Judy Greer as Malory's loquacious secretary, 'Cheryl Tunt'; Amber Nash as the discordant director of human resources for ISIS, 'Pam Poovey'; and series creator/writer Adam Reed as the gay voice of reason at ISIS, 'Ray Gillette.'
In this quick interview, Aisha chats about how she got into voice acting and working on Archer.
Archer airs on FX
For the full interview, check out the video below!
Do you get all the scripts first or as you record them?
Aisha Tyler:  No, we get each script a little ways out.  So, usually, not any more than a week out from when we're going to record. Adam [Reed] is writing as we're producing.  What's nice now is that we're in our fourth season so I think there's a little bit more leisure – not leisure time, it's not like it's ever relaxed – but I think we have more of an expanded of a production season, Adam has a little more time to write, we get a little bit more time to record and it's been nice.
And wherever you are, you can just go to like any recording booth?
Aisha Tyler:  Yeah, it's kind of nice.  Last year I did a series last year in Canada and I recorded all my stuff from up there.  So yeah, that's one of the great things about this show.  It's very flexible.  I've recorded in New York.  I've recorded in Atlanta, I've recorded in L.A. and I've recorded in Toronto, so yeah, it's pretty cool.
Before Archer, what was your experience in voice acting?
Aisha Tyler:  What was my voice acting prior?  I did a couple one offs, I think the most well known episode, I did an episode of The Boondocks called 'Attack of the Killer Kung-Fu Wolf Bitch.' That was a very popular episode, to this day, people comment on it all the time.  I did some other smaller stuff, but this has been the most immersive experience for sure.
So do you do your lines by yourself?
Aisha Tyler:  Yeah.  We're all isolated.  We're all separate.  Yeah.  We've never recorded as a team or even as a pair.  Yeah.
How hard is that? I mean, you have to react to something that is not there. 
Aisha Tyler:  Yeah!  You know, I've done a lot of live action acting so I am able to use my imagination. But then also, everybody's method is totally different.  As far as I know, every other actor could be going back and forth, with Adam on the other line or Casey on the other line, or the other producers on the show.  I don't work that way.  I take each line and I attack it over and over again so I say it in a way that I think is funny and my goal is mainly just to make Adam laugh.  That really is when I know.  I say it a bunch of times until I hear him laugh on the other line and if I can make him laugh at something he wrote then I won, totally.
Has there been anything that you have read in the script that you just couldn't believe that they did? 
Aisha Tyler:  I am a standup comedian and I also ran a writers room on Talk Soup, there's nothing that shocks me.  I've talked about poop for hours with other people so no, nothing has shocked me in the sense of like, I can't say this or I can't do this.  But, definitely stuff that I was like, how are we going to get away with this?  There have been those.  But in Season One, actually the very first season, the very first episode, Adam and I got in an – not an argument, but like a semantics discussion – about what was funnier, balls slappiest or balls slappinest? And we have a good 20 minute conversation about it.  I was like, yeah, this is pretty much the TV show I want to make the rest of my life. 
There was an ad for the show in Season One where Archer is smoking next to a pregnant woman and she says, do you mind?  And he says, maybe after you have the baby, if you're not all stretched out.  And I was like, wow, that was pretty hard core.  That was pretty hard core.  Other than that, no.  The show is delightful and I wish we were dirtier.
How did you get into voice over work?
Aisha Tyler:  I was just approached.  I don't know how Adam knew me other than he just knew me as a comedian and as a comedic actress, but I was just sent the script and asked if I wanted to do it.
And you were like, why not, it sounds really fun?
Aisha Tyler:  I had read the script and it was hilarious.  That was it.  I mean I read ten pages of the script it was really, really funny.  It was really mature and it was a combination of really thoughtful and literary and disgustingly dirty and that was the selling point for me.
Perfect.
Aisha Tyler:  Absolutely.  I have been offered other animated stuff.  I don't know.  I don't do anything just because it's a job.  You know what I mean?  This is a specific show in a specific character in a specific approach to comedy that is really very close to the way that I approach comedy and whenever people go, what's your stand up going to be like and I'm like, if you watch Archer, you know what kind of comedy I do, it's really similar.  Adult, smart, thoughtful, mature, you know, approach to making people laugh. So yeah, I've been offered a lot of other animated stuff that I haven't done, but this and also The Boondocks, which is also another really good, smart and dirty show.  I don't know why I keep saying dirty, but you know what, I'm a grown up and I can.
Do you input to your character?
Aisha Tyler:  Well, I mean it's a pretty perfect show when we get it.  Sometimes I pitch stuff.  Sometimes I pitch lines.  He's really playful so he'll say, why don't you try something, but generally scripts are great when they come, so we don't do a lot of pitching.  But he will just say, hey, want to fuck around for a bit and then we'll do that.
Latest Videos
http://www.dailyactor.com/wp-content/uploads/2014/04/director-david-gordon-greene-nar.jpg
Director David Gordon Green Narrates a Scene From 'Joe'
Director David Gordon Green narrates a sequence from his new film, Joe, featuring Nicolas Cage and Tye Sheridan. In the video, he mentions his reasons why he likes to hire non-traditional actors. He likes people who have real skill-sets and not actors who have the skills on their resume. He also talked about this in […]
http://www.dailyactor.com/2014/04/director-david-gordon-green-narrates-a-scene-from-joe/
http://www.dailyactor.com/wp-content/uploads/2014/04/david-gordon-green-joe.jpg
Director David Gordon Green: "I find actors in unusual places"
I keep missing screenings of director David Gordon Greene's new film, Joe. I hear it's really good so I'm looking forward to catching it at some point. Joe stars Nicholas Cage as ex-con Joe Ransom, who isn't the greatest of role models until he meets a 15-year-old boy (Mud's Tye Sheridan). In this featurette, Green […]
http://www.dailyactor.com/2014/04/director-david-gordon-green-i-find-actors-in-unusual-places/
http://www.dailyactor.com/wp-content/uploads/2014/04/judy-greer-i-dont-know-why-you-know-me-from.jpg
Please Don't Say These Things To Judy Greer (video)
Judy Greer - who we love here at Daily Actor – has a new book called, I Don't Know What You Know Me From (Confessions of a Co-Star), a series of essays about her life as an actress, friend and someone who everyone thinks they might know. Here's a blurb about the book: "Want to […]
http://www.dailyactor.com/2014/04/please-dont-say-these-things-to-judy-greer-video/
http://www.dailyactor.com/wp-content/uploads/2014/04/Captain-America-SamuelNick-Fury.jpg
How Samuel L. Jackson Learns His Lines for the Marvel Movies (video)
Samuel L. Jackson stopped by Good Morning America earlier this week to talk about Captain America: The Winter Soldier – which is terrific, by the way – and he told Robin Roberts that for the first Cap film, he had trouble learning his lines. "I sat at home and I did all my studying, and […]
http://www.dailyactor.com/2014/04/how-samuel-l-jackson-learns-his-lines-for-the-marvel-movies-video/
http://www.dailyactor.com/wp-content/uploads/2014/04/andy-karl-margot-seibert-rocky.jpg
Andy Karl and Margo Seibert Talk 'Rocky: The Musical' on 'Today'
Andy Karl and Margo Seibert, the stars of Rocky: The Musical, talked to Today's Matt Lauer about the new Broadway musical. Karl talks about the final fight and taking on the iconic role. This is Seibert's Broadway debut and she's asked about her callbacks (9 in all!) and more. Check it out!
http://www.dailyactor.com/2014/04/andy-karl-and-margo-seibert-talk-rocky-the-musical-on-today/