Q & A: 'Suits' Gabriel Macht on Finding His Character's Look and Being Less-Than-Truthful in an Audition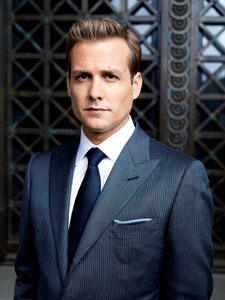 Suits, USA Networks summertime hit, is back and it's star, Gabriel Macht took some time to chat with the press about the upcoming season.
Macht, who plays Harvey Specter (a guy who's "built a career and reputation by breaking the rules") on the show, graduated from Carnegie Mellon School of Drama and quickly started working as an actor. He's appeared off-Broadway (Steve Martin's Picasso at the Lapin Agile), in TV (Steven Spielberg's The Others, Sex and the City) and film (Love and Other Drugs, Behind Enemy Lines).
In this Q&A, Macht talks about finding Harvey's look, hanging out with the cast and getting comfortable in season 2.
Suits airs on Thursdays at 10/9c on USA
Now given that the idea of the show is this idea that Mike is someone who definitely has a great knowledge of the law but has essentially lied to get his foot in the door. Would you say there's been a time in your career as an actor where you may have been less than truthful with people you were looking to have hire you?
Gabriel Macht: Yes I think there was an audition I had for like to be a hockey player and I was like yes I can skate and I couldn't skate for the life of me.
And then actually when the tryouts came out I just didn't get enough time to like go to the ice rink and learn how to skate backwards and I just bailed on the audition. I just succumbed to. I wasn't like Mike in the sense that I showed up and I you know and I you know made it look like I knew what I was doing. I basically didn't show up.
How's it been for you now that you have a season one under your belt? Is it easier? Are you a little more comfortable with the character?
Gabriel Macht: Yes, you know I think you know like any character the more you play him and the more you learn about him the deeper you can get into the nuts and bolts of the character. And you know for me as being in film for most of my career you only have three months to educate yourself about who this guy is and make the choices that you can.
But you know it's been a real great challenge in television to every week a little bit new – a little bit more information comes out about your back-story and who you are and how you know how he lives his life and or what has happened in his life to make him who he is and how he navigates through it in the present.
And so I really enjoyed that experience and does it make it easier, I don't know. I think it's you know I think it's become easy to put on my suit every day. I think I've got that down.
Do you guys spend much time together offset?
Gabriel Macht: A little bit yes I mean a little bit. I don't know if you know you know when I first moved to Toronto last year when we started this season I spent about two weeks actually living with the guy. He put me up in his old high school bedroom – kind of hilarious.
And then I found a house for Sarah and I actually lived together the whole last season. We go back 20 years and our daughters are best friends and we lived in the same house. So we spent a lot of time off set.
This year we've had a few gathering with the whole cast on our Sundays. We had Easter all together, we had some cast dinners, we've gotten all the families together. It's been really nice. Looks it's a great ensemble and we happen to like each other onset and off.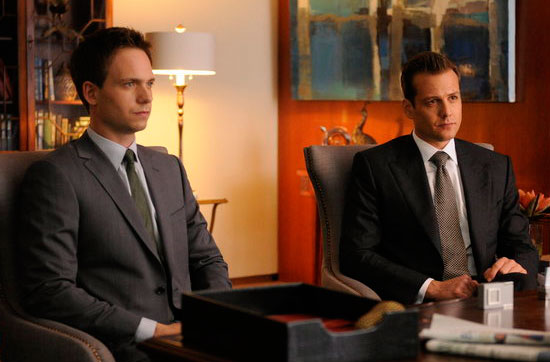 Did you have any input into Harvey's look? Or is that just totally hair, makeup, costuming?
Gabriel Macht: Whenever I get a character – whenever I get the job to do anything, I always try my best to have a say in what the character looks like and how he presents himself and there's a huge collaboration that goes along with that.
With the wardrobe I had a lot of discussions you know there's you know some stipulations on how you know USA wants it and some you know guidelines on how the writer sees the character.
And then you know we collaborate and try to figure out a happy median for all of us. But you know I'm basically trying to take that script and expand on the writers and the director's vision and the designer's vision in all aspects.
You know, I try and talk with the wardrobe designer, I try and talk with the hair and makeup and say you know I think it should be like this or that. And you know this year I was able to talk to set designer and have a little bit more say in where and how Harvey lives like his own space.
So I think you know that's a real benefit to being an actor and someone that they've been able to collaborate with me you know.
Latest Videos
Watch: Anna Gunn, Jacki Weaver and Virginia Kull on 'Gracepoint' and Strong Female Roles on TV
The actresses also speak candidly about how they feel about their characters in the series and why its important for TV to feature series with strong female leads.Check out the conversation above!
http://www.dailyactor.com/2014/10/watch-anna-gunn-jacki-weaver-virginia-kull-gracepoint-strong-female-roles-on-tv/
http://www.dailyactor.com/wp-content/uploads/2014/10/watch-cristin-milioti-talks-a-to.jpg
Watch: Cristin Milioti Talks 'A to Z', 'Once' and 'How I Met Your Mother'
Few actresses have the kind of rise as Cristin Milioti has had in the last few years. A virtual unknown in 2011, she became a bona fide Broadway star in the 2012 hit Once, appeared in a supporting role in the 2013 film The Wolf of Wall Street, and was featured as the titular mother […]
http://www.dailyactor.com/2014/10/watch-cristin-milioti-a-to-z-once-how-i-met-your-mother/
http://www.dailyactor.com/wp-content/uploads/2014/10/watch-bryan-cranstons-acting-adv.jpg
Watch: Bryan Cranston's Acting Advice
With Breaking Bad: The Complete Series Barrel being released on Blu-ray with all kinds of goodies today, it gives us yet another opportunity to reflect on the series' star Bryan Cranston and all of the incredible advice he has offered actors in the wake of his success. In a video he filmed in 2013 for […]
http://www.dailyactor.com/2014/10/bryan-cranston-acting-advice-video/
http://www.dailyactor.com/wp-content/uploads/2014/10/alex-sharp-curious-incident-of-the-dog.jpg
Alex Sharp Talks About His Broadway Debut in 'The Curious Incident of the Dog in the Night-Time' (video)
Alex Sharp went from working in a call-center and renovating houses to going to Julliard. And now, he's starring in one of the most talked about shows of the season, The Curious Incident of the Dog in the Night-Time. Check out this great, inspiring video!
http://www.dailyactor.com/2014/10/alex-sharp-broadway-debut-the-curious-incident-of-the-dog-in-the-night-time-video/
http://www.dailyactor.com/wp-content/uploads/2014/10/Its-only-a-play.jpg
Watch a Scene From Terrance McNally's, 'It's Only a Play', Featuring Nathan Lane and Micah Stock
Here's a quick scene from Terrance McNally's It's Only a Play, currently on Broadway at the Schoenfeld Theater. In this scene, Nathan Lane and Micah Stock meet for the first time. The show, about the opening night of a new play, also stars Matthew Broderick, Stockard Channing, F. Murray Abraham, Rupert Grint and Megan Mullally.
http://www.dailyactor.com/2014/10/watch-a-scene-terrance-mcnally-its-only-a-play-nathan-lane-micah-stock/