Denis Leary talks about Improvising in 'The Amazing Spider-Man'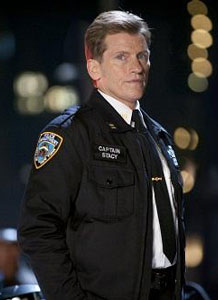 Denis Leary was surprised to learn that The Amazing Spider-Man Director Marc Webb would let him improvise when he took on the part of Captain George Stacy.
He told Vulture, "originally when I was talking to [director] Marc [Webb], because I was wondering why he was making a giant blockbuster, he was telling me about how he wanted to do all this improvisation and character study, which they almost never do in these big-budget action movies.  So a lot of the stuff in the movie, we would do the scripted version once, and then five, six, seven more takes where we could play around—which, again, is unheard of in these kinds of movies."
Leary also talked about another scene where the cast got to "play," the dinner scene. "It was the first week we shot, it was our first big acting scene together, and we had three days on that one," he said.  "I have a daughter who is two years younger than Emma, actually, so it was really easy for me to relate to that relationship, and to relate—or not relate—to Peter Parker, Andrew [Garfield.]  I got to say, those two are not just young Hollywood stars.  They're great actors, and they have deep toolboxes.  And they came into work every day, 'How do we make the scene better?'  I'm supposed to be intimidating Andrew's character, and at one point, Marc kneeled down to tell me, 'You got to step it up.'  And I went, 'Holy shit.'  Because Andrew and Emma were so good, I had to step up my game.  Wow.  Everybody thinks they can improvise, but very few actually can, because they haven't taken the training, but Andrew and Emma are really good at that.  You have to be able to do it, and it was a wake-up call for me."
The Amazing Spider-Man is in theaters now.
http://www.dailyactor.com/wp-content/uploads/2015/01/watch-al-pacino-talks-the-humbli.jpg
Watch: Al Pacino Talks 'The Humbling' and His Extraordinary Career
In this conversation with Al Pacino talks about his role in The Humbling -- including working with Greta Gerwig -- and his historic acting career
http://www.dailyactor.com/2015/01/watch-al-pacino-extraordinary-career/
http://www.dailyactor.com/wp-content/uploads/2015/01/watch-oscar-nominee-steve-carell.jpg
Watch: Oscar Nominee Steve Carell Talks Improv, Auditioning for 'The Office' and 'Foxcatcher'
Carell talks about his entire career as an actor, including his background in improv, how he landed the Michael Scott role on The Office, and Foxcatcher
http://www.dailyactor.com/2015/01/oscar-nominee-steve-carell-improv-auditioning-for-the-office-foxcatcher/
http://www.dailyactor.com/wp-content/uploads/2015/01/ethan-hawke-ellar-coltrane-boyhood.jpg
Ethan Hawke Calls 'Boyhood' the "most special endeavor of my life"
Ethan Hawke is riding high with his fourth Oscar nomination for the Richard Linklater-directed Boyhood. In a recent "Ask Me Anything" on Reddit, the 44-year-old actor gave some thoughtful insight into his career and the 12-year creative endeavor that became the biggest film of the Oscar season. When asked what was the most difficult thing about […]
http://www.dailyactor.com/2015/01/ethan-hawke-boyhood-reddit-amaife/
http://www.dailyactor.com/wp-content/uploads/2015/01/martha-plimpton-a-delicate-balance.jpg
Martha Plimpton Takes a Refreshing Approach to a Long-Lasting Career
Martha Plimpton is an actress who enjoys the work, she's not in it for the fame. The proof is in her continually excellent work that she is doing on-screen and on the stage. She's currently starring in A Delicate Balance on Broadway. It's the audience who gives her the ultimate thrill. "I try to get […]
http://www.dailyactor.com/2015/01/martha-plimpton-long-lasting-career/
http://www.dailyactor.com/wp-content/uploads/2015/01/watch-michael-keaton-talks-candi.jpg
Watch: Michael Keaton Talks Candidly About His Career and His Approach to Acting in 'Birdman'
In this nearly 90 minute conversation, Michael Keaton is his usual affable self but is also remarkably candid about his career and his approach to acting.
http://www.dailyactor.com/2015/01/michael-keaton-career-approach-to-acting-birdman/