Biography: William Petersen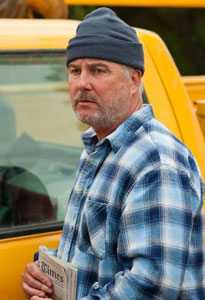 William Petersen continues to show the full range of his unique talent to audiences in multiple mediums. The Evanston, Illinois native first discovered acting while pursuing a football scholarship at Idaho State University. He first drew film industry and critical attention with his back-to-back starring roles in William Friedkin's To Live and Die in L.A., opposite Willem Dafoe and based on the Gerald Petievich novel; and Michael Mann's Manhunter, opposite Brian Cox as Hannibal Lecktor and based on the Thomas Harris novel.
Mr. Petersen's subsequent movies included Joel Schumacher's Cousins; Geoff Murphy's Young Guns II, as Pat Garrett; and Martin Davidson's telefilm Long Gone. He reteamed with the latter director on Hard Promises, which he also produced with his partner Cindy Chvatal for his High Horse Films production banner. Another High Horse production was the telefilm Keep the Change, directed by Andy Tennant.
Among the other features that he has starred in are James Foley's Fear, with Reese Witherspoon and Mark Wahlberg; Roger Young's Kiss the Sky, with Gary Cole and Sheryl Lee; Rob Cohen's The Skulls and telefilm The Rat Pack, in which he portrayed John F. Kennedy after earlier portraying the latter's father Joseph Kennedy in Lamont Johnson's miniseries The Kennedys of Massachusetts; the telefilm 12 Angry Men, which reunited Mr. Petersen with director William Friedkin and teamed him with a stellar ensemble headed by Jack Lemmon; and Rod Lurie's The Contender, opposite Joan Allen, Jeff Bridges, and Gary Oldman, for which he shared with the director and cast the Broadcast Film Critics Association's prestigious Alan J. Pakula Award.
For 10 seasons, he starred as Gil Grissom on the top-rated drama series C.S.I: Crime Scene Investigation, for which he received a Golden Globe Award nomination. As executive producer on the show, he has shared multiple Producers Guild of America and Emmy Award nominations with his fellow producers of the series when the program was nominated for Outstanding Drama Series. With his fellow actors from the show, he won a Screen Actors Guild Award for Outstanding Performance by an Ensemble in a Drama Series. He continues as an executive producer on the program.
In 1979, Mr. Petersen founded the Remains Theater Ensemble in Chicago with a group of fellow actors. In 1983, he starred as Jack Henry Abbott in In the Belly of the Beast, which he performed at the Wisdom Bridge Theatre in Chicago; at the Edinburgh Festival; and at the Kennedy Center for the Performing Arts in Washington, DC.
In 1996, he made his Broadway debut in a revival of Tennessee Williams' The Night of the Iguana. He has also appeared in a number of regional stage productions, including ones of A Streetcar Named Desire, The Time of Your Life, Glengarry Glen Ross, Fool for Love, and Speed-the-Plow. More recently he starred in A Dublin Carol and Endgame at the Steppenwolf Theatre in Chicago; and in David Harrower's Blackbird at the Victory Gardens Theatre in Chicago.
Latest Videos
http://www.dailyactor.com/wp-content/uploads/2014/04/director-david-gordon-greene-nar.jpg
Director David Gordon Green Narrates a Scene From 'Joe'
Director David Gordon Green narrates a sequence from his new film, Joe, featuring Nicolas Cage and Tye Sheridan. In the video, he mentions his reasons why he likes to hire non-traditional actors. He likes people who have real skill-sets and not actors who have the skills on their resume. He also talked about this in […]
http://www.dailyactor.com/2014/04/director-david-gordon-green-narrates-a-scene-from-joe/
http://www.dailyactor.com/wp-content/uploads/2014/04/david-gordon-green-joe.jpg
Director David Gordon Green: "I find actors in unusual places"
I keep missing screenings of director David Gordon Greene's new film, Joe. I hear it's really good so I'm looking forward to catching it at some point. Joe stars Nicholas Cage as ex-con Joe Ransom, who isn't the greatest of role models until he meets a 15-year-old boy (Mud's Tye Sheridan). In this featurette, Green […]
http://www.dailyactor.com/2014/04/director-david-gordon-green-i-find-actors-in-unusual-places/
http://www.dailyactor.com/wp-content/uploads/2014/04/judy-greer-i-dont-know-why-you-know-me-from.jpg
Please Don't Say These Things To Judy Greer (video)
Judy Greer - who we love here at Daily Actor – has a new book called, I Don't Know What You Know Me From (Confessions of a Co-Star), a series of essays about her life as an actress, friend and someone who everyone thinks they might know. Here's a blurb about the book: "Want to […]
http://www.dailyactor.com/2014/04/please-dont-say-these-things-to-judy-greer-video/
http://www.dailyactor.com/wp-content/uploads/2014/04/Captain-America-SamuelNick-Fury.jpg
How Samuel L. Jackson Learns His Lines for the Marvel Movies (video)
Samuel L. Jackson stopped by Good Morning America earlier this week to talk about Captain America: The Winter Soldier – which is terrific, by the way – and he told Robin Roberts that for the first Cap film, he had trouble learning his lines. "I sat at home and I did all my studying, and […]
http://www.dailyactor.com/2014/04/how-samuel-l-jackson-learns-his-lines-for-the-marvel-movies-video/
http://www.dailyactor.com/wp-content/uploads/2014/04/andy-karl-margot-seibert-rocky.jpg
Andy Karl and Margo Seibert Talk 'Rocky: The Musical' on 'Today'
Andy Karl and Margo Seibert, the stars of Rocky: The Musical, talked to Today's Matt Lauer about the new Broadway musical. Karl talks about the final fight and taking on the iconic role. This is Seibert's Broadway debut and she's asked about her callbacks (9 in all!) and more. Check it out!
http://www.dailyactor.com/2014/04/andy-karl-and-margo-seibert-talk-rocky-the-musical-on-today/