Biography: Matthew McConaughey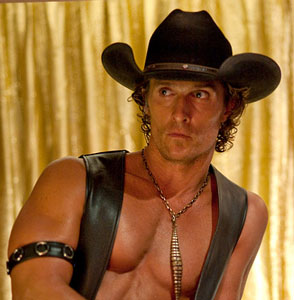 Matthew McConaughey is one of Hollywood's most sought-after leading men whose films have grossed more than a billion dollars at the box office.
He most recently starred with Jack Black in the docudrama Bernie," reteaming him with director Richard Linklater, and in the dark drama Killer Joe, for legendary director William Friedkin.   He will  next be seen with Nicole Kidman in the Lee Daniels thriller The Paperboy; with Reese Witherspoon in Jeff Nichols' drama Mud, which premiered at the Cannes Film Festival; and alongside Gerard Butler in the war drama Thunder Run, for director Simon West.
McConaughey's other recent film credits include The Lincoln Lawyer, adapted from the best-selling novel by Michael Connelly; Ghosts of Girlfriends Past, opposite Michael Douglas and Jennifer Garner; Ben Stiller's wildly successful action comedy Tropic Thunder; and Fool's Gold, opposite Kate Hudson, for director Andy Tennant. He also produced and starred in Surfer, Dude a comedy that featured music from his own j.k. livin recording artist, Mishka. In 2007, he portrayed real-life college football coach Jack Lengyel in the critically acclaimed drama We Are Marshall.
Previously, he earned a People's Choice Award for his starring role in the action adventure comedy Sahara, with Penelope Cruz and Steve Zahn, which opened at the top of the box office and marked the first major motion picture produced by his production company, j.k. livin productions. McConaughey followed with a starring role opposite Al Pacino in the drama Two for the Money, before closing 2005 as People Magazine's "Sexiest Man Alive."
His additional credits include the popular romantic comedies Failure to Launch, with Sarah Jessica Parker, and How to Lose a Guy in 10 Days, opposite Kate Hudson; the sci-fi adventure Reign of Fire, with Christian Bale; the ensemble drama Thirteen Conversations About One Thing; the horror thriller Frailty, written and directed by Bill Paxton; and Adam Shankman's hit romantic comedy The Wedding Planner, opposite Jennifer Lopez. He also starred in the World War II action drama U-571, Ron Howard's EDtv, Steven Spielberg's Amistad, Robert Zemeckis' Contact, and Joel Schumacher's critically acclaimed courtroom drama A Time to Kill, as well as Lone Star, Angels in the Outfield, The Newton Boys, and The Return of the Texas Chainsaw Massacre.
A Texas native, McConaughey planned to be a lawyer while attending the University of Texas in Austin. When he discovered the inspirational Og Mandino book The Greatest Salesman in the World, before one of his final exams, he suddenly knew that he had to change his major from law to film. He began his acting career in 1991, appearing in student films and commercials in Texas and directing short films. It was a chance meeting in Austin with casting director and producer Don Phillips, who introduced him to director Richard Linklater, that led to his casting as Wooderson in the cult classic Dazed and Confused. McConaughey has appeared in over 40 feature films since then, and has become a producer, director, and philanthropist all, the while sticking to his Texas roots and "j.k. livin" philosophy.
In 2008, McConaughey started The just keep livin Foundation (jklivinfoundation.org), dedicated to helping boys and girls transform into men and women through programs that teach the importance of decision making, health, education, and active living. The just keep livin Foundation has partnered with Communities in Schools in West Los Angeles to implement fitness and wellness programs in two large, urban high schools. CIS is the nation's largest, nonprofit, dropout prevention organization. Through the j.k. livin afterschool program, they are able to give kids a healthy start in life and the promise of a healthy future.
Latest Videos
http://www.dailyactor.com/wp-content/uploads/2014/10/alex-sharp-curious-incident-of-the-dog.jpg
Alex Sharp Talks About His Broadway Debut in 'The Curious Incident of the Dog in the Night-Time' (video)
Alex Sharp went from working in a call-center and renovating houses to going to Julliard. And now, he's starring in one of the most talked about shows of the season, The Curious Incident of the Dog in the Night-Time. Check out this great, inspiring video!
http://www.dailyactor.com/2014/10/alex-sharp-broadway-debut-the-curious-incident-of-the-dog-in-the-night-time-video/
http://www.dailyactor.com/wp-content/uploads/2014/10/Its-only-a-play.jpg
Watch a Scene From Terrance McNally's, 'It's Only a Play', Featuring Nathan Lane and Micah Stock
Here's a quick scene from Terrance McNally's It's Only a Play, currently on Broadway at the Schoenfeld Theater. In this scene, Nathan Lane and Micah Stock meet for the first time. The show, about the opening night of a new play, also stars Matthew Broderick, Stockard Channing, F. Murray Abraham, Rupert Grint and Megan Mullally.
http://www.dailyactor.com/2014/10/watch-a-scene-terrance-mcnally-its-only-a-play-nathan-lane-micah-stock/
http://www.dailyactor.com/wp-content/uploads/2014/10/birdman-director-alejandro-g-ina.jpg
'Birdman' Director Alejandro G. Iñárritu Narrates a Scene from the Film Featuring Michael Keaton and Edward Norton
Director Alejandro G. Iñárritu narrates a scene from Birdman or The Unexpected Virtue of Ignorance that features stars Michael Keaton and Edward Norton. The film is wonderful and if it's playing in your town, definitely check it out!
http://www.dailyactor.com/2014/10/birdman-director-alejandro-g-inarritu-michael-keaton-edward-norton/
http://www.dailyactor.com/wp-content/uploads/2014/10/the-cast-of-mad-men-on-the-final.jpg
The Cast of 'Mad Men' on the Final Season and More
Though the AMC television series Mad Men might not carry the same cultural weight that it did a few years ago (splitting your final season over two years might do that to you), the second half of the show's final season is expected to be full of powerful performances from its ensemble cast. With the […]
http://www.dailyactor.com/2014/10/cast-of-mad-men-final-season/
http://www.dailyactor.com/wp-content/uploads/2014/10/behind-the-scenes-of-a-sex-scene.jpg
Behind the Scenes of a Sex Scene with Patrick Wilson, Brooklyn Decker and Director Joe Carnahan
Director Joe Carnahan is giving viewers an inside look at what it is like to film a big screen Hollywood sex scene, as confirmed by Gawker. Carnahan released a brief video clip taken from the set of his latest film Stretch starring supermodel and actress Brooklyn Decker and Patrick Wilson. The video showcases the two […]
http://www.dailyactor.com/2014/10/behind-the-scenes-of-a-sex-scene-patrick-wilson-brooklyn-decker-director-joe-carnahan/