John Slattery on the 'Mad Men' Season Finale and His Nude Scene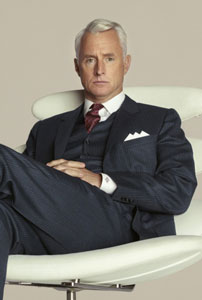 John Slattery is grateful his character wasn't killed off during this past season of AMC's Mad Men. 
He told Vulture that the cast is always prepared that they might be the ones to get the cut, like Jared Harris' Lane Pryce did.  He said, "I mean they wanted to cut characters and expenses and stuff, so there was some discussion of characters, and of course people send you links to sites where they predict it'll be you.  And yeah, it could be anybody.  I'm glad it wasn't me, but I'm sorry it was Jared.  I hope I stick around.  I mean, any time a character has to go it's because of story.  I'm sure when it's my turn, there'll be a reason for it."
Slattery also spoke about the last scene in which his character, Roger Sterling, appears nude.  "It's funny," he said. "I read that [script] and you think, Who wants to be naked in front of a camera?  Especially nowadays, when you know it'll be on someone's cell phone or around forever.  The fact that it was Roger who took the LSD to begin with was surprising, but it made sense, and the end made sense.  So as intimidating as it can be to do something like that, it made sense to the story, and Matt [Weiner, the creator] never makes a false step.  You know you're in good hands.  And sure enough, it worked.  It's a funny scene, but it actually makes sense in a storytelling way.  It's not gratuitous."
Slattery also directed an episode, "Signal 30," earlier this season (it aired April 15.)  and on that he said that, "You direct the one you're given.  The schedule plays into it.  I was supposed to direct an earlier one, I think, and because I'm in it they have to figure out an arc in terms of the season where I'm light so I can prep my episode and not be so heavy in the one I'm directing.  It's really a time issue; if you direct the scene you're in, you have to go outside, watch the monitor, then go back in and do another take.  If you're just directing and not acting as much, you don't have to take time out.  It becomes a bit of an issue, but you're given the script you get.  I take what I'm given, and I had a great script—I'm glad I did that one." 
Latest Videos
http://www.dailyactor.com/wp-content/uploads/2014/07/bill-hader.jpg
Bill Hader: "I kind of fell into acting" (video)
Bill Hader, starring in the soon to be released The Skeleton Twins, talks about the film and how he fell into acting and then got "crazy lucky" in this quick video from USA Today. Share on Tumblr
http://www.dailyactor.com/2014/07/bill-hader-fell-into-acting-video/
http://www.dailyactor.com/wp-content/uploads/2014/07/director-john-carney-narrates-a.jpg
Director John Carney Narrates a Scene from 'Begin Again' Starring Kiera Knightley and Mark Ruffalo
Director John Carney (Once) narrates a scene from his new film, Begin Again. Starring Keira Knightley and Mark Ruffalo, the scene shows the first time the two characters meet. I haven't seen it yet but I've heard it's great.
http://www.dailyactor.com/2014/07/begin-again-scene-director-john-carney-keira-knightley-mark-ruffalo/
http://www.dailyactor.com/wp-content/uploads/2014/07/holler-if-you-hear-me-gma.jpg
Watch the Cast of Broadway's 'Holler If You Hear Me' Perform 'California Love' on GMA
The cast of Broadway's newest musical, Holler If You Hear Me with music from Tupac Shakur, performed on Good Morning America this morning. Singing 'California Love', the cast (including the teriffic Christopher Jackson – read our interview here), show why they're the most energetic and inspiring group of actors on Broadway. Holler If Ya Hear [...]
http://www.dailyactor.com/2014/07/watch-cast-broadways-holler-hear-perform-california-love-gma/
http://www.dailyactor.com/wp-content/uploads/2014/07/behind-the-scenes-of-dawn-of-the.jpg
Behind the Scenes of 'Dawn of the Planet of the Apes' with Performance Capture Actor Terry Notary
Actor Terry Notary is 1 of 5 actors playing the apes in the new Dawn of the Planet of the Apes. "When you see armies of apes," he says, that's "five of us." Check out the video where you can watch his performance capture work.
http://www.dailyactor.com/2014/07/dawn-planet-apes-performance-capture-actor-terry-notary/
http://www.dailyactor.com/wp-content/uploads/2014/07/melissa-mccarthy-daily-show.jpg
Melissa McCarthy and John Stewart Talk About Terrible Commercial Auditions on 'The Daily Show'
Melissa McCarthy stopped by The Daily Show last week to plug about her new movie, Tammy. She talked about how she loved working with her husband, Ben Falcone (director of Tammy) and then segued into talking about some horrible working situations. The always hilarious McCarthy then started to tell host John Stewart about a particular [...]
http://www.dailyactor.com/2014/07/melissa-mccarthy-john-stewart-commercial-auditions-the-daily-show/