Interview: Actor Tyler Langdon on Playing a Character with Social Anxiety in 'Nerve' and Getting Cast in 'The Incredible Burt Wonderstone'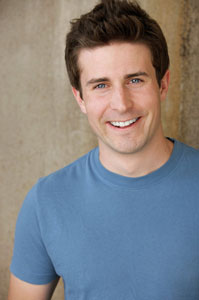 I recently had the chance to see Nerve, an independent film about a character with social anxiety starring Tyler Langdon.  I had never seen Langdon act before, but I was really impressed by his performance in the movie as Josh Biggs.  I was happy to hear that after starring in Nerve and receiving a Hollywood Discovery Award at the Hollywood Film Festival, Langdon is set to appear in the upcoming New Line Cinema comedy The Incredible Burt Wonderstone as the teenage version of star Steve Carell's character. 
This is by far the most visible role for Langdon, and I reached out to see what he could say about how he transitioned from a lead role in an independent film to a supporting role in a big-budget Hollywood movie.  In particular, he elaborates on how he managed to make that leap from indie film festivals to multiplexes.
You've obviously been a working actor for quite some time, but one of your most high profile roles to date is the role of Josh Biggs in Nerve.  How did you get that part?
I originally heard about the role through LA Casting, believe it or not. From what the director, J.R. Sawyers, tells me, I was one of only a few people in the original audition for Josh who played it exactly as he had imagined. He brought me back in for a callback a week or so later and then offered me the part shortly after that.
How did you prepare yourself to play a character with social anxiety?
One of the guys in the crew actually suffered from social anxiety disorder. Early in the process I had the chance to sit down and talk to him about his experience with social anxiety — how he felt in certain situations; how he'd react to x, y, or z; what would happen when he suffered a panic attack. He was on set the whole time and would give J.R. a thumbs up or thumbs down after each take depending on how well I was able to portray the disorder. Sometimes I would look the other actors in the eyes too much or I would come across as too confident, but overall he was really happy with what I brought to the character.
Josh goes through a variety of emotional states in Nerve.  How did you prepare yourself to portray the character in his various states of mind?
You're right, there were a lot of emotional states in the movie. Since the movie was filmed completely out of order, it was tough sometimes to figure out exactly what Josh was going through in any given scene. For the scenes where he's almost paralyzed with fear and anxiety, I found that my physicality was the most helpful. I would rub my fingers together, play with my fingernails, and tighten all the muscles in my body. I would try to convince myself that nobody cared to hear anything I had to say. There were also scenes where Josh felt utterly desperate and alone. I pulled from my personal life for those scenes, imagining the loneliness and desperation that my grandmother was suffering through with her Alzheimer's. But as Josh became more confident, I was able to play him more like myself. I was able to loosen up and just be a nice guy. Eventually, though, Josh went too far in the opposite direction, and I had to find my inner a-hole. I had a lot of "f you" thoughts through those scenes [laughs].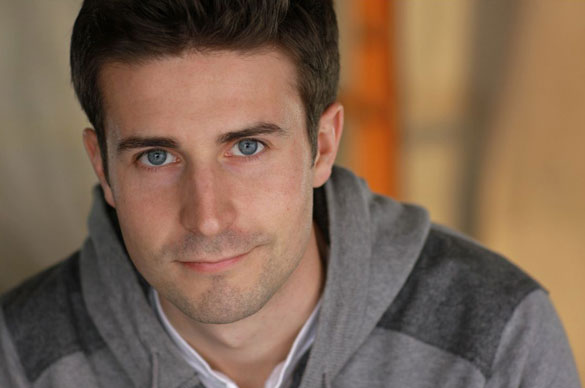 You've recently filmed what could be a breakthrough role for you, which is playing the teenage version of Steve Carell's character in the upcoming film The Incredible Burt Wonderstone.  How'd you end up getting cast in the part, and what did you do to prepare for the audition?
I'm keeping my fingers crossed that the movie ends up getting me noticed by a lot of people in this city. It's already helped me get fantastic representation, and I've finally been auditioning for lead roles in TV shows for the major networks. I owe a lot to online casting websites because I originally submitted for the role via Actor's Access. I also owe a lot to Jay and Vicki Stern. Jay was one of the executive producers on Horrible Bosses and is a good friend of mine. I got to know both him and Vicki when I tutored their son for his entrance exam into Brentwood's school system. He had used the casting directors of Burt Wonderstone, Lisa Beach and Sarah Katzman, for Horrible Bosses. Since he had a good relationship with them, he was able to put in a good word for me. For the first audition I went in wearing a fake tuxedo shirt and my dog's blanket wrapped around my shoulders for a cape (which NO ONE else had done [laughs], so I looked like an idiot in the waiting room). I was one of only a few people to be called back for the role and auditioned for a second time on the Warner Brother's lot and in person with the director, Don Scardino. My tape was sent around to the studio heads and producers for final approval. Four weeks went by and I heard NOTHING. I thought I hadn't gotten the role so I stopped by Lisa's and Sarah's office with a gift and a thank you note. They pulled me back into their office and told me that I had gotten "yes"s across the board and that Steve Carell had given an "emphatic" yes. He said that his second choice for the role was a "distant second" behind me. Steve has always been one of my role models in the industry, so to hear that from the him was INCREDIBLE.
Did you ever get compared to Steve Carell in the past?
To be honest, the role didn't take much prep. When The Office was in its prime, I would get compared to Steve Carell on an almost daily basis. Friends, family, strangers… Everyone told me I acted exactly like him and most said I looked a ton like him too. I've never tried to act like him; it's just who I am. On set I overheard the director saying, "It's unbelievable how much he looks and acts like Steve. The way he says things is exactly the way Steve says things." So, luckily by being myself, I was being Steve Carell.
What were some of the significant differences between starring in a low-budget independent film like Nerve and a big-budget studio film like Burt Wonderstone?
The crew on a big budget production operates like clockwork. They know exactly where each light needs to be placed, where the camera should go, where the actors should stand. The level of professionalism on Burt Wonderstone was unbelievable. In a low budget production, on the other hand, it's often a lot of trial and error. No one has reached a level of super stardom yet so you feel like you have so much room to play. You're not surrounded by people who've been in the industry for decades so there isn't as much pressure on you. Also, $30 million isn't on the line if you screw up [laughs]. Both experiences were phenomenal though and each is just a slightly different way of doing the same thing. Working on a studio film like Burt Wonderstone is exhilarating, but the camaraderie on a low budget feature is tough to beat.
What's next for you as an actor?
I'm hoping Steve has another movie in the works where he needs someone to play his son or younger brother [laughs].
What's your advice to actors?
Don't give up. You never know when your big break is right around the corner. And do everything you can everyday to make your dream a reality. Go to class. Send out emails. Network. Write. Act. I still have a long way to go, but so far what I'm doing seems to be working!
http://www.dailyactor.com/wp-content/uploads/2015/01/watch-al-pacino-talks-the-humbli.jpg
Watch: Al Pacino Talks 'The Humbling' and His Extraordinary Career
In this conversation with Al Pacino talks about his role in The Humbling -- including working with Greta Gerwig -- and his historic acting career
http://www.dailyactor.com/2015/01/watch-al-pacino-extraordinary-career/
http://www.dailyactor.com/wp-content/uploads/2015/01/watch-oscar-nominee-steve-carell.jpg
Watch: Oscar Nominee Steve Carell Talks Improv, Auditioning for 'The Office' and 'Foxcatcher'
Carell talks about his entire career as an actor, including his background in improv, how he landed the Michael Scott role on The Office, and Foxcatcher
http://www.dailyactor.com/2015/01/oscar-nominee-steve-carell-improv-auditioning-for-the-office-foxcatcher/
http://www.dailyactor.com/wp-content/uploads/2015/01/ethan-hawke-ellar-coltrane-boyhood.jpg
Ethan Hawke Calls 'Boyhood' the "most special endeavor of my life"
Ethan Hawke is riding high with his fourth Oscar nomination for the Richard Linklater-directed Boyhood. In a recent "Ask Me Anything" on Reddit, the 44-year-old actor gave some thoughtful insight into his career and the 12-year creative endeavor that became the biggest film of the Oscar season. When asked what was the most difficult thing about […]
http://www.dailyactor.com/2015/01/ethan-hawke-boyhood-reddit-amaife/
http://www.dailyactor.com/wp-content/uploads/2015/01/martha-plimpton-a-delicate-balance.jpg
Martha Plimpton Takes a Refreshing Approach to a Long-Lasting Career
Martha Plimpton is an actress who enjoys the work, she's not in it for the fame. The proof is in her continually excellent work that she is doing on-screen and on the stage. She's currently starring in A Delicate Balance on Broadway. It's the audience who gives her the ultimate thrill. "I try to get […]
http://www.dailyactor.com/2015/01/martha-plimpton-long-lasting-career/
http://www.dailyactor.com/wp-content/uploads/2015/01/watch-michael-keaton-talks-candi.jpg
Watch: Michael Keaton Talks Candidly About His Career and His Approach to Acting in 'Birdman'
In this nearly 90 minute conversation, Michael Keaton is his usual affable self but is also remarkably candid about his career and his approach to acting.
http://www.dailyactor.com/2015/01/michael-keaton-career-approach-to-acting-birdman/