English Actor Disappears Minutes Before His Show's Debut Performance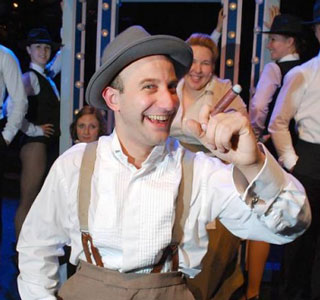 Stage fright is very common — even the most comfortable stage veterans get the live performance jitters.  Having anxiety before taking the stage is one thing, but English actor Ben Stirling took stage fright to a whole new level earlier this month, according to the Daily Mail.
Stirling was all set to star as American entertainer Jimmy Durante in the new musical Goodnight Mrs Calabash at the Gatehouse Theatre in Highgate, London when he went for what he said was a bathroom break an hour before showtime.  However, Stirling neglected to tell his fellow cast members that the bathroom he was heading for was apparently his mother's in Scotland.  When the cast went to find Stirling fifteen minutes later, he was long gone!
With such little time before the play began, the producers were forced to cancel the performance and turn away the approximately sixty people in the audience with refunds. 
John Plews, artistic director of Upstairs at the Gatehouse, admits that he felt conflicted about the situation, saying, "At first we felt sorry for Ben because he obviously had a problem, but then we felt really angry because he had let down so many people."  In all, the production was canceled for eight days.
Stirling is no newcomer to theatre, having recently appeared in worldwide tours of Fame and Jesus Christ Superstar, and the producers invested £350 in having a fake nose custom made for Stirling to play Durante, who was famous for his distinctively large nose.  Unfortunately, no one else is able to wear the custom-made prosthetic, although actor Tim Frost has stepped up to replace Stirling in the show.  Frost learned the entire part — including fifteen songs — in just four days.
There's no word on exactly why Stirling flew the coop — Plews admits they have not had contact with him — but beyond hoping that he is mentally all right I think it's fair to say it will be a long time before anyone offers him a theatrical role again. 
Latest Videos
http://www.dailyactor.com/wp-content/uploads/2014/08/audition-tapes-gerard-butler-aud.jpg
Audition Tapes: Gerard Butler Auditions for 'Dracula 2000′
Check out Gerard Butler auditioning for the role of Dracula in the movie, Dracula 2000. The film, about a group of thieves who break into a chamber expecting to find paintings, but instead find Dracula himself, also starred Christopher Plummer, Jonny Lee Miller and Nathan Fillion. Bulter has some sweet rock star hair, huh?
http://www.dailyactor.com/2014/08/audition-tapes-gerard-butler-dracula-2000/
http://www.dailyactor.com/wp-content/uploads/2014/08/interview-matt-dillon-and-carla.jpg
Interview: Matt Dillon and Carla Gugino Talk 'Wayward Pines'
FOX has a new limited-series that's got a terrific cast and interesting premise. It's called Wayward Pines and stars Matt Dillon, Carla Gugino, Melissa Leo, Toby Jones, Terrance Howard, Juliette Lewis, Tim Griffin and Shannyn Sossamon. The show, whose pilot was directed by M. Night Shyamalan, is about a Secret Service agent (Dillon) goes to […]
http://www.dailyactor.com/2014/08/interview-matt-dillon-carla-gugino-wayward-pines-comic-con/
http://www.dailyactor.com/wp-content/uploads/2014/08/interview-wayward-pines-stars-ti.jpg
Interview: 'Wayward Pines' Stars Tim Griffin and Shannyn Sossamon on the Show, Their Characters and More!
Griffin and Sossamonwere at Comic-Con where they sat in on some roundtable interviews to talk about the show.
http://www.dailyactor.com/2014/08/interview-wayward-pines-stars-tim-griffin-shannyn-sossamon-comic-con/
http://www.dailyactor.com/wp-content/uploads/2014/08/interview-m-night-shyamalan-talk.jpg
Interview: M. Night Shyamalan Talks 'Wayward Pines' and Why He Expanded a Young Actors Role on the Show
I talked to Shyamalan at Comic-Con in a roundtable interview where he talked about the cast, what he learned from working in TV and how young actor Charlie Tahan started out with a small part but as the story grew, so did his role.
http://www.dailyactor.com/2014/08/interview-m-night-shyamalan-wayward-pines-comic-con/
http://www.dailyactor.com/wp-content/uploads/2014/08/interview-wayward-pines-producer.jpg
Interview: 'Wayward Pines' Producers and Writer Talk Casting and the 10-Episode Format
FOX's upcoming limited series Wayward Pines looks very cool. The show is supposed to be very Twin Peaks-ish in tone which, just hearing that, definitely sparks my interest. The pilot was directed by M. Night Shyamalan and stars Matt Dillon, Carla Gugino, Melissa Leo, Toby Jones, Terrance Howard and Juliette Lewis and is about a […]
http://www.dailyactor.com/2014/08/interview-wayward-pines-creators-comic-con/