'Clybourne Park,' Winner of the 2012 Tony Award for Best Play, Extends 3 Additional Weeks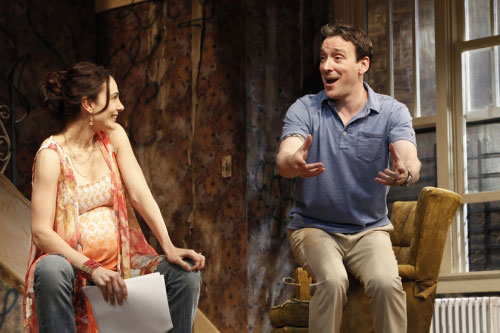 Producer Jordan Roth, just announced that Clybourne Park, the showing starring our man Jeremy Shamos, has extended its run a second time.  The limited engagement has now been extended by three additional weeks to Sunday, September 2nd.
Winner of the 2012 Tony Award for "Best Play," the 2011 Pulitzer Prize and Olivier Award, Clybourne Park is the a new play about race, real estate and the volatile values of each.  The show has 2 acts that is set 50 years apart.  Act One takes place in 1959, as nervous community leaders anxiously try to stop the sale of a home to a black family. Act Two is set in the same house in the present day, as the now predominantly African-American neighborhood battles to hold its ground in the face of gentrification. 
Bruce Norris's Clybourne Park received its world premiere at Playwrights Horizons in 2010 followed by a critically acclaimed pre-Broadway engagement at Center Theatre Group/Mark Taper Forum in Los Angeles. Under the direction of Pam MacKinnon, the highly praised original cast includes Shamos, Crystal A. Dickinson, Brendan Griffin, Damon Gupton, Christina Kirk, Annie Parisse and Frank Wood. 
Clybourne Park was nominated for 4 2012 Tony Awards including "Best Direction of a Play" (Pam MacKinnon), "Best Performance by an Actor in a Featured Role in a Play" (Jeremy Shamos) and "Best Scenic Design of a Play" (Daniel Ostling).
Tickets, which range from $30.00 to $127.00 (premium seating ranges from $137.00 to $199.00) are available via telecharge.com, by calling (212) 239-6200/(800) 432-7250, or at the Walter Kerr Theatre box office (219 West 48th Street). Groups of 10 or more can be purchased through telecharge.com or by calling (212) 239-6262 in New York or (800) 432-7780 outside the NY Metro area.  A limited number of $30.00 General Rush tickets are available the day of performances. Tickets can be purchased at the Box Office beginning at 10 am.
http://www.dailyactor.com/wp-content/uploads/2015/05/Caitriona-Balfe-Outlander.jpg
Outlander's Caitriona Balfe On The Emotional Toll of Filming Violent Scenes
"Having to put yourself in that place is tough. To sit in that emotional space, especially when you're doing it day after day." - Caitriona Balfe
http://www.dailyactor.com/2015/05/outlander-catriona-balfe-emotional-toll-of-filming-violent-scenes/
http://www.dailyactor.com/wp-content/uploads/2015/05/Chrissie-Fit.jpg
Chrissie Fit on How She Landed Her Role in 'Pitch Perfect 2′
"I remember getting the audition and being like, "This might not happen," just because it is such a massive movie." - Chrissie Fit
http://www.dailyactor.com/2015/05/chrissie-fit-on-how-she-landed-her-role-in-pitch-perfect-2/
http://www.dailyactor.com/wp-content/uploads/2015/05/Sam-Elliott.jpg
Sam Elliot on How he "F–ked" Himself Out of a Career as a Lead Actor
The rugged Sam Elliot has most often cast in character actor roles throughout his long career in film, though the 70 year-old Elliot thinks it wasn't always meant to be that way.
http://www.dailyactor.com/2015/05/sam-elliot-on-how-he-f-ked-himself-out-of-a-career-as-a-lead-actor/
http://www.dailyactor.com/wp-content/uploads/2015/05/Anna-Kendrick-Pitch-Perfect-2.jpg
Anna Kendrick Talks Hollywood and its Gender Bias
"As an actress you're perpetually about to be unemployed." - Anna Kendrick
http://www.dailyactor.com/2015/05/anna-kendrick-talks-hollywood-and-its-gender-bias/
http://www.dailyactor.com/wp-content/uploads/2015/05/tom-hardy-mad-max-fury-road.jpg
Tom Hardy on Fame, Acting School, and His 'Mad Respect' for Michael Fassbender
"Do what you love doing, do it well—everything should fit into place." - Tom Hardy
http://www.dailyactor.com/2015/05/tom-hardy-fame-acting-school-michael-fassbender/