Archaeologists Discover Remains of Shakespeare's Curtain Theatre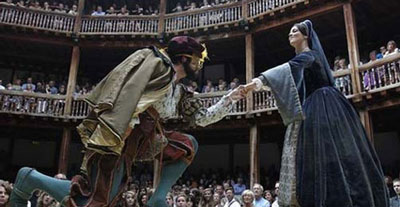 With most of the world's eyes on England because of the Queen's Diamond Jubilee and its associated pageantry, Archaeologists in London have made a very timely discovery relating to one of England's most famous icons, William Shakespeare. 
Historians from the Museum of London claim that part of the gravel yard and gallery walls of the 435-year-old Curtain Theatre in Shoreditch, where several of Shakespeare's plays were first performed (including Henry V, which refers to the Theatre as "this wooden O" in its prologue). 
The theatre originally opened in 1577 as one of England's first playhouses and in 1597 became home to Shakespeare's company Lord Chamberlain's Men until 1599, when the company made the new (and more famous) Globe Theatre its home.  Along with Henry V, it is believed that Romeo and Juliet may have made its debut at the Curtain.  The venue continued until the 1620s, which makes it the longest-lasting theatre of its era.
A full excavation will take place later this year, and hopefully we can learn even more about theatre in the Elizabethan era from the remains.  In the future, the public will be able to visit the site.
via the Associated Press
http://www.dailyactor.com/wp-content/uploads/2015/05/Caitriona-Balfe-Outlander.jpg
Outlander's Caitriona Balfe On The Emotional Toll of Filming Violent Scenes
"Having to put yourself in that place is tough. To sit in that emotional space, especially when you're doing it day after day." - Caitriona Balfe
http://www.dailyactor.com/2015/05/outlander-catriona-balfe-emotional-toll-of-filming-violent-scenes/
http://www.dailyactor.com/wp-content/uploads/2015/05/Chrissie-Fit.jpg
Chrissie Fit on How She Landed Her Role in 'Pitch Perfect 2′
"I remember getting the audition and being like, "This might not happen," just because it is such a massive movie." - Chrissie Fit
http://www.dailyactor.com/2015/05/chrissie-fit-on-how-she-landed-her-role-in-pitch-perfect-2/
http://www.dailyactor.com/wp-content/uploads/2015/05/Sam-Elliott.jpg
Sam Elliot on How he "F–ked" Himself Out of a Career as a Lead Actor
The rugged Sam Elliot has most often cast in character actor roles throughout his long career in film, though the 70 year-old Elliot thinks it wasn't always meant to be that way.
http://www.dailyactor.com/2015/05/sam-elliot-on-how-he-f-ked-himself-out-of-a-career-as-a-lead-actor/
http://www.dailyactor.com/wp-content/uploads/2015/05/Anna-Kendrick-Pitch-Perfect-2.jpg
Anna Kendrick Talks Hollywood and its Gender Bias
"As an actress you're perpetually about to be unemployed." - Anna Kendrick
http://www.dailyactor.com/2015/05/anna-kendrick-talks-hollywood-and-its-gender-bias/
http://www.dailyactor.com/wp-content/uploads/2015/05/tom-hardy-mad-max-fury-road.jpg
Tom Hardy on Fame, Acting School, and His 'Mad Respect' for Michael Fassbender
"Do what you love doing, do it well—everything should fit into place." - Tom Hardy
http://www.dailyactor.com/2015/05/tom-hardy-fame-acting-school-michael-fassbender/