'Annie' Has Found Her Warbucks in Australian Star, Anthony Warlow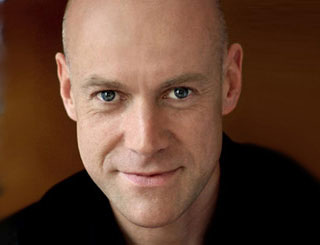 Anthony Warlow, who is being hailed as 'Australia's preeminent musical theatre and opera star' will make his Broadway debut as billionaire Daddy Warbucks in the new production of Annie. 
Warlow is currently playing Daddy Warbucks in the Australian production at Melbourne's Regent Theatre. 
"I'm having a great time playing Oliver Warbucks here in the Australian production and have always loved Broadway and New York City," Warlow said, "so I am delighted to finally make my Broadway debut at the great Palace Theatre and in the exciting new production of this wonderful musical.  I look forward to working with the talented James Lapine and his fantastic cast and creative team."
Warlow made his music debut with the Australian Opera at the age of 19 in Benjamin Britten's A Midsummer Night's Dream. Being awarded the Joan Sutherland Scholarship enabled him to further his career in opera, with roles in The Magic Flute, La Bohème, Tosca, Otello, The Tales of Hoffman (with Dame Joan Sutherland), Romeo and Juliet and Don Giovanni.
His musical theatre career began in 1985 with the London National Theatre's production of Guys and Dolls.  He created the role of Enjolras in the Australian production of Les Miserables, a performance which won him a place on the Grammy Award-winning International Cast recording. Other productions include The Secret Garden, Man of La Mancha, My Fair Lady, Grease the Arena Spectacular, A Little Night Music, and a healthy catalogue of Gilbert & Sullivan's comic operas.
Warlow's performance in the title role of The Phantom of the Opera (1990 and 2007-2009), set the seal on his status as Australia's premier stage performer.  He received the prestigious Advance Australia Award for Contribution to Music Theatre in 1991 for his performance, Gold and Platinum sales of his solo albums and in 1998 Anthony was honored by the nation and the National Trust being elected a Living National Treasure.
His concert performances include sharing the stage with Australia's Symphony Orchestras, as well as the London Philharmonic Orchestra.  In 2011, he created the role of Dr.Yurii Zhivago in the Australian premiere production of Doctor Zhivago: the Musical, based on the Nobel Prize winning novel by Boris Pasternak, with a score by Lucy Simon (The Secret Garden). Warlow was thrilled to be asked to help celebrate the 25th Anniversary of The Phantom of the Opera at London's Royal Albert Hall in October of last year.
Two-time Tony Award® winner Katie Finneran stars as Miss Hannigan and 11-year-old Lilla Crawford (Billy Elliot) will star as Annie, with Emily Rosenfeld as Molly, the littlest orphan; Tyrah Skye Odoms as Kate, the next-to-littlest orphan; Junah Jang as Tessie, the cry-baby orphan; Georgi James as Pepper, the toughest orphan; Madi Rae DiPietro as July, the quietest orphan and Taylor Richardson as Duffy, the biggest orphan.  Jaidyn Young will be the standby for the roles of Annie, Pepper, Duffy and July.  Richardson will understudy the role of Annie.   Additional casting will be announced soon.
Annie opens November 8 at the Palace Theatre (1567 Broadway at 47th Street).  Previews begin October 3.
Latest Videos
http://www.dailyactor.com/wp-content/uploads/2014/04/director-david-gordon-greene-nar.jpg
Director David Gordon Green Narrates a Scene From 'Joe'
Director David Gordon Green narrates a sequence from his new film, Joe, featuring Nicolas Cage and Tye Sheridan. In the video, he mentions his reasons why he likes to hire non-traditional actors. He likes people who have real skill-sets and not actors who have the skills on their resume. He also talked about this in […]
http://www.dailyactor.com/2014/04/director-david-gordon-green-narrates-a-scene-from-joe/
http://www.dailyactor.com/wp-content/uploads/2014/04/david-gordon-green-joe.jpg
Director David Gordon Green: "I find actors in unusual places"
I keep missing screenings of director David Gordon Greene's new film, Joe. I hear it's really good so I'm looking forward to catching it at some point. Joe stars Nicholas Cage as ex-con Joe Ransom, who isn't the greatest of role models until he meets a 15-year-old boy (Mud's Tye Sheridan). In this featurette, Green […]
http://www.dailyactor.com/2014/04/director-david-gordon-green-i-find-actors-in-unusual-places/
http://www.dailyactor.com/wp-content/uploads/2014/04/judy-greer-i-dont-know-why-you-know-me-from.jpg
Please Don't Say These Things To Judy Greer (video)
Judy Greer - who we love here at Daily Actor – has a new book called, I Don't Know What You Know Me From (Confessions of a Co-Star), a series of essays about her life as an actress, friend and someone who everyone thinks they might know. Here's a blurb about the book: "Want to […]
http://www.dailyactor.com/2014/04/please-dont-say-these-things-to-judy-greer-video/
http://www.dailyactor.com/wp-content/uploads/2014/04/Captain-America-SamuelNick-Fury.jpg
How Samuel L. Jackson Learns His Lines for the Marvel Movies (video)
Samuel L. Jackson stopped by Good Morning America earlier this week to talk about Captain America: The Winter Soldier – which is terrific, by the way – and he told Robin Roberts that for the first Cap film, he had trouble learning his lines. "I sat at home and I did all my studying, and […]
http://www.dailyactor.com/2014/04/how-samuel-l-jackson-learns-his-lines-for-the-marvel-movies-video/
http://www.dailyactor.com/wp-content/uploads/2014/04/andy-karl-margot-seibert-rocky.jpg
Andy Karl and Margo Seibert Talk 'Rocky: The Musical' on 'Today'
Andy Karl and Margo Seibert, the stars of Rocky: The Musical, talked to Today's Matt Lauer about the new Broadway musical. Karl talks about the final fight and taking on the iconic role. This is Seibert's Broadway debut and she's asked about her callbacks (9 in all!) and more. Check it out!
http://www.dailyactor.com/2014/04/andy-karl-and-margo-seibert-talk-rocky-the-musical-on-today/