Sutton Foster on Her Move to TV and 'Bunheads': "I just wanted a new challenge"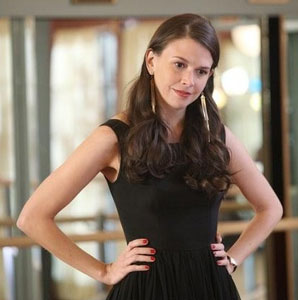 Despite having a title that a five year-old might make up, the upcoming ABC Family television series Bunheads stars Broadway veteran Sutton Foster.  Having earned her fame in her Tony Award winning roles in Thoroughly Modern Millie and Anything Goes, Foster tells Broadway World why she is making the transition to television for the series written by Rosanne and Gilmore Girls writer Amy Sherman-Palladino.
When asked why the long-time stage star is now taking a starring role in a television series, Foster reveals, "There were a couple of reasons.  Amy Sherman-Palladino being one of my favorite writers. Also, the show is based around dance and its affording me a lot of opportunities to do some pretty cool stuff. Already we've shot one song and dance routine and I know there's more down the pike. But the thing that I'm most excited about is really the character and the writing. And being really able to showcase my comedic stuff. She's just a really awesome character who is a dancer, so I'm sure as the series grows and grows they'll be throwing lots and lots of stuff at me. I always say I'll try anything once, so they've already thrown a bunch of stuff my way. I'm sure a lot more is coming. I don't think theater fans will be disappointed!"
Foster elaborates on her admiration of Sherman-Palladino's writing, pointing out that she wanted to do the show before she even saw a script.  She says, "I had a meeting (with Amy) last year. I don't think the pilot had been picked up by ABC Family at that point, but she had me in my mind for the show but she wasn't allowed to mention it yet.  But then two weeks later my agent called and said 'Amy's written this pilot and she wants you to star in it' and I was like, 'What is it? I'll do it!' and she said, 'Well don't you think you should read the script first?' and I was like, 'Oh alright, send me the script.' But I had already made up my mind. I mean it could have been about anything and I would have been like, 'Yes, I want to work with this woman.' But then I read it and I was like, 'Oh my God,' and then it seemed like a no-brainer. So it really didn't take much convincing."
Again, Foster is enthusiastic about the chance to try something new in acting.  She explains, "I think it's because it feels like the right role, the right writer, the right project and the right timing. I've been living in New York for about fifteen years. I absolutely love the theater, it's my home and what I had always wanted to do. But I was coming to a point where I just wanted a new challenge and this came across my path and it's just been already an incredible experience. I'm learning every single day something new and it's exciting at 37 years old to be learning so much. It's a whole new challenge, a whole new chapter of my life. Kind of cool."
Curiously, Foster's ex-husband Christian Borle also recently made a significant leap from Broadway-to-television as one of the main stars of NBC's Smash.  Foster admits that Borle has been a great contact, and says, "We're very good friends, and he's the one who gave me the most advice.  He was saying that you just have to keep moving forward because there's so much material. As soon as you finish a scene you have to let it go and move on to the next one. With the theater you get a scene and you do it over and over and over again.  With TV everything moves so quickly. You spend three hours on a scene and then it has to go away because you have to make room for a whole new scene, a whole new moment. In many ways it's a blessing because you can't get in your own way. You have to act fast, you have to go. There's 40 people in the room staring at you with cameras so you can't get scared and you can't go, 'Oh, I don't know if I can do it,' you have to just do it. And in a way that's been a real blessing for me as an actress. I say 'Ok, I'm just going to dive in and do it.' It's been scary and fun at the same time."
Latest Videos
http://www.dailyactor.com/wp-content/uploads/2014/09/audtion-tapes-robin-wright-and-h.jpg
Audition Tapes: Robin Wright and Haley Joel Osment Audition with Tom Hanks for 'Forrest Gump'
Check out Robin Wright auditioning for the role of Jenny from Forest Gump opposite Tom Hanks. Interestingly enough, Hanks doesn't quite have Gump's southern drawl down just yet while the other actors audition with him. In fact, Hanks would base Gump's voice on the voice of Michael Conner Humphreys, who played the young Forrest and […]
http://www.dailyactor.com/2014/09/audtion-tapes-robin-wright-haley-joel-osment-tom-hanks-forrest-gump/
http://www.dailyactor.com/wp-content/uploads/2014/08/bryan-cranston-emmy-award-speech.jpg
Watch: Bryan Cranston's Emmy Award Speech: "I love to act. It is a passion of mine and I will do it until my last breath."
The Emmy Awards weren't the most exciting awards show this year but with Bryan Cranston winning for Outstanding Actor in a Drama for Breaking Bad, we at least got to hear one heck of a fantastic acceptance speech. "I was a kid who always looked for the shortcut," he said. "I did happen to stumble […]
http://www.dailyactor.com/2014/08/watch-bryan-cranston-and-aaron-pauls-emmy-award-speeches/
http://www.dailyactor.com/wp-content/uploads/2014/08/audition-tapes-gerard-butler-aud.jpg
Audition Tapes: Gerard Butler Auditions for 'Dracula 2000′
Check out Gerard Butler auditioning for the role of Dracula in the movie, Dracula 2000. The film, about a group of thieves who break into a chamber expecting to find paintings, but instead find Dracula himself, also starred Christopher Plummer, Jonny Lee Miller and Nathan Fillion. Bulter has some sweet rock star hair, huh?
http://www.dailyactor.com/2014/08/audition-tapes-gerard-butler-dracula-2000/
http://www.dailyactor.com/wp-content/uploads/2014/08/interview-matt-dillon-and-carla.jpg
Interview: Matt Dillon and Carla Gugino Talk 'Wayward Pines'
FOX has a new limited-series that's got a terrific cast and interesting premise. It's called Wayward Pines and stars Matt Dillon, Carla Gugino, Melissa Leo, Toby Jones, Terrance Howard, Juliette Lewis, Tim Griffin and Shannyn Sossamon. The show, whose pilot was directed by M. Night Shyamalan, is about a Secret Service agent (Dillon) goes to […]
http://www.dailyactor.com/2014/08/interview-matt-dillon-carla-gugino-wayward-pines-comic-con/
http://www.dailyactor.com/wp-content/uploads/2014/08/interview-wayward-pines-stars-ti.jpg
Interview: 'Wayward Pines' Stars Tim Griffin and Shannyn Sossamon on the Show, Their Characters and More!
Griffin and Sossamonwere at Comic-Con where they sat in on some roundtable interviews to talk about the show.
http://www.dailyactor.com/2014/08/interview-wayward-pines-stars-tim-griffin-shannyn-sossamon-comic-con/