Sutton Foster on Her Move to TV and 'Bunheads': "I just wanted a new challenge"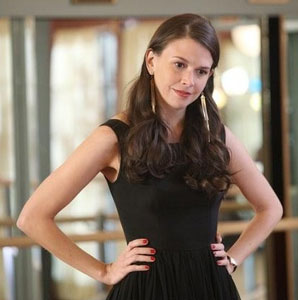 Despite having a title that a five year-old might make up, the upcoming ABC Family television series Bunheads stars Broadway veteran Sutton Foster.  Having earned her fame in her Tony Award winning roles in Thoroughly Modern Millie and Anything Goes, Foster tells Broadway World why she is making the transition to television for the series written by Rosanne and Gilmore Girls writer Amy Sherman-Palladino.
When asked why the long-time stage star is now taking a starring role in a television series, Foster reveals, "There were a couple of reasons.  Amy Sherman-Palladino being one of my favorite writers. Also, the show is based around dance and its affording me a lot of opportunities to do some pretty cool stuff. Already we've shot one song and dance routine and I know there's more down the pike. But the thing that I'm most excited about is really the character and the writing. And being really able to showcase my comedic stuff. She's just a really awesome character who is a dancer, so I'm sure as the series grows and grows they'll be throwing lots and lots of stuff at me. I always say I'll try anything once, so they've already thrown a bunch of stuff my way. I'm sure a lot more is coming. I don't think theater fans will be disappointed!"
Foster elaborates on her admiration of Sherman-Palladino's writing, pointing out that she wanted to do the show before she even saw a script.  She says, "I had a meeting (with Amy) last year. I don't think the pilot had been picked up by ABC Family at that point, but she had me in my mind for the show but she wasn't allowed to mention it yet.  But then two weeks later my agent called and said 'Amy's written this pilot and she wants you to star in it' and I was like, 'What is it? I'll do it!' and she said, 'Well don't you think you should read the script first?' and I was like, 'Oh alright, send me the script.' But I had already made up my mind. I mean it could have been about anything and I would have been like, 'Yes, I want to work with this woman.' But then I read it and I was like, 'Oh my God,' and then it seemed like a no-brainer. So it really didn't take much convincing."
Again, Foster is enthusiastic about the chance to try something new in acting.  She explains, "I think it's because it feels like the right role, the right writer, the right project and the right timing. I've been living in New York for about fifteen years. I absolutely love the theater, it's my home and what I had always wanted to do. But I was coming to a point where I just wanted a new challenge and this came across my path and it's just been already an incredible experience. I'm learning every single day something new and it's exciting at 37 years old to be learning so much. It's a whole new challenge, a whole new chapter of my life. Kind of cool."
Curiously, Foster's ex-husband Christian Borle also recently made a significant leap from Broadway-to-television as one of the main stars of NBC's Smash.  Foster admits that Borle has been a great contact, and says, "We're very good friends, and he's the one who gave me the most advice.  He was saying that you just have to keep moving forward because there's so much material. As soon as you finish a scene you have to let it go and move on to the next one. With the theater you get a scene and you do it over and over and over again.  With TV everything moves so quickly. You spend three hours on a scene and then it has to go away because you have to make room for a whole new scene, a whole new moment. In many ways it's a blessing because you can't get in your own way. You have to act fast, you have to go. There's 40 people in the room staring at you with cameras so you can't get scared and you can't go, 'Oh, I don't know if I can do it,' you have to just do it. And in a way that's been a real blessing for me as an actress. I say 'Ok, I'm just going to dive in and do it.' It's been scary and fun at the same time."
Latest Videos
http://www.dailyactor.com/wp-content/uploads/2014/04/director-david-gordon-greene-nar.jpg
Director David Gordon Green Narrates a Scene From 'Joe'
Director David Gordon Green narrates a sequence from his new film, Joe, featuring Nicolas Cage and Tye Sheridan. In the video, he mentions his reasons why he likes to hire non-traditional actors. He likes people who have real skill-sets and not actors who have the skills on their resume. He also talked about this in […]
http://www.dailyactor.com/2014/04/director-david-gordon-green-narrates-a-scene-from-joe/
http://www.dailyactor.com/wp-content/uploads/2014/04/david-gordon-green-joe.jpg
Director David Gordon Green: "I find actors in unusual places"
I keep missing screenings of director David Gordon Greene's new film, Joe. I hear it's really good so I'm looking forward to catching it at some point. Joe stars Nicholas Cage as ex-con Joe Ransom, who isn't the greatest of role models until he meets a 15-year-old boy (Mud's Tye Sheridan). In this featurette, Green […]
http://www.dailyactor.com/2014/04/director-david-gordon-green-i-find-actors-in-unusual-places/
http://www.dailyactor.com/wp-content/uploads/2014/04/judy-greer-i-dont-know-why-you-know-me-from.jpg
Please Don't Say These Things To Judy Greer (video)
Judy Greer - who we love here at Daily Actor – has a new book called, I Don't Know What You Know Me From (Confessions of a Co-Star), a series of essays about her life as an actress, friend and someone who everyone thinks they might know. Here's a blurb about the book: "Want to […]
http://www.dailyactor.com/2014/04/please-dont-say-these-things-to-judy-greer-video/
http://www.dailyactor.com/wp-content/uploads/2014/04/Captain-America-SamuelNick-Fury.jpg
How Samuel L. Jackson Learns His Lines for the Marvel Movies (video)
Samuel L. Jackson stopped by Good Morning America earlier this week to talk about Captain America: The Winter Soldier – which is terrific, by the way – and he told Robin Roberts that for the first Cap film, he had trouble learning his lines. "I sat at home and I did all my studying, and […]
http://www.dailyactor.com/2014/04/how-samuel-l-jackson-learns-his-lines-for-the-marvel-movies-video/
http://www.dailyactor.com/wp-content/uploads/2014/04/andy-karl-margot-seibert-rocky.jpg
Andy Karl and Margo Seibert Talk 'Rocky: The Musical' on 'Today'
Andy Karl and Margo Seibert, the stars of Rocky: The Musical, talked to Today's Matt Lauer about the new Broadway musical. Karl talks about the final fight and taking on the iconic role. This is Seibert's Broadway debut and she's asked about her callbacks (9 in all!) and more. Check it out!
http://www.dailyactor.com/2014/04/andy-karl-and-margo-seibert-talk-rocky-the-musical-on-today/