Biography: Felicity Jones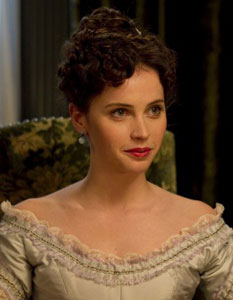 Felicity Jones is one of the brightest actresses of her generation.
She has recently been seen in Julie Taymor's film adaptation of William Shakespeare's The Tempest, in BAFTA-nominated director Niall MacCormick's Albatross and in the romantic drama Like Crazy. For her performance as 'Anna' in like Crazy, Jones was awarded for Best Breakthrough Performer by the National Board of Review and the Gotham Awards, among others. Jones has also starred in the romantic comedy The Chalet Girl, and in Soulboy, a coming-of-age drama set in the 1970s Northern Soul underground musical scene, which premiered to great acclaim at the Edinburgh Film Festival. In addition to her role as Emily in Hysteria, she will next be seen in Davis Hare's Page Eight (TV movie) with Ralph Fiennes, Rachel Weisz and Bill Nighy; and in the comedy Cheerful Weather for the Wedding.
Other recent films include Cemetary Junction, a comedy written and directed by the award-winning partnership of Ricky Gervais and Stephen Merchant; and the short movie The Hangup, based on Anthony Minghella's 1980 radio play.
Jones starred as 'Edmée' in Cheri, directed by Stephen Frears, co-starring Michelle Pfeiffer, Kathy Bates and Rupert Friend. Her extensive film credits also include the role of Lady Cordelia Flyte in the remake of Brideshead Revisited, directed by Julian Jarrold, opposite Matthew Goode, Ben Whishaw and Hayley Atwell; and Flashbacks of a Fool with Daniel Craig, Harry Eden, rapper Eve, Keeley Hawes and Olivia Williams.
On television, she played the sister of Anne Frank, Margot, in the critically acclaimed BBC adaptation of The Diary of Anne Frank and starred in Channel Four's chilling drama, Cape Wrath. She also starred in Jane Austen's Northhanger Abbey, directed by Jon Jones, playing the character Catherine Morland. She also played the role of Robina Redman in the hit BBC sci-fi series Doctor Who. Other television credits include Servants, Weirdsister College, and the children's drama The Worst Witch.
As well as film and television, Jones made her mark in radio by narrating the voice of 'Emma Grundy' in the popular BBC Radio 4's program, The Archers. Her other radio credits include Watership Down, What a Drag and Mansfield Park, which were all for BBC Radio 4.
Jones has also appeared in theatre, which includes That Face at the Royal Court. She played the role of 'Mia', directed by Jeremy Herrin. Jones teamed up with Michael Grandage to perform the role of 'Laurel' in Enid Bagnold's The Chalk Garden. Jones starred opposite Margaret Tyzack and Penelope Wilton at the Donmar Warehouse. It was this role that garnered Jones amazing reviews for her performance and also earned her a nomination at the Evening Standard Theatre Awards for The Milton Shulman for Outstanding Newcomer.
This biography/filmography of Felicity Jones is courtesy of Sony Pictures Classics and the film, Hysteria
Latest Videos
http://www.dailyactor.com/wp-content/uploads/2014/08/bryan-cranston-emmy-award-speech.jpg
Watch: Bryan Cranston's Emmy Award Speech: "I love to act. It is a passion of mine and I will do it until my last breath."
The Emmy Awards weren't the most exciting awards show this year but with Bryan Cranston winning for Outstanding Actor in a Drama for Breaking Bad, we at least got to hear one heck of a fantastic acceptance speech. "I was a kid who always looked for the shortcut," he said. "I did happen to stumble […]
http://www.dailyactor.com/2014/08/watch-bryan-cranston-and-aaron-pauls-emmy-award-speeches/
http://www.dailyactor.com/wp-content/uploads/2014/08/audition-tapes-gerard-butler-aud.jpg
Audition Tapes: Gerard Butler Auditions for 'Dracula 2000′
Check out Gerard Butler auditioning for the role of Dracula in the movie, Dracula 2000. The film, about a group of thieves who break into a chamber expecting to find paintings, but instead find Dracula himself, also starred Christopher Plummer, Jonny Lee Miller and Nathan Fillion. Bulter has some sweet rock star hair, huh?
http://www.dailyactor.com/2014/08/audition-tapes-gerard-butler-dracula-2000/
http://www.dailyactor.com/wp-content/uploads/2014/08/interview-matt-dillon-and-carla.jpg
Interview: Matt Dillon and Carla Gugino Talk 'Wayward Pines'
FOX has a new limited-series that's got a terrific cast and interesting premise. It's called Wayward Pines and stars Matt Dillon, Carla Gugino, Melissa Leo, Toby Jones, Terrance Howard, Juliette Lewis, Tim Griffin and Shannyn Sossamon. The show, whose pilot was directed by M. Night Shyamalan, is about a Secret Service agent (Dillon) goes to […]
http://www.dailyactor.com/2014/08/interview-matt-dillon-carla-gugino-wayward-pines-comic-con/
http://www.dailyactor.com/wp-content/uploads/2014/08/interview-wayward-pines-stars-ti.jpg
Interview: 'Wayward Pines' Stars Tim Griffin and Shannyn Sossamon on the Show, Their Characters and More!
Griffin and Sossamonwere at Comic-Con where they sat in on some roundtable interviews to talk about the show.
http://www.dailyactor.com/2014/08/interview-wayward-pines-stars-tim-griffin-shannyn-sossamon-comic-con/
http://www.dailyactor.com/wp-content/uploads/2014/08/interview-m-night-shyamalan-talk.jpg
Interview: M. Night Shyamalan Talks 'Wayward Pines' and Why He Expanded a Young Actors Role on the Show
I talked to Shyamalan at Comic-Con in a roundtable interview where he talked about the cast, what he learned from working in TV and how young actor Charlie Tahan started out with a small part but as the story grew, so did his role.
http://www.dailyactor.com/2014/08/interview-m-night-shyamalan-wayward-pines-comic-con/