Biography: Maggie Gyllenhaal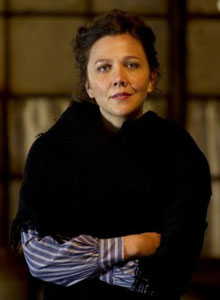 Maggie Gyllenhaal is one of the great young actresses of today.
Most recently, she gained critical acclaim and an Oscar® nomination for Best Supporting Actress for her portrayal of Jean Craddock in Crazy Heart alongside Jeff Bridges, further exemplifying her talent and versatility as an actress. After receiving rave reviews out of the 2002 Sundance competition for her starring role opposite James Spader in Lions Gate's Secretary, she went on to receive a Golden Globe® nomination for Best Actress in a Comedy or Musical, an Independent Spirit Award nomination for Best Actress, a Chicago Film Critics' Award for Most Promising Performer, A Boston Film Critics' Award for Best Actress, a National Board of Review Award for Breakthrough Performance and an IFP/ Gotham Breakthrough Performance Award.
Years later, back at Sundance in 2007, Maggie starred in Sherrybaby; she played a female convict struggling to overcome her drug addiction and regain custody of her daughter. The film was well-received by critics and garnered her second Golden Globe® nomination, this time for Best Actress in a Motion Picture-Drama. Gyllenhaal was also nominated for a 2006 Independent Spirit Award for her role in Don Roos' Happy Endings, opposite Lisa Kudrow and Tom Arnold.
She was Rachel Dawes in the Warner Bros. box office hit Dark Knight directed by Chris Nolan. She was also seen in Sam Mendes's Away We Go.
Recently, Maggie starred in Nanny McPhee and the Big Bang with Emma Thompson. Next up, she will be starring in the drama Won't Back Down alongside Viola Davis and directed by Daniel Barnz.
In August 2006, Maggie was seen in Trust The Man with Julianne Moore, Billy Crudup and David Duchovny and in Oliver Stone's World Trade Center with Maria Bello and Nicholas Cage. She also starred in Marc Forster's Stranger Than Fiction with Will Ferrell, Dustin Hoffman, Queen Latifah and Emma Thompson. In the past few years, she appeared in John Sayles' Casa De Los Babys with Daryl Hannah and Lily Taylor and Mike Newell's much-anticipated Mona Lisa Smile in which Maggie co-starred with Julia Roberts, Julia Stiles and Kirsten Dunst. She was also seen in Criminal with Diego Luna and John C. Reilly as well as Spike Jonze's Adaptation.
Also accomplished on stage, Gyllenhaal starred as "Alice" in Patrick Mauber's award-winning Closer at the Mark Taper Forum in Los Angeles for director Robert Egan, and previously at the Berkeley Repertory Theatre. She has also appeared in Anthony and Cleopatra at the Vanborough Theatre in London. In 2004, Maggie starred in Tony Kushner's play Homebody/Kabul, which ran in both Los Angeles and at B.A.M. Next, Maggie will be seen alongside Peter Sarsgaard and Mamie Gummer in Uncle Vanya by Anton Chekhov.
Recently Maggie appeared in the Anton Chekhov play Three Sisters alongside Peter Sarsgaard, Jessica Hecht and Josh Hamilton.
Maggie made her feature film debut in 1992, alongside Jeremy Irons and Ethan Hawke in Waterland. This was followed by a memorable performance as 'Raven', the Satanworshipping make-up artist in John Waters' quirky Hollywood satire, Cecil B. Demented, which led her to a co-starring role in Donnie Darko, a fantasy-thriller about disturbed adolescence.
Gyllenhaal is a 1999 graduate of Columbia University where she studied Literature.
This biography/filmography of Maggie Gyllenhaal is courtesy of Sony Pictures Classics and the film, Hysteria
Latest Videos
http://www.dailyactor.com/wp-content/uploads/2014/09/audtion-tapes-robin-wright-and-h.jpg
Audition Tapes: Robin Wright and Haley Joel Osment Audition with Tom Hanks for 'Forrest Gump'
Check out Robin Wright auditioning for the role of Jenny from Forest Gump opposite Tom Hanks. Interestingly enough, Hanks doesn't quite have Gump's southern drawl down just yet while the other actors audition with him. In fact, Hanks would base Gump's voice on the voice of Michael Conner Humphreys, who played the young Forrest and […]
http://www.dailyactor.com/2014/09/audtion-tapes-robin-wright-haley-joel-osment-tom-hanks-forrest-gump/
http://www.dailyactor.com/wp-content/uploads/2014/08/bryan-cranston-emmy-award-speech.jpg
Watch: Bryan Cranston's Emmy Award Speech: "I love to act. It is a passion of mine and I will do it until my last breath."
The Emmy Awards weren't the most exciting awards show this year but with Bryan Cranston winning for Outstanding Actor in a Drama for Breaking Bad, we at least got to hear one heck of a fantastic acceptance speech. "I was a kid who always looked for the shortcut," he said. "I did happen to stumble […]
http://www.dailyactor.com/2014/08/watch-bryan-cranston-and-aaron-pauls-emmy-award-speeches/
http://www.dailyactor.com/wp-content/uploads/2014/08/audition-tapes-gerard-butler-aud.jpg
Audition Tapes: Gerard Butler Auditions for 'Dracula 2000′
Check out Gerard Butler auditioning for the role of Dracula in the movie, Dracula 2000. The film, about a group of thieves who break into a chamber expecting to find paintings, but instead find Dracula himself, also starred Christopher Plummer, Jonny Lee Miller and Nathan Fillion. Bulter has some sweet rock star hair, huh?
http://www.dailyactor.com/2014/08/audition-tapes-gerard-butler-dracula-2000/
http://www.dailyactor.com/wp-content/uploads/2014/08/interview-matt-dillon-and-carla.jpg
Interview: Matt Dillon and Carla Gugino Talk 'Wayward Pines'
FOX has a new limited-series that's got a terrific cast and interesting premise. It's called Wayward Pines and stars Matt Dillon, Carla Gugino, Melissa Leo, Toby Jones, Terrance Howard, Juliette Lewis, Tim Griffin and Shannyn Sossamon. The show, whose pilot was directed by M. Night Shyamalan, is about a Secret Service agent (Dillon) goes to […]
http://www.dailyactor.com/2014/08/interview-matt-dillon-carla-gugino-wayward-pines-comic-con/
http://www.dailyactor.com/wp-content/uploads/2014/08/interview-wayward-pines-stars-ti.jpg
Interview: 'Wayward Pines' Stars Tim Griffin and Shannyn Sossamon on the Show, Their Characters and More!
Griffin and Sossamonwere at Comic-Con where they sat in on some roundtable interviews to talk about the show.
http://www.dailyactor.com/2014/08/interview-wayward-pines-stars-tim-griffin-shannyn-sossamon-comic-con/