Benedict Cumberbatch on His Acting Parents, His Legal Beginnings and How He's Most Like 'Sherlock'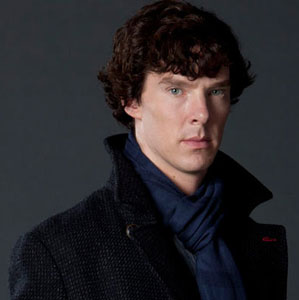 Though Sherlock star Benedict Cumberbatch is the son of two actors, he didn't come around to deciding to become an actor until his college years. 
In an interview with NPR, Cumberbatch talks about how he began to pursue acting and the influence his parents had on his career choice.
Cumberbatch's parents are both actors, and they had enough success to pay the bills but not enough to encourage their son to pursue a career in acting.  He reveals, "My mum and dad had worked incredibly hard to afford me an education.  I had the privilege of being able to choose, or at least have the opportunity to work at, being anything but an actor." 
In fact, Cumberbatch initially studied to become a lawyer.  But Cumberbatch, who dreamed of becoming an actor, soon discovered that succeeding in the legal profession hinged on luck to the same degree that acting does.  He explains, "As I was learning to be a barrister and choosing my levels around potentially doing Oxbridge and … all the rest of it, I just encountered loads of other people on the same course who said it's so much down to chance and luck. And I thought, 'Well, why am I giving up on my primary dream to work doubly hard to do something as an alternative to what I really still want to do?'"
Once he acted in a production of Amadeus, his parents accepted his change of heart.  He says, "My father … turned to me and he said, 'You're better than I ever was or could be. You should do this for a profession — I think you'd have a good time.' And that's a huge thing for a man to say to his son, and — not necessarily true, I might add, he's a wonderful actor himself — but it was so encouraging and supportive."  He admits that having that validation gave him the courage to pursue his acting career, saying, "It was always important to have their blessing, and one of the reasons I get up in the morning is to make them proud."
Of course, like most parents Cumberbatch's remain concerned about him.  In particular, his mother worries about the irritability that comes out of playing Sherlock Holmes.  He says, "I can be bit irate or impatient at times, and my mum worries sometimes I might be turning into him. [Sometimes] I can sort of see the picture of what's in front of me and expect everyone else to get it as fast as I do."
Still, I'm sure Cumberbatch's parents are far happier with his chosen profession.  After all, is the world worse off with one less lawyer?  It certainly would be without an actor like Cumberbatch!
http://www.dailyactor.com/wp-content/uploads/2015/01/watch-al-pacino-talks-the-humbli.jpg
Watch: Al Pacino Talks 'The Humbling' and His Extraordinary Career
In this conversation with Al Pacino talks about his role in The Humbling -- including working with Greta Gerwig -- and his historic acting career
http://www.dailyactor.com/2015/01/watch-al-pacino-extraordinary-career/
http://www.dailyactor.com/wp-content/uploads/2015/01/watch-oscar-nominee-steve-carell.jpg
Watch: Oscar Nominee Steve Carell Talks Improv, Auditioning for 'The Office' and 'Foxcatcher'
Carell talks about his entire career as an actor, including his background in improv, how he landed the Michael Scott role on The Office, and Foxcatcher
http://www.dailyactor.com/2015/01/oscar-nominee-steve-carell-improv-auditioning-for-the-office-foxcatcher/
http://www.dailyactor.com/wp-content/uploads/2015/01/ethan-hawke-ellar-coltrane-boyhood.jpg
Ethan Hawke Calls 'Boyhood' the "most special endeavor of my life"
Ethan Hawke is riding high with his fourth Oscar nomination for the Richard Linklater-directed Boyhood. In a recent "Ask Me Anything" on Reddit, the 44-year-old actor gave some thoughtful insight into his career and the 12-year creative endeavor that became the biggest film of the Oscar season. When asked what was the most difficult thing about […]
http://www.dailyactor.com/2015/01/ethan-hawke-boyhood-reddit-amaife/
http://www.dailyactor.com/wp-content/uploads/2015/01/martha-plimpton-a-delicate-balance.jpg
Martha Plimpton Takes a Refreshing Approach to a Long-Lasting Career
Martha Plimpton is an actress who enjoys the work, she's not in it for the fame. The proof is in her continually excellent work that she is doing on-screen and on the stage. She's currently starring in A Delicate Balance on Broadway. It's the audience who gives her the ultimate thrill. "I try to get […]
http://www.dailyactor.com/2015/01/martha-plimpton-long-lasting-career/
http://www.dailyactor.com/wp-content/uploads/2015/01/watch-michael-keaton-talks-candi.jpg
Watch: Michael Keaton Talks Candidly About His Career and His Approach to Acting in 'Birdman'
In this nearly 90 minute conversation, Michael Keaton is his usual affable self but is also remarkably candid about his career and his approach to acting.
http://www.dailyactor.com/2015/01/michael-keaton-career-approach-to-acting-birdman/