Benedict Cumberbatch on His Acting Parents, His Legal Beginnings and How He's Most Like 'Sherlock'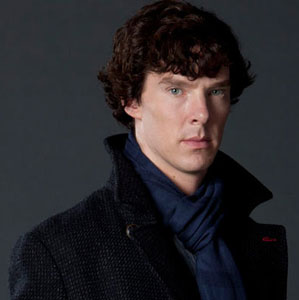 Though Sherlock star Benedict Cumberbatch is the son of two actors, he didn't come around to deciding to become an actor until his college years. 
In an interview with NPR, Cumberbatch talks about how he began to pursue acting and the influence his parents had on his career choice.
Cumberbatch's parents are both actors, and they had enough success to pay the bills but not enough to encourage their son to pursue a career in acting.  He reveals, "My mum and dad had worked incredibly hard to afford me an education.  I had the privilege of being able to choose, or at least have the opportunity to work at, being anything but an actor." 
In fact, Cumberbatch initially studied to become a lawyer.  But Cumberbatch, who dreamed of becoming an actor, soon discovered that succeeding in the legal profession hinged on luck to the same degree that acting does.  He explains, "As I was learning to be a barrister and choosing my levels around potentially doing Oxbridge and … all the rest of it, I just encountered loads of other people on the same course who said it's so much down to chance and luck. And I thought, 'Well, why am I giving up on my primary dream to work doubly hard to do something as an alternative to what I really still want to do?'"
Once he acted in a production of Amadeus, his parents accepted his change of heart.  He says, "My father … turned to me and he said, 'You're better than I ever was or could be. You should do this for a profession — I think you'd have a good time.' And that's a huge thing for a man to say to his son, and — not necessarily true, I might add, he's a wonderful actor himself — but it was so encouraging and supportive."  He admits that having that validation gave him the courage to pursue his acting career, saying, "It was always important to have their blessing, and one of the reasons I get up in the morning is to make them proud."
Of course, like most parents Cumberbatch's remain concerned about him.  In particular, his mother worries about the irritability that comes out of playing Sherlock Holmes.  He says, "I can be bit irate or impatient at times, and my mum worries sometimes I might be turning into him. [Sometimes] I can sort of see the picture of what's in front of me and expect everyone else to get it as fast as I do."
Still, I'm sure Cumberbatch's parents are far happier with his chosen profession.  After all, is the world worse off with one less lawyer?  It certainly would be without an actor like Cumberbatch!
Latest Videos
http://www.dailyactor.com/wp-content/uploads/2014/09/audtion-tapes-robin-wright-and-h.jpg
Audition Tapes: Robin Wright and Haley Joel Osment Audition with Tom Hanks for 'Forrest Gump'
Check out Robin Wright auditioning for the role of Jenny from Forest Gump opposite Tom Hanks. Interestingly enough, Hanks doesn't quite have Gump's southern drawl down just yet while the other actors audition with him. In fact, Hanks would base Gump's voice on the voice of Michael Conner Humphreys, who played the young Forrest and […]
http://www.dailyactor.com/2014/09/audtion-tapes-robin-wright-haley-joel-osment-tom-hanks-forrest-gump/
http://www.dailyactor.com/wp-content/uploads/2014/08/bryan-cranston-emmy-award-speech.jpg
Watch: Bryan Cranston's Emmy Award Speech: "I love to act. It is a passion of mine and I will do it until my last breath."
The Emmy Awards weren't the most exciting awards show this year but with Bryan Cranston winning for Outstanding Actor in a Drama for Breaking Bad, we at least got to hear one heck of a fantastic acceptance speech. "I was a kid who always looked for the shortcut," he said. "I did happen to stumble […]
http://www.dailyactor.com/2014/08/watch-bryan-cranston-and-aaron-pauls-emmy-award-speeches/
http://www.dailyactor.com/wp-content/uploads/2014/08/audition-tapes-gerard-butler-aud.jpg
Audition Tapes: Gerard Butler Auditions for 'Dracula 2000′
Check out Gerard Butler auditioning for the role of Dracula in the movie, Dracula 2000. The film, about a group of thieves who break into a chamber expecting to find paintings, but instead find Dracula himself, also starred Christopher Plummer, Jonny Lee Miller and Nathan Fillion. Bulter has some sweet rock star hair, huh?
http://www.dailyactor.com/2014/08/audition-tapes-gerard-butler-dracula-2000/
http://www.dailyactor.com/wp-content/uploads/2014/08/interview-matt-dillon-and-carla.jpg
Interview: Matt Dillon and Carla Gugino Talk 'Wayward Pines'
FOX has a new limited-series that's got a terrific cast and interesting premise. It's called Wayward Pines and stars Matt Dillon, Carla Gugino, Melissa Leo, Toby Jones, Terrance Howard, Juliette Lewis, Tim Griffin and Shannyn Sossamon. The show, whose pilot was directed by M. Night Shyamalan, is about a Secret Service agent (Dillon) goes to […]
http://www.dailyactor.com/2014/08/interview-matt-dillon-carla-gugino-wayward-pines-comic-con/
http://www.dailyactor.com/wp-content/uploads/2014/08/interview-wayward-pines-stars-ti.jpg
Interview: 'Wayward Pines' Stars Tim Griffin and Shannyn Sossamon on the Show, Their Characters and More!
Griffin and Sossamonwere at Comic-Con where they sat in on some roundtable interviews to talk about the show.
http://www.dailyactor.com/2014/08/interview-wayward-pines-stars-tim-griffin-shannyn-sossamon-comic-con/