Biography: Rhys Ifans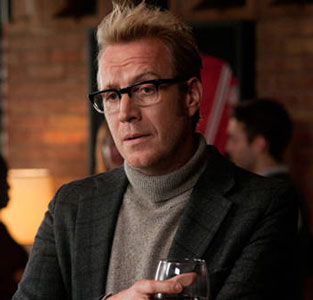 Rhys Ifans is a gifted actor known for his enduring presence, his distinctive approach to comedy, and his ability to elegantly disappear into compelling and complex roles that are always memorable.
Ifans stars as the villain Dr. Curt Connors/The Lizard in the highly anticipated upcoming reboot of the Spider-Man franchise, The Amazing Spider-Man. A far cry from his comedic castings, Ifans portrays a sickened character controlled by his alter ego personality. The film is slated for release July 3, 2012.
Ifans is currently in production on an independent film set during the Great Depression in North Carolina, Serena, directed by Susanne Bier. He stars opposite Jennifer Lawrence and Bradley Cooper as Galloway, Serena's (Lawrence) vicious Appalachian guide and bodyguard. The indie film is scheduled for release in 2013. Ifans can also be seen in HBO's upcoming miniseries The Corrections, directed by Noah Baumbach and produced by Scott Rudin, based on Jonathan Franzen's critically acclaimed book of the same name. Ifans stars alongside Ewan McGregor, Chris Cooper and Maggie Gyllenhaal in the 40-hour series.
Ifans is perhaps best known for his breakout performance in Roger Michell's Notting Hill (1999), in which he starred alongside a noteworthy cast including Julia Roberts and Hugh Grant. For his portrayal of a hygienically challenged roommate named Spike, Ifans received a BAFTA nomination for Best Actor in a Supporting Role. Spike's overtly unintentional wit coupled with his awkward communication skills won audiences over as the pits and peaks of falling in love played on in his co-stars' budding romance.
His additional credits include Anonymous, directed by Roland Emmerich; Passion Play, also starring Bill Murray, Mickey Rourke and Megan Fox; the penultimate chapter to the Harry Potter franchise, Harry Potter and the Deathly Hallows Part 1; Noah Baumbach's comedy-romance Greenberg, with Ben Stiller; Pirate Radio, starring Philip Seymour Hoffman; Shekhar Kapur's Elizabeth: The Golden Age; Peter Webber's Hannibal Rising; Once Upon a Time in the Midlands, directed by Shane Meadows; Michel Gondry's comedy drama Human Nature, in which he starred opposite Patricia Arquette; Mike Figgis' Hotel; Lasse Hallström's The Shipping News; and Howard Deutch's comedy The Replacements, in which he starred alongside Keanu Reeves and Gene Hackman.
On television, Ifans played the role of Peter Cook in Terry Johnson's Not Only but Always, for which he won a BAFTA for Best Actor. He also appeared in Shakespeare Shorts, Trial & Retribution, The Two Franks, Judas and the Gimp, Nightshift, Spatz, Burning Love and Review.
In theater, Ifans appeared at the Donmar Warehouse in Robert Delamere's Accidental Death of an Anarchist, Patrick Marber's Don Juan in Soho and Michael Sheen's Badfinger. He was seen at the National Theatre in Matthew Warchus' Volpone and Roger Michell's Under Milk Wood; at the Duke of York's Theatre in Hettie Macdonald's Beautiful Thing; at the Royal Court Theatre in James Macdonald's Thyestes; and at the Royal Exchange in Braham Murray's Smoke and Ronald Harwood's Poison Pen.
Beyond film and television, Ifans made a guest appearance for the rock band Oasis in the video for their single The Importance of Being Idle, for which he accepted their award for Video of the Year at the 2006 NME Awards.
Ifans was born and raised in Wales, where he attended youth acting schools at Theatr Clwyd in Flintshire and appeared in many Welsh-language television programs before embarking on his film career.
This biography/filmography of Rhys Ifans is courtesy of Universal Pictures, Relativity Media and The Five-Year Engagement
Latest Videos
http://www.dailyactor.com/wp-content/uploads/2014/04/director-david-gordon-greene-nar.jpg
Director David Gordon Green Narrates a Scene From 'Joe'
Director David Gordon Green narrates a sequence from his new film, Joe, featuring Nicolas Cage and Tye Sheridan. In the video, he mentions his reasons why he likes to hire non-traditional actors. He likes people who have real skill-sets and not actors who have the skills on their resume. He also talked about this in […]
http://www.dailyactor.com/2014/04/director-david-gordon-green-narrates-a-scene-from-joe/
http://www.dailyactor.com/wp-content/uploads/2014/04/david-gordon-green-joe.jpg
Director David Gordon Green: "I find actors in unusual places"
I keep missing screenings of director David Gordon Greene's new film, Joe. I hear it's really good so I'm looking forward to catching it at some point. Joe stars Nicholas Cage as ex-con Joe Ransom, who isn't the greatest of role models until he meets a 15-year-old boy (Mud's Tye Sheridan). In this featurette, Green […]
http://www.dailyactor.com/2014/04/director-david-gordon-green-i-find-actors-in-unusual-places/
http://www.dailyactor.com/wp-content/uploads/2014/04/judy-greer-i-dont-know-why-you-know-me-from.jpg
Please Don't Say These Things To Judy Greer (video)
Judy Greer - who we love here at Daily Actor – has a new book called, I Don't Know What You Know Me From (Confessions of a Co-Star), a series of essays about her life as an actress, friend and someone who everyone thinks they might know. Here's a blurb about the book: "Want to […]
http://www.dailyactor.com/2014/04/please-dont-say-these-things-to-judy-greer-video/
http://www.dailyactor.com/wp-content/uploads/2014/04/Captain-America-SamuelNick-Fury.jpg
How Samuel L. Jackson Learns His Lines for the Marvel Movies (video)
Samuel L. Jackson stopped by Good Morning America earlier this week to talk about Captain America: The Winter Soldier – which is terrific, by the way – and he told Robin Roberts that for the first Cap film, he had trouble learning his lines. "I sat at home and I did all my studying, and […]
http://www.dailyactor.com/2014/04/how-samuel-l-jackson-learns-his-lines-for-the-marvel-movies-video/
http://www.dailyactor.com/wp-content/uploads/2014/04/andy-karl-margot-seibert-rocky.jpg
Andy Karl and Margo Seibert Talk 'Rocky: The Musical' on 'Today'
Andy Karl and Margo Seibert, the stars of Rocky: The Musical, talked to Today's Matt Lauer about the new Broadway musical. Karl talks about the final fight and taking on the iconic role. This is Seibert's Broadway debut and she's asked about her callbacks (9 in all!) and more. Check it out!
http://www.dailyactor.com/2014/04/andy-karl-and-margo-seibert-talk-rocky-the-musical-on-today/