John Lithgow: "Acting on stage is a batting average game, if you bat 300, you're doing extremely well"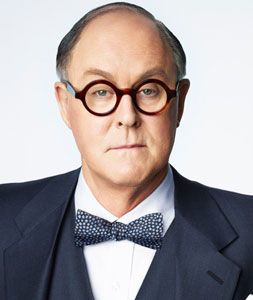 There isn't many sentences you can say in New York's Theatre District that will elicit more smiles than, "John Lithgow is in a new show." The popular Third Rock from the Sun TV star has been appearing regularly on the New York stage after he returned for Sweet Smell of Success in 2002 after a 14-year absence from Broadway. 
Lithgow stars in The Columnist, based on the life of journalist Joe Alsop, a staunch conservative who nevertheless was a closeted homosexual.  Lithgow spoke to the New York Times about taking on such a conflicting role.
Lithgow admits that despite his experience he still is nervous about appearing in a bad production.  He says, "You work this hard on something and number one, you want so badly for people to love it. Number two, you gradually persuade yourself that it's absolutely brilliant. Going to see a play, you think, 'How could anybody think this was any good?' You see that 50 people worked on it. Or a movie. Nobody sets out to do something bad, they all set out to do something good, by the time it opens they think it is good, which is why bad reviews stung them so deeply. I've had that experience many times. Acting on stage is a batting average game, if you bat 300, you're doing extremely well."
As for his new role, Lithgow was attracted to the role because of Alsop's very human complexity.  He explains, "There were all these vivid qualities to Joe. In terms of behavior and contradictions and dualities, all the things you look for as an actor, just his way of speaking, his extravagance, his flamboyance and the fact that he was a gay man in an era where you kept that a dark secret. All these things I just found very fascinating."
He then studied for the role by watching footage of Alsop and observing his eccentric gestures.  Lithgow points out, "There was this marvelous long interview with him, C-Span, which I watched and listened to. What I discovered was that Joe's manners were so extreme, I had to modulate them, moderate them a little bit, so that he wasn't simply too theatrical. It's quite an unusual talent to play a very theatrical person. It was very important that he be extremely real and that I respect the man. I didn't want to demean him with my performance or ridicule him or judge him."
The Columnist has a short run on Broadway, after which Lithgow will gear up for the release of This is 40, Judd Apatow's next film in which he appears. Lithgow explains that while working on the film he was initially very hesitant about the part, but soon discovered how comfortable he was with Apatow's improvisational style.  He says, "[Apatow] sent me the script, I was all set to go. I knew my schedule. I was terrified. I said, 'I don't know what this character is.' There was not that much there. But I had the good sense to go and visit the set a week before, so I saw him work on scenes between Paul Rudd and Leslie Mann. I saw the deal immediately and I thought, 'Oh my God, this is going to be so much fun.' [Improvising] requires an incredible openness, relaxation and a quick wit, but boy, it gets great stuff, and you can see it in his movies."
The Columnist opens this week and runs through June 24 at the Friedman Theatre.
Latest Videos
Watch: Benedict Cumberbatch Film the Smaug Motion Capture for 'The Hobbit: The Desolation of Smaug'
Though Peter Jackson's movie adaptations of The Hobbit haven't received the same critical acclaim as his films based on the book's sequel, The Lord of the Rings (turning a 300 page book into 9+ hours of film tends to do that), fans are still eagerly anticipating the release of the final part of The Hobbit […]
http://www.dailyactor.com/2014/11/watch-benedict-cumberbatch-film-smaug-motion-capture-the-hobbit/
http://www.dailyactor.com/wp-content/uploads/2014/10/watch-daniel-radcliffe-on-the-di.jpg
Watch: Daniel Radcliffe on the Differences Between American and British Theater Audiences
Though moviegoers can see Daniel Radcliffe in the fantasy film Horns, which opens today, Broadway fans will have to wait a bit longer. Radcliffe is an unapologetic fan of Broadway — he has starred in Equus, How to Succeed in Business Without Really Trying, and The Cripple of Inishmaan — but he hasn't yet made […]
http://www.dailyactor.com/2014/10/daniel-radcliffe-differences-between-american-british-theater-audiences/
http://www.dailyactor.com/wp-content/uploads/2014/10/watch-anna-gunn-jacki-weaver-and.jpg
Watch: Anna Gunn, Jacki Weaver and Virginia Kull on 'Gracepoint' and Strong Female Roles on TV
The actresses also speak candidly about how they feel about their characters in the series and why its important for TV to feature series with strong female leads.Check out the conversation above!
http://www.dailyactor.com/2014/10/watch-anna-gunn-jacki-weaver-virginia-kull-gracepoint-strong-female-roles-on-tv/
http://www.dailyactor.com/wp-content/uploads/2014/10/watch-cristin-milioti-talks-a-to.jpg
Watch: Cristin Milioti Talks 'A to Z', 'Once' and 'How I Met Your Mother'
Few actresses have the kind of rise as Cristin Milioti has had in the last few years. A virtual unknown in 2011, she became a bona fide Broadway star in the 2012 hit Once, appeared in a supporting role in the 2013 film The Wolf of Wall Street, and was featured as the titular mother […]
http://www.dailyactor.com/2014/10/watch-cristin-milioti-a-to-z-once-how-i-met-your-mother/
http://www.dailyactor.com/wp-content/uploads/2014/10/watch-bryan-cranstons-acting-adv.jpg
Watch: Bryan Cranston's Acting Advice
With Breaking Bad: The Complete Series Barrel being released on Blu-ray with all kinds of goodies today, it gives us yet another opportunity to reflect on the series' star Bryan Cranston and all of the incredible advice he has offered actors in the wake of his success. In a video he filmed in 2013 for […]
http://www.dailyactor.com/2014/10/bryan-cranston-acting-advice-video/