Jason Segel on His Early Acting Jobs and 'The Five Year Engagement': "I find romantic comedies very predictable, and that's what most people don't like"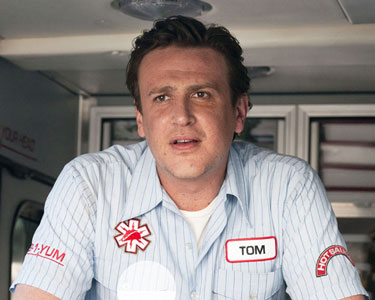 From television, movies, and even singing and dancing with the Muppets, Jason Segel is just about everywhere right now.  But what sets Segel apart from many other comedians is the active creative role he takes in his projects — for instance, he co-wrote Forgetting Sarah Marshall, The Muppets, and his upcoming romantic comedy, The Five Year Engagement with his collaborator Nicholas Stoller (who also directed both Sarah Marshall and Engagement). 
In an interview with NPR, he discusses his early acting roles, his writing process, and a surprising type of role he'd like to have one day.
Segel might seem like he has only been in the industry for the last three or four years, but Segel actually first became noticed in the short-lived but much-loved television series Freaks and Geeks.  However, that fame was fleeting, and he reveals, "I did a show called Freaks and Geeks when I was very young. And I had the naivete and arrogance of youth. You know, I really assumed that when the show got cancelled, like, oh, it doesn't matter, you just keep rolling, you know. I'm about to be the biggest star of the world. And then I was met with five years of unemployment. It just – with nothing. And I hadn't gone to college, so I had no fallback plan. And I literally thought, oh my God, I've blown it. I am going to have to, like, move back in with my parents and go back to college and figure out some new plan. And then Judd Apatow said to me, listen, you're kind of a weird guy."
Part of the problem of finding roles came from Segel's towering height, which led to Apatow suggesting to him that he'd have to create his own roles.  He points out, "I've been 6'4″ since I was 12… So, at 21, I was too tall to play a kid anymore, and I was still too young to play an adult. And so I was caught in this sort of purgatory. And he said, look, the only way you're going to make it is if you start writing your own material."
Though Segel has a heart for romantic movies, anyone who has seen even the opening scene of Forgetting Sarah Marshall could tell you that the movies he writes are certainly different than  the typical female-lead rom-com.  Segel admits he isn't a fan of those movies, saying, "I find romantic comedies very predictable, and that's what most people don't like.  The movies that I love and model after — like Annie Hall, When Harry Met Sally, and, in particular for me, Broadcast News — [have] the tone of life, which isn't a set-up/punch line every two minutes. I think you get bored of that movie."
As a result, when he was writing Engagement with Stoller, Segel says they would insert outlandish scenes just to prevent the movie from drifting to far into "rom-com" territory.  He says, "Just by nature of us being funny and the movie being largely improv, whenever we felt it going too far in that direction we would do something outlandish.  There's a scene that is my favorite in the movie that we call the 'all-night fight' that is painfully real in terms of the way people fight — it's not perfectly worded. It's sloppy. It's the fight where [Emily Blunt] tells me we're going to be staying in Michigan.  We could feel that it was getting heavy, and so I told her I needed some time alone, and then so she goes to leave, and I say 'No, I want to be alone with you here. Can you just lay here and be quiet like a normal person?'"
While Segel is best known as a likable lead or quirky supporting character in comedies, he certainly hopes that he'll have more opportunities in the future.  He reveals, "I would love to play a villain someday, in that I think that what I've done with my whole career is walk this tightrope between charming and creepy, and I always fall on the charming side — I'd like to fall on the creepy side and be like one of those very charming Gary Oldman villains."  Yet perhaps he doesn't have that in him, since upon reflecting on the roles he has played he adds, "But I think the common denominator of all the characters is that I think it's very important to be nice in life. When I left the house, my mom said to me, 'Please don't ever forget the person you are out there is a reflection of the job I did as a mother.' So I always think the thing of paramount importance is to be kind to people."
I don't know… I'm not sure I could ever see Segel as a villain after performing a song like "Life's a Happy Song" in The Muppets.  Seems more in line with that whole "being kind" thing he was talking about instead.
Latest Videos
http://www.dailyactor.com/wp-content/uploads/2014/09/audtion-tapes-robin-wright-and-h.jpg
Audition Tapes: Robin Wright and Haley Joel Osment Audition with Tom Hanks for 'Forrest Gump'
Check out Robin Wright auditioning for the role of Jenny from Forest Gump opposite Tom Hanks. Interestingly enough, Hanks doesn't quite have Gump's southern drawl down just yet while the other actors audition with him. In fact, Hanks would base Gump's voice on the voice of Michael Conner Humphreys, who played the young Forrest and […]
http://www.dailyactor.com/2014/09/audtion-tapes-robin-wright-haley-joel-osment-tom-hanks-forrest-gump/
http://www.dailyactor.com/wp-content/uploads/2014/08/bryan-cranston-emmy-award-speech.jpg
Watch: Bryan Cranston's Emmy Award Speech: "I love to act. It is a passion of mine and I will do it until my last breath."
The Emmy Awards weren't the most exciting awards show this year but with Bryan Cranston winning for Outstanding Actor in a Drama for Breaking Bad, we at least got to hear one heck of a fantastic acceptance speech. "I was a kid who always looked for the shortcut," he said. "I did happen to stumble […]
http://www.dailyactor.com/2014/08/watch-bryan-cranston-and-aaron-pauls-emmy-award-speeches/
http://www.dailyactor.com/wp-content/uploads/2014/08/audition-tapes-gerard-butler-aud.jpg
Audition Tapes: Gerard Butler Auditions for 'Dracula 2000′
Check out Gerard Butler auditioning for the role of Dracula in the movie, Dracula 2000. The film, about a group of thieves who break into a chamber expecting to find paintings, but instead find Dracula himself, also starred Christopher Plummer, Jonny Lee Miller and Nathan Fillion. Bulter has some sweet rock star hair, huh?
http://www.dailyactor.com/2014/08/audition-tapes-gerard-butler-dracula-2000/
http://www.dailyactor.com/wp-content/uploads/2014/08/interview-matt-dillon-and-carla.jpg
Interview: Matt Dillon and Carla Gugino Talk 'Wayward Pines'
FOX has a new limited-series that's got a terrific cast and interesting premise. It's called Wayward Pines and stars Matt Dillon, Carla Gugino, Melissa Leo, Toby Jones, Terrance Howard, Juliette Lewis, Tim Griffin and Shannyn Sossamon. The show, whose pilot was directed by M. Night Shyamalan, is about a Secret Service agent (Dillon) goes to […]
http://www.dailyactor.com/2014/08/interview-matt-dillon-carla-gugino-wayward-pines-comic-con/
http://www.dailyactor.com/wp-content/uploads/2014/08/interview-wayward-pines-stars-ti.jpg
Interview: 'Wayward Pines' Stars Tim Griffin and Shannyn Sossamon on the Show, Their Characters and More!
Griffin and Sossamonwere at Comic-Con where they sat in on some roundtable interviews to talk about the show.
http://www.dailyactor.com/2014/08/interview-wayward-pines-stars-tim-griffin-shannyn-sossamon-comic-con/