Eugene Levy on the 'American Pie Presents' DVD's and Finally Sharing a Scene with Stifler's Mom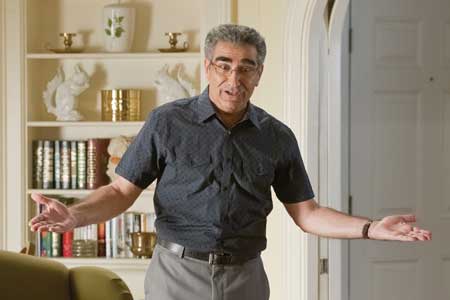 Eugene Levy might have been appearing in comedy films since the early 1970s, but he really hit fame since the late 1990s starring as Jim's Dad in the American Pie series. 
Levy has not only appeared in all four of the theatrically released American Pie films — including the latest, American Reunion — but he is also the only actor to appear in all four of the straight-to-DVD American Pie Presents films. 
Levy talks to Vulture about why he's stuck with the series so long and how he felt about sharing a scene with Jennifer Coolidge in the latest film.
Unlike most actors, Levy admits that the deciding factor to star in the straight-to-DVD spinoffs was financial, though he did assert a creative role.  He explains, "I do separate the straight-to-DVDs from the theatricals. When we did the third American Pie, that was supposed to be it. The DVDs came along, and I don't want to sound too crass, but it was too good of a job to turn down … they were paying a lot of money for not a lot of work, to be honest. But I did want to protect the character in those movies, so he wouldn't be seen in a light that would shock or disappoint people. I was able to rewrite [on the fly] and say, 'Yes, my character will do this.' Or, 'No, I won't stand beside any naked women, la dee dah.'"
Though Levy and Coolidge (Stifler's Mom) have both appeared in the three previous main American Pie films, the two never shared a scene together in those movies.   However, Coolidge and Levy have experience working together in three of Christopher Guest's ensemble comedies, and Jim's Dad and Stifler's Mom finally share a memorable scene together in American Reunion.  Levy points to it as one of the main reasons he enjoyed the latest sequel, saying, "That was an exciting aspect of the story. We got to improvise a lot of stuff. To answer your question, that scene was — I think I could've easily said, 'You know, I don't think I can go there.' But, I gave [writer/directors Jon Hurwitz and Hayden Schlossberg] the benefit of the doubt because I trusted them."
Latest Videos
http://www.dailyactor.com/wp-content/uploads/2014/08/seth-rudetsky-reveals-the-5-wors.jpg
Seth Rudetsky Reveals the 5 Worst Musical Theater Audition Mistakes (video)
Seth Rudetsky, actor, musician and a host on SiriusXM's Broadway channel, has been teaching auditioning master classes this summer and he's seen his share of bad auditions lately. In this video, he reveals the 5 worst audition mistakes you can make in a musical theater audition and how to choose the perfect 16-bar audition song. [...]
http://www.dailyactor.com/2014/08/seth-rudetsky-5-worst-audition-mistakes/
http://www.dailyactor.com/wp-content/uploads/2014/07/sir-ben-kingsley-talks-about-the.jpg
Sir Ben Kingsley Talks about the Unique Way He Voiced His Character in the Animated Film, 'The Boxtrolls' (video)
I could listen to Sir Ben Kingsley talk about acting and.. well, I could listen to him talk about anything. He's starring in the new Laika stop-motion animated film, The Boxtrolls, and he and some of the cast (along with the director) joined in on a Comic-Con panel about the film. The Boxtrolls is about [...]
http://www.dailyactor.com/2014/07/sir-ben-kingsley-the-boxtrolls-comic-con/
http://www.dailyactor.com/wp-content/uploads/2014/07/bill-hader.jpg
Bill Hader: "I kind of fell into acting" (video)
Bill Hader, starring in the soon to be released The Skeleton Twins, talks about the film and how he fell into acting and then got "crazy lucky" in this quick video from USA Today.
http://www.dailyactor.com/2014/07/bill-hader-fell-into-acting-video/
http://www.dailyactor.com/wp-content/uploads/2014/07/director-john-carney-narrates-a.jpg
Director John Carney Narrates a Scene from 'Begin Again' Starring Kiera Knightley and Mark Ruffalo
Director John Carney (Once) narrates a scene from his new film, Begin Again. Starring Keira Knightley and Mark Ruffalo, the scene shows the first time the two characters meet. I haven't seen it yet but I've heard it's great.
http://www.dailyactor.com/2014/07/begin-again-scene-director-john-carney-keira-knightley-mark-ruffalo/
http://www.dailyactor.com/wp-content/uploads/2014/07/holler-if-you-hear-me-gma.jpg
Watch the Cast of Broadway's 'Holler If You Hear Me' Perform 'California Love' on GMA
The cast of Broadway's newest musical, Holler If You Hear Me with music from Tupac Shakur, performed on Good Morning America this morning. Singing 'California Love', the cast (including the teriffic Christopher Jackson – read our interview here), show why they're the most energetic and inspiring group of actors on Broadway. Holler If Ya Hear [...]
http://www.dailyactor.com/2014/07/watch-cast-broadways-holler-hear-perform-california-love-gma/