Chris Evans on His Early Acting Days, Theater and Doing His Own Stunts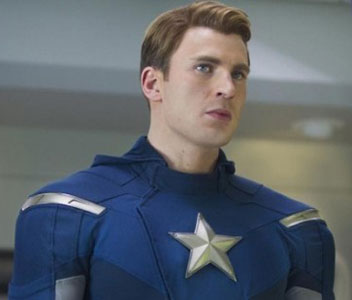 Chris Evans might have built his career on comic book movies — both Fantastic Four movies, The Losers, Captain America: The First Avenger, and the soon-to-be blockbuster The Avengers — but Evans is more than just muscles. 
In fact, unlike many actors who decide at very early age that acting is all they ever want to do, Evans tells Prestige magazine that he juggled two activities in school that eventually prepared him for his physical roles.
Evans admits he was the classic extracurricular overachiever in school since he juggled sports and theatre.  He explains, "My older sister started doing the plays maybe in seventh, eighth grade. She looked like she was having a ball; they would give her candy after the performances and she was hanging out with all these kids, going to all these little parties. And I was just like…this looks like fun. This is just like playing a sport after school – she's got events and performances. It looked like she was having such a good time. So I gave it a shot when I was in sixth grade and just loved it. I loved the process of performing, the excitement of shows, and it just stuck in throughout the years. I would kind of just split my time between sports and acting."
Despite his background in sports, Evans doesn't pretend that he does all his own stunts, but he does feel comfortable with the physical aspect of his superhero roles.  He points out, "There's some stuff they just won't let you do, it's too risky. But for the most part I always feel better putting the gloves on and just getting in the ring. If you want to have some control over the performance – no matter how subtle it may be within the context of a stunt – it's still something you want to have a say in. So I always try and do it myself.  It does take a good degree of coordination even just to throw a punch because it has to look like something natural."
He also confesses that because of his family life he was naturally inclined to acting.  He says, "I come from a very theatrical family, just in the way we are and the way we speak. We're very dramatic, very over-the-top. So being on stage and being comfortable and making a fool of yourself – it felt natural. And I loved films. I was huge into movies growing up; still am. I absolutely love them. And so the more I did theatre the more I drew parallels between theatre and film and tried to incorporate more film acting on stage as I got older. And then realised this well – of potential and what you can do with acting – goes pretty deep, and I just started to explore it more."
Despite his recent success, Evans explains that because of all the elements that go into a movie and all the people involved he is shocked when one of his becomes a blockbuster.  He admits, "I'm surprised by any movie that is successful. At this point I've made a lot of films. I've made about 20 movies and I'm probably proud of three. It's not easy making a good movie. All these people coming together.  All these individual creative minds trying to cook one dish. It's hard to make it taste right, you know. So any time you have a quality film, it's a blessing. If it was easy to do, there would be a lot more of them. I can't tell you how many times I've left the [movie] theatre disappointed."
I think most movie fans are hoping that Evans isn't disappointed with The Avengers, which opens May 4.
Latest Videos
http://www.dailyactor.com/wp-content/uploads/2014/10/alex-sharp-curious-incident-of-the-dog.jpg
Alex Sharp Talks About His Broadway Debut in 'The Curious Incident of the Dog in the Night-Time' (video)
Alex Sharp went from working in a call-center and renovating houses to going to Julliard. And now, he's starring in one of the most talked about shows of the season, The Curious Incident of the Dog in the Night-Time. Check out this great, inspiring video!
http://www.dailyactor.com/2014/10/alex-sharp-broadway-debut-the-curious-incident-of-the-dog-in-the-night-time-video/
http://www.dailyactor.com/wp-content/uploads/2014/10/Its-only-a-play.jpg
Watch a Scene From Terrance McNally's, 'It's Only a Play', Featuring Nathan Lane and Micah Stock
Here's a quick scene from Terrance McNally's It's Only a Play, currently on Broadway at the Schoenfeld Theater. In this scene, Nathan Lane and Micah Stock meet for the first time. The show, about the opening night of a new play, also stars Matthew Broderick, Stockard Channing, F. Murray Abraham, Rupert Grint and Megan Mullally.
http://www.dailyactor.com/2014/10/watch-a-scene-terrance-mcnally-its-only-a-play-nathan-lane-micah-stock/
http://www.dailyactor.com/wp-content/uploads/2014/10/birdman-director-alejandro-g-ina.jpg
'Birdman' Director Alejandro G. Iñárritu Narrates a Scene from the Film Featuring Michael Keaton and Edward Norton
Director Alejandro G. Iñárritu narrates a scene from Birdman or The Unexpected Virtue of Ignorance that features stars Michael Keaton and Edward Norton. The film is wonderful and if it's playing in your town, definitely check it out!
http://www.dailyactor.com/2014/10/birdman-director-alejandro-g-inarritu-michael-keaton-edward-norton/
http://www.dailyactor.com/wp-content/uploads/2014/10/the-cast-of-mad-men-on-the-final.jpg
The Cast of 'Mad Men' on the Final Season and More
Though the AMC television series Mad Men might not carry the same cultural weight that it did a few years ago (splitting your final season over two years might do that to you), the second half of the show's final season is expected to be full of powerful performances from its ensemble cast. With the […]
http://www.dailyactor.com/2014/10/cast-of-mad-men-final-season/
http://www.dailyactor.com/wp-content/uploads/2014/10/behind-the-scenes-of-a-sex-scene.jpg
Behind the Scenes of a Sex Scene with Patrick Wilson, Brooklyn Decker and Director Joe Carnahan
Director Joe Carnahan is giving viewers an inside look at what it is like to film a big screen Hollywood sex scene, as confirmed by Gawker. Carnahan released a brief video clip taken from the set of his latest film Stretch starring supermodel and actress Brooklyn Decker and Patrick Wilson. The video showcases the two […]
http://www.dailyactor.com/2014/10/behind-the-scenes-of-a-sex-scene-patrick-wilson-brooklyn-decker-director-joe-carnahan/