Chris Evans on His Early Acting Days, Theater and Doing His Own Stunts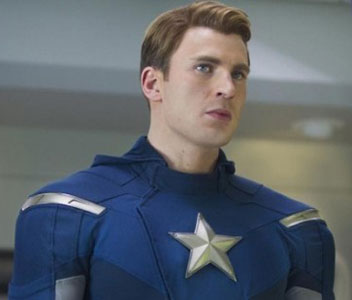 Chris Evans might have built his career on comic book movies — both Fantastic Four movies, The Losers, Captain America: The First Avenger, and the soon-to-be blockbuster The Avengers — but Evans is more than just muscles. 
In fact, unlike many actors who decide at very early age that acting is all they ever want to do, Evans tells Prestige magazine that he juggled two activities in school that eventually prepared him for his physical roles.
Evans admits he was the classic extracurricular overachiever in school since he juggled sports and theatre.  He explains, "My older sister started doing the plays maybe in seventh, eighth grade. She looked like she was having a ball; they would give her candy after the performances and she was hanging out with all these kids, going to all these little parties. And I was just like…this looks like fun. This is just like playing a sport after school – she's got events and performances. It looked like she was having such a good time. So I gave it a shot when I was in sixth grade and just loved it. I loved the process of performing, the excitement of shows, and it just stuck in throughout the years. I would kind of just split my time between sports and acting."
Despite his background in sports, Evans doesn't pretend that he does all his own stunts, but he does feel comfortable with the physical aspect of his superhero roles.  He points out, "There's some stuff they just won't let you do, it's too risky. But for the most part I always feel better putting the gloves on and just getting in the ring. If you want to have some control over the performance – no matter how subtle it may be within the context of a stunt – it's still something you want to have a say in. So I always try and do it myself.  It does take a good degree of coordination even just to throw a punch because it has to look like something natural."
He also confesses that because of his family life he was naturally inclined to acting.  He says, "I come from a very theatrical family, just in the way we are and the way we speak. We're very dramatic, very over-the-top. So being on stage and being comfortable and making a fool of yourself – it felt natural. And I loved films. I was huge into movies growing up; still am. I absolutely love them. And so the more I did theatre the more I drew parallels between theatre and film and tried to incorporate more film acting on stage as I got older. And then realised this well – of potential and what you can do with acting – goes pretty deep, and I just started to explore it more."
Despite his recent success, Evans explains that because of all the elements that go into a movie and all the people involved he is shocked when one of his becomes a blockbuster.  He admits, "I'm surprised by any movie that is successful. At this point I've made a lot of films. I've made about 20 movies and I'm probably proud of three. It's not easy making a good movie. All these people coming together.  All these individual creative minds trying to cook one dish. It's hard to make it taste right, you know. So any time you have a quality film, it's a blessing. If it was easy to do, there would be a lot more of them. I can't tell you how many times I've left the [movie] theatre disappointed."
I think most movie fans are hoping that Evans isn't disappointed with The Avengers, which opens May 4.
Latest Videos
http://www.dailyactor.com/wp-content/uploads/2014/04/director-david-gordon-greene-nar.jpg
Director David Gordon Green Narrates a Scene From 'Joe'
Director David Gordon Green narrates a sequence from his new film, Joe, featuring Nicolas Cage and Tye Sheridan. In the video, he mentions his reasons why he likes to hire non-traditional actors. He likes people who have real skill-sets and not actors who have the skills on their resume. He also talked about this in […]
http://www.dailyactor.com/2014/04/director-david-gordon-green-narrates-a-scene-from-joe/
http://www.dailyactor.com/wp-content/uploads/2014/04/david-gordon-green-joe.jpg
Director David Gordon Green: "I find actors in unusual places"
I keep missing screenings of director David Gordon Greene's new film, Joe. I hear it's really good so I'm looking forward to catching it at some point. Joe stars Nicholas Cage as ex-con Joe Ransom, who isn't the greatest of role models until he meets a 15-year-old boy (Mud's Tye Sheridan). In this featurette, Green […]
http://www.dailyactor.com/2014/04/director-david-gordon-green-i-find-actors-in-unusual-places/
http://www.dailyactor.com/wp-content/uploads/2014/04/judy-greer-i-dont-know-why-you-know-me-from.jpg
Please Don't Say These Things To Judy Greer (video)
Judy Greer - who we love here at Daily Actor – has a new book called, I Don't Know What You Know Me From (Confessions of a Co-Star), a series of essays about her life as an actress, friend and someone who everyone thinks they might know. Here's a blurb about the book: "Want to […]
http://www.dailyactor.com/2014/04/please-dont-say-these-things-to-judy-greer-video/
http://www.dailyactor.com/wp-content/uploads/2014/04/Captain-America-SamuelNick-Fury.jpg
How Samuel L. Jackson Learns His Lines for the Marvel Movies (video)
Samuel L. Jackson stopped by Good Morning America earlier this week to talk about Captain America: The Winter Soldier – which is terrific, by the way – and he told Robin Roberts that for the first Cap film, he had trouble learning his lines. "I sat at home and I did all my studying, and […]
http://www.dailyactor.com/2014/04/how-samuel-l-jackson-learns-his-lines-for-the-marvel-movies-video/
http://www.dailyactor.com/wp-content/uploads/2014/04/andy-karl-margot-seibert-rocky.jpg
Andy Karl and Margo Seibert Talk 'Rocky: The Musical' on 'Today'
Andy Karl and Margo Seibert, the stars of Rocky: The Musical, talked to Today's Matt Lauer about the new Broadway musical. Karl talks about the final fight and taking on the iconic role. This is Seibert's Broadway debut and she's asked about her callbacks (9 in all!) and more. Check it out!
http://www.dailyactor.com/2014/04/andy-karl-and-margo-seibert-talk-rocky-the-musical-on-today/