Taylor Kitsch on the Physical Demands of the 'John Carter' Shoot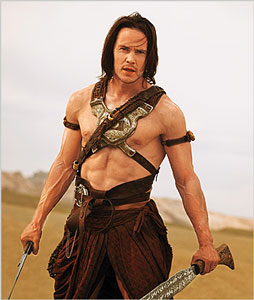 While John Carter may have performed well below Disney's expectations during its opening weekend, many fans of the Edgar Rice Burroughs book series singled out Taylor Kitsch for praise for his portrayal of the titular Martian adventurer.
However, Kitsch tells Moviefone that the shoot didn't consist of him waltzing around shirtless — the role was both physically and mentally demanding on the Friday Night Lights star.
Surprisingly, Kitsch had little knowledge about the hundred year-old character before he was approached for the role, revealing, "I didn't know anything. My team just called me and they were like, 'Hey, will you take this general meeting with [director] Andrew Stanton?' And, obviously, that's a no-brainer. I went in there and that was my first meeting with him. That's the first time I was exposed to it."
While Kitsch's Carter will likely be considered a very physical role (Kitsch being shirtless for over half the movie certainly points in that direction), he explains that on set he was instead focusing on Carter's mental state, finding it far more interesting "where he is emotionally, which is what you're tracking most importantly. And what you need and what we need to get out of this scene to drive everyone forward. That's, more or less, where I was at."  In fact, Kitsch doesn't even see Carter as a superhero-like figure despite his extraordinary powers, confessing, "I just truly saw him as this everyday guy who was put into these extraordinary circumstances. I don't think there's one moment that you play the hero. Do you know what I mean? I don't see it as a 'hero movie.'"
But because of that physical aspect of the role, Kitsch made sure he was in shape, joking that "it would take you out of the film if I was 300 pounds on wires flying around. It wouldn't be a pretty sight."  He adds, "I think to do the character justice, you do want to raise the bar. And that's my personality. If I'm going to do it, I'm going to knock it the fuck out. Or try to. So I think that's something, too, that I have control over. And especially on the set of a film, there's so many variables that you don't have control over. So I may as well take complete control over at least the aesthetic of John."
But despite being in great shape Kitsch admits that the shoot was both physically and mentally draining, especially since so much of it forced him to act to characters and environments that wouldn't be filled in until post-production.  He says, "I knew what they were doing in post, but giving speeches to nothing and reacting emotionally to certain things that aren't there, fighting air, talking to a dog that's not there — you know, a lot of those things. I think the biggest thing I fought was exhaustion. For so much of it, I'm arguably in every scene of this thing, for the most part. And six day weeks is what really knocked me out."
Latest Videos
http://www.dailyactor.com/wp-content/uploads/2014/07/sir-ben-kingsley-talks-about-the.jpg
Sir Ben Kingsley Talks about the Unique Way He Voiced His Character in the Animated Film, 'The Boxtrolls' (video)
I could listen to Sir Ben Kingsley talk about acting and.. well, I could listen to him talk about anything. He's starring in the new Laika stop-motion animated film, The Boxtrolls, and he and some of the cast (along with the director) joined in on a Comic-Con panel about the film. The Boxtrolls is about [...]
http://www.dailyactor.com/2014/07/sir-ben-kingsley-the-boxtrolls-comic-con/
http://www.dailyactor.com/wp-content/uploads/2014/07/bill-hader.jpg
Bill Hader: "I kind of fell into acting" (video)
Bill Hader, starring in the soon to be released The Skeleton Twins, talks about the film and how he fell into acting and then got "crazy lucky" in this quick video from USA Today.
http://www.dailyactor.com/2014/07/bill-hader-fell-into-acting-video/
http://www.dailyactor.com/wp-content/uploads/2014/07/director-john-carney-narrates-a.jpg
Director John Carney Narrates a Scene from 'Begin Again' Starring Kiera Knightley and Mark Ruffalo
Director John Carney (Once) narrates a scene from his new film, Begin Again. Starring Keira Knightley and Mark Ruffalo, the scene shows the first time the two characters meet. I haven't seen it yet but I've heard it's great.
http://www.dailyactor.com/2014/07/begin-again-scene-director-john-carney-keira-knightley-mark-ruffalo/
http://www.dailyactor.com/wp-content/uploads/2014/07/holler-if-you-hear-me-gma.jpg
Watch the Cast of Broadway's 'Holler If You Hear Me' Perform 'California Love' on GMA
The cast of Broadway's newest musical, Holler If You Hear Me with music from Tupac Shakur, performed on Good Morning America this morning. Singing 'California Love', the cast (including the teriffic Christopher Jackson – read our interview here), show why they're the most energetic and inspiring group of actors on Broadway. Holler If Ya Hear [...]
http://www.dailyactor.com/2014/07/watch-cast-broadways-holler-hear-perform-california-love-gma/
http://www.dailyactor.com/wp-content/uploads/2014/07/behind-the-scenes-of-dawn-of-the.jpg
Behind the Scenes of 'Dawn of the Planet of the Apes' with Performance Capture Actor Terry Notary
Actor Terry Notary is 1 of 5 actors playing the apes in the new Dawn of the Planet of the Apes. "When you see armies of apes," he says, that's "five of us." Check out the video where you can watch his performance capture work.
http://www.dailyactor.com/2014/07/dawn-planet-apes-performance-capture-actor-terry-notary/