Taylor Kitsch on the Physical Demands of the 'John Carter' Shoot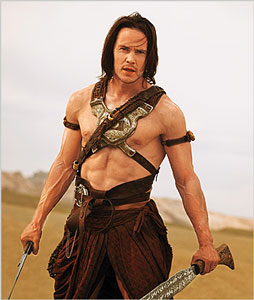 While John Carter may have performed well below Disney's expectations during its opening weekend, many fans of the Edgar Rice Burroughs book series singled out Taylor Kitsch for praise for his portrayal of the titular Martian adventurer.
However, Kitsch tells Moviefone that the shoot didn't consist of him waltzing around shirtless — the role was both physically and mentally demanding on the Friday Night Lights star.
Surprisingly, Kitsch had little knowledge about the hundred year-old character before he was approached for the role, revealing, "I didn't know anything. My team just called me and they were like, 'Hey, will you take this general meeting with [director] Andrew Stanton?' And, obviously, that's a no-brainer. I went in there and that was my first meeting with him. That's the first time I was exposed to it."
While Kitsch's Carter will likely be considered a very physical role (Kitsch being shirtless for over half the movie certainly points in that direction), he explains that on set he was instead focusing on Carter's mental state, finding it far more interesting "where he is emotionally, which is what you're tracking most importantly. And what you need and what we need to get out of this scene to drive everyone forward. That's, more or less, where I was at."  In fact, Kitsch doesn't even see Carter as a superhero-like figure despite his extraordinary powers, confessing, "I just truly saw him as this everyday guy who was put into these extraordinary circumstances. I don't think there's one moment that you play the hero. Do you know what I mean? I don't see it as a 'hero movie.'"
But because of that physical aspect of the role, Kitsch made sure he was in shape, joking that "it would take you out of the film if I was 300 pounds on wires flying around. It wouldn't be a pretty sight."  He adds, "I think to do the character justice, you do want to raise the bar. And that's my personality. If I'm going to do it, I'm going to knock it the fuck out. Or try to. So I think that's something, too, that I have control over. And especially on the set of a film, there's so many variables that you don't have control over. So I may as well take complete control over at least the aesthetic of John."
But despite being in great shape Kitsch admits that the shoot was both physically and mentally draining, especially since so much of it forced him to act to characters and environments that wouldn't be filled in until post-production.  He says, "I knew what they were doing in post, but giving speeches to nothing and reacting emotionally to certain things that aren't there, fighting air, talking to a dog that's not there — you know, a lot of those things. I think the biggest thing I fought was exhaustion. For so much of it, I'm arguably in every scene of this thing, for the most part. And six day weeks is what really knocked me out."
http://www.dailyactor.com/wp-content/uploads/2015/01/watch-al-pacino-talks-the-humbli.jpg
Watch: Al Pacino Talks 'The Humbling' and His Extraordinary Career
In this conversation with Al Pacino talks about his role in The Humbling -- including working with Greta Gerwig -- and his historic acting career
http://www.dailyactor.com/2015/01/watch-al-pacino-extraordinary-career/
http://www.dailyactor.com/wp-content/uploads/2015/01/watch-oscar-nominee-steve-carell.jpg
Watch: Oscar Nominee Steve Carell Talks Improv, Auditioning for 'The Office' and 'Foxcatcher'
Carell talks about his entire career as an actor, including his background in improv, how he landed the Michael Scott role on The Office, and Foxcatcher
http://www.dailyactor.com/2015/01/oscar-nominee-steve-carell-improv-auditioning-for-the-office-foxcatcher/
http://www.dailyactor.com/wp-content/uploads/2015/01/ethan-hawke-ellar-coltrane-boyhood.jpg
Ethan Hawke Calls 'Boyhood' the "most special endeavor of my life"
Ethan Hawke is riding high with his fourth Oscar nomination for the Richard Linklater-directed Boyhood. In a recent "Ask Me Anything" on Reddit, the 44-year-old actor gave some thoughtful insight into his career and the 12-year creative endeavor that became the biggest film of the Oscar season. When asked what was the most difficult thing about […]
http://www.dailyactor.com/2015/01/ethan-hawke-boyhood-reddit-amaife/
http://www.dailyactor.com/wp-content/uploads/2015/01/martha-plimpton-a-delicate-balance.jpg
Martha Plimpton Takes a Refreshing Approach to a Long-Lasting Career
Martha Plimpton is an actress who enjoys the work, she's not in it for the fame. The proof is in her continually excellent work that she is doing on-screen and on the stage. She's currently starring in A Delicate Balance on Broadway. It's the audience who gives her the ultimate thrill. "I try to get […]
http://www.dailyactor.com/2015/01/martha-plimpton-long-lasting-career/
http://www.dailyactor.com/wp-content/uploads/2015/01/watch-michael-keaton-talks-candi.jpg
Watch: Michael Keaton Talks Candidly About His Career and His Approach to Acting in 'Birdman'
In this nearly 90 minute conversation, Michael Keaton is his usual affable self but is also remarkably candid about his career and his approach to acting.
http://www.dailyactor.com/2015/01/michael-keaton-career-approach-to-acting-birdman/