Biography: Sigourney Weaver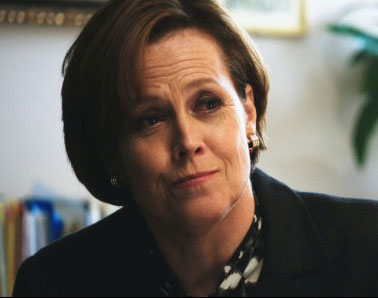 Academy Award nominated and Golden Globe winning actress Sigourney Weaver has created a host of memorable characters, both dramatic and comic, in films ranging from Ripley in Alien to Dian Fossey in Gorillas in Mist.  Over the years, she has captivated audiences and won acclaim as one of the most esteemed actresses on both stage and screen.
Born and educated in New York City, Weaver graduated from Stanford University and went on to receive a Masters degree from the Yale School of Drama. Her first professional job was as an understudy in Sir John Gielgud's production of The Constant Wife, starring Ingrid Bergman.
Sigourney Weaver made her motion picture debut in Ridley Scott's blockbuster Alien.  She later reprised the role of Warrant Officer Ripley in James Cameron's Aliens, which earned her Academy Award and Golden Globe nominations for Best Actress.  She again brought Ripley back to life in David Fincher's Aliens 3, which she also co-produced and Alien Resurrection for director Jean-Pierre Jeunet.
Following Alien, Weaver had starring roles in three back-to-back hit movies: Gorillas in the Mist, in which she portrayed primatologist Dian Fossey, the Mike Nichols comedy Working Girl, and Ghostbusters II. Weaver received her second and third Academy Award nominations and was awarded Golden Globes for her performances in Gorillas in the Mist and Working Girl. Other films include the thriller Copycat, Paul Rudnick's comedy Jeffrey, Roman Polanski's gripping film adaptation of Death and the Maiden, Half Moon Street with Michael Caine, Ridley Scott's 1492, One Woman or Two with Gerard Depardieu, Eyewitness with William Hurt and Showtime's live-action film Snow White, based on the original Grimm's fairytale, which earned her an Emmy nomination and a Screen Actors Guild nomination.
In 1997 Weaver joined the ensemble of Ang Lee's critically acclaimed film The Ice Storm playing alongside Kevin Kline, Joan Allen, Elijah Wood and Christina Ricci.  Her performance garnered her a BAFTA Award, a Golden Globe nomination and a Screen Actors Guild nomination for Best Supporting Actress.  She later gave a galvanizing performance in A Map of The World, Scott Elliott's powerful drama based on the novel by Jane Hamilton, which earned her universal critical praise and a Golden Globe nomination for best actress.  She delighted audiences  with her flair for comedy, along with crewmates Tim Allen and Alan Rickman, in the science fiction comedy Galaxy Quest directed by Dean Parisot, which proved to be a hit of the 1999 Holiday season.  She followed this with the popular comedy Heartbreakers, playing opposite Gene Hackman and Jennifer Love-Hewitt.
In 2003, Weaver played the cold-blooded, red-headed warden in the hit comedy Holes, directed by Andy Davis and starred in the film version of The Guys, with Anthony LaPaglia, directed by Jim Simpson.  Following this, Weaver appeared in M. Night Shamalyan's The Village and received rave reviews for her performance in Imaginary Heroes written and directed by Dan Harris.
In addition to her film credits, Sigourney Weaver has also taken time to shine on the stage.  Weaver started out on Off-Off Broadway in Christopher Durang's The Nature and Purpose of the Universe, Titanic and Das Lusitania Songspiel, She and Durang co-wrote Das Lusitania  which earned them both  Drama Desk nominations. She has appeared in numerous Off-Broadway productions in New York, working with such writers as John Guare, Albert Innaurato, Richard Nelson and Len Jenkin.  In regional repertory, she has performed works by Pinter, Williams, Feydeau and Shakespeare.  She also appeared in the PBS mini-series The Best of Families.
Weaver received a Tony Award nomination for her starring role in Hurlyburly on Broadway, directed by Mike Nichols.  She played Portia in the Classic Stage Company of New York's production of The Merchant of Venice.  In 1996, Weaver returned to Broadway in the Lincoln Center production of Sex and Longing, written by Christopher Durang. 
Weaver originated roles in two A.R. Gurney world premieres, Crazy Mary at Playwrights Horizons, and Mrs. Farnsworth, at the Flea Theater.  She also starred in Neil LaBute's play The Mercy Seat, opposite Liev Schreiber, which John Lahr of The New Yorker described as offering "performances of a depth and concentration that haven't been seen in New York for many seasons." Weaver also originated the female lead in Anne Nelson's The Guys at The Flea, where it was commissioned and directed by Jim Simpson. The Guys tells the story of a fire captain dealing with the aftermath of 9/11.
Other film credits include Infamous with Toby Jones and Sandra Bullock; Jake Kasdan's The TV Set; Snow Cake, opposite Alan Rickman; Tim Allen's Crazy on the Outside; The Girl in the Park, opposite Kate Bosworth;Vantage Point with Dennis Quaid and Forrest Whitaker, the Tina Fey/Amy Poehler comedy Baby Mama and in Andy Fickman's comedy You Again alongside Jamie Lee Curtis.  In 2008 Weaver lent her voice to Pixar's box office smash Wall-E, as well as The Tale of Despereaux with Matthew Broderick, Dustin Hoffman and Emma Watson.  
In December of 2009, Weaver starred in Jim Cameron's groundbreaking film Avatar, which went on to be the highest-grossing film of all time.  The film won a Golden Globe for Best Picture and also received an Academy Award nomination for Best Picture.  
Upcoming films include the comedy Paul with Simon Pegg, Seth Rogen, Kristen Wiig and Jason Bateman and Cedar Rapids starring John C. Reilley, Anne Heche and Ed Helms.  She recently completed filming Amy Heckerling's Vamps with Alicia Silverstone, Abduction with Taylor Lautner and Mabrouk El Mechri's The Cold Light of Day with Bruce Willis and Red Lights with Robert De Niro.
On the small screen, Weaver received Emmy, Screen Actors' Guild and Golden Globe nominations for outstanding performance by a female for her role as Mary Griffith in Lifetime's Prayers for Bobby, which was also Emmy and Golden Globe nominated for Outstanding Made for Television Movie.
Filmography courtesy of Millennium Entertainment and Rampart

Latest Videos
http://www.dailyactor.com/wp-content/uploads/2014/09/audtion-tapes-robin-wright-and-h.jpg
Audition Tapes: Robin Wright and Haley Joel Osment Audition with Tom Hanks for 'Forrest Gump'
Check out Robin Wright auditioning for the role of Jenny from Forest Gump opposite Tom Hanks. Interestingly enough, Hanks doesn't quite have Gump's southern drawl down just yet while the other actors audition with him. In fact, Hanks would base Gump's voice on the voice of Michael Conner Humphreys, who played the young Forrest and […]
http://www.dailyactor.com/2014/09/audtion-tapes-robin-wright-haley-joel-osment-tom-hanks-forrest-gump/
http://www.dailyactor.com/wp-content/uploads/2014/08/bryan-cranston-emmy-award-speech.jpg
Watch: Bryan Cranston's Emmy Award Speech: "I love to act. It is a passion of mine and I will do it until my last breath."
The Emmy Awards weren't the most exciting awards show this year but with Bryan Cranston winning for Outstanding Actor in a Drama for Breaking Bad, we at least got to hear one heck of a fantastic acceptance speech. "I was a kid who always looked for the shortcut," he said. "I did happen to stumble […]
http://www.dailyactor.com/2014/08/watch-bryan-cranston-and-aaron-pauls-emmy-award-speeches/
http://www.dailyactor.com/wp-content/uploads/2014/08/audition-tapes-gerard-butler-aud.jpg
Audition Tapes: Gerard Butler Auditions for 'Dracula 2000′
Check out Gerard Butler auditioning for the role of Dracula in the movie, Dracula 2000. The film, about a group of thieves who break into a chamber expecting to find paintings, but instead find Dracula himself, also starred Christopher Plummer, Jonny Lee Miller and Nathan Fillion. Bulter has some sweet rock star hair, huh?
http://www.dailyactor.com/2014/08/audition-tapes-gerard-butler-dracula-2000/
http://www.dailyactor.com/wp-content/uploads/2014/08/interview-matt-dillon-and-carla.jpg
Interview: Matt Dillon and Carla Gugino Talk 'Wayward Pines'
FOX has a new limited-series that's got a terrific cast and interesting premise. It's called Wayward Pines and stars Matt Dillon, Carla Gugino, Melissa Leo, Toby Jones, Terrance Howard, Juliette Lewis, Tim Griffin and Shannyn Sossamon. The show, whose pilot was directed by M. Night Shyamalan, is about a Secret Service agent (Dillon) goes to […]
http://www.dailyactor.com/2014/08/interview-matt-dillon-carla-gugino-wayward-pines-comic-con/
http://www.dailyactor.com/wp-content/uploads/2014/08/interview-wayward-pines-stars-ti.jpg
Interview: 'Wayward Pines' Stars Tim Griffin and Shannyn Sossamon on the Show, Their Characters and More!
Griffin and Sossamonwere at Comic-Con where they sat in on some roundtable interviews to talk about the show.
http://www.dailyactor.com/2014/08/interview-wayward-pines-stars-tim-griffin-shannyn-sossamon-comic-con/