Musical Based on 1970s Classic Comedy Movie 'Animal House' in the Works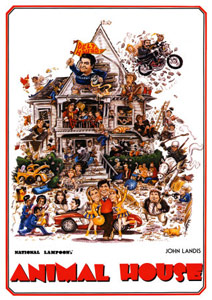 I'm thinking of starting a betting pool: take a list of 200 or so popular movies, have everyone pick ten, and whoever picked the one that is made into a musical first wins the money. 
After all, it seems like every Broadway season brings a new musical adapted from a classic movie, especially since the runaway success of Mel Brooks' The Producers.  Some are great (Spamalot), some crash and burn (Brooks couldn't pull it off again with Young Frankenstein), but it seems like a given that Broadway producers will keep trying.  Heck, there is a Rocky musical and a Back to the Future musical in the works!
You can now add Animal House to the list.  The classic 1978 college comedy classic, which is to be directed and choreographed by Casey Nicholaw with music by late 1990s pop-rock band Barenaked Ladies, with Michael Mitnick writing the libretto.
Nicholaw has experience directing and choreographing shows based on movies — he directed Spamalot and Elf, with the former being much more successful than the latter — and originals, including co-directing and choreographing Broadway's current biggest hit The Book of Mormon.  Mitnick has written the plays Spacebar and Sex Lives of Our Parents, but this will be his biggest project of his career.
I can't say this would've topped my "Movies That Should Be Made Into Musicals" list (I would've never picked it for my nonexistent pool), but I imagine that since off-color comedies like Avenue Q and The Book of Mormon have been very successful in recent years Animal House makes sense.  Of course, what's the point if the producers can't get the rights to Shout, Shama Lama Ding Dong, and Louie, Louie? 
via Broadway World
Latest Videos
http://www.dailyactor.com/wp-content/uploads/2014/07/bill-hader.jpg
Bill Hader: "I kind of fell into acting" (video)
Bill Hader, starring in the soon to be released The Skeleton Twins, talks about the film and how he fell into acting and then got "crazy lucky" in this quick video from USA Today. Share on Tumblr
http://www.dailyactor.com/2014/07/bill-hader-fell-into-acting-video/
http://www.dailyactor.com/wp-content/uploads/2014/07/director-john-carney-narrates-a.jpg
Director John Carney Narrates a Scene from 'Begin Again' Starring Kiera Knightley and Mark Ruffalo
Director John Carney (Once) narrates a scene from his new film, Begin Again. Starring Keira Knightley and Mark Ruffalo, the scene shows the first time the two characters meet. I haven't seen it yet but I've heard it's great.
http://www.dailyactor.com/2014/07/begin-again-scene-director-john-carney-keira-knightley-mark-ruffalo/
http://www.dailyactor.com/wp-content/uploads/2014/07/holler-if-you-hear-me-gma.jpg
Watch the Cast of Broadway's 'Holler If You Hear Me' Perform 'California Love' on GMA
The cast of Broadway's newest musical, Holler If You Hear Me with music from Tupac Shakur, performed on Good Morning America this morning. Singing 'California Love', the cast (including the teriffic Christopher Jackson – read our interview here), show why they're the most energetic and inspiring group of actors on Broadway. Holler If Ya Hear [...]
http://www.dailyactor.com/2014/07/watch-cast-broadways-holler-hear-perform-california-love-gma/
http://www.dailyactor.com/wp-content/uploads/2014/07/behind-the-scenes-of-dawn-of-the.jpg
Behind the Scenes of 'Dawn of the Planet of the Apes' with Performance Capture Actor Terry Notary
Actor Terry Notary is 1 of 5 actors playing the apes in the new Dawn of the Planet of the Apes. "When you see armies of apes," he says, that's "five of us." Check out the video where you can watch his performance capture work.
http://www.dailyactor.com/2014/07/dawn-planet-apes-performance-capture-actor-terry-notary/
http://www.dailyactor.com/wp-content/uploads/2014/07/melissa-mccarthy-daily-show.jpg
Melissa McCarthy and John Stewart Talk About Terrible Commercial Auditions on 'The Daily Show'
Melissa McCarthy stopped by The Daily Show last week to plug about her new movie, Tammy. She talked about how she loved working with her husband, Ben Falcone (director of Tammy) and then segued into talking about some horrible working situations. The always hilarious McCarthy then started to tell host John Stewart about a particular [...]
http://www.dailyactor.com/2014/07/melissa-mccarthy-john-stewart-commercial-auditions-the-daily-show/