Kevin Nealon Talks Stand-Up, 'Weeds' and Why It's Important to Think Before You Speak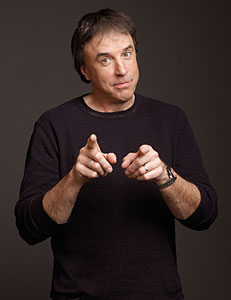 Comedian Kevin Nealon spent nearly a decade on Saturday Night Live, and though he hasn't been on the weekly comedy series in years he is in one of the busiest parts of his career in 2012. 
Not only is he a regular on Showtime's Weeds, but he also taped a comedy special for the same network last month.  He talks to the Detroit Free Press about juggling his two careers and also shares his thoughts on recent controversies that fellow comedians have faced with their material.
Though some comedians make it seem like their routines are laid-back and spontaneous, Nealon gives some perspective on preparing for a comedy special. 
He reveals, "I usually need about six months. I hit the road to work on the act. I'll write material weeks before the tour starts, and then while on tour, I'm writing throughout the week. But I'm always accumulating material, trying to figure out the best order. I'm always working on the tone of the show."
However, Nealon points out one of the benefits of that hard work that other forms of entertainment don't have: instant feedback.  He explains, "What's great about that is I'm getting an immediate response from the audience. It's not like a movie or a sitcom where you're waiting for months after to hear how people respond to the material."
Though Nealon is probably best known for his lengthy stint on SNL, there are those who show up to his comedy shows thinking that he is like Doug Wilson, his pot-smoking character on Weeds.  He says, "Yes, there's definitely some confusion when it comes to Kevin and Doug. Doug Wilson – what a complete irresponsible degenerate. It's been so much fun playing him and we're excited about the eighth season. … Sometimes people that come to my show are expecting Doug Wilson, but I'm not, thankfully, really the train wreck that he is."
As a stand-up comedian of some renown, Nealon is aware of the recent controversies comedians like Tracy Morgan and Gilbert Gottfried have had with jokes that civil rights groups and members of the public felt crossed the line (and in Gottfried's case, his tsunami jokes cost him his lucrative gig voicing the Aflac duck).  However, others have argued that comedy as a whole will suffer if every offended person spoke out against jokes deemed "too offensive."  Nealon has an interesting perspective on the issue, explaining, "I think that freedom of speech is very important in what we do. But it's important to also look at things from a wider perspective — like what other business ties do the comics have and how what you say in your act or on social media affects a wider audience. I actually think that everyone has a certain responsibility. I don't think you are allowed to be insensitive just because you're a comedian."
On how such controversies affect a comedian's business deals, he adds, "I just shot a pilot for NBC. … There was this meeting, a big discussion we had that was focused on sexual harassment, but it also included elements about what you're talking about publicly on social media like Twitter and Facebook. And, really, there is this responsibility that comes with representing your TV show or the network or the businesses you might be working with."  As Nealon points out, it isn't just comedians who find themselves in trouble by what they post on social networks — anyone involved in a production can soon find themselves out of a job if they say the wrong thing publicly.
Latest Videos
http://www.dailyactor.com/wp-content/uploads/2014/04/wondercon-falling-skies-intervie.jpg
WonderCon: 'Falling Skies' Interview with Moon Bloodgood & Seychelle Gabriel
Moon Bloodgood and Seychelle Gabriel were at WonderCon to talk about the upcoming season of TNT's 'Falling Skies'. The show is the story of life and survival in the wake of a catastrophic alien invasion. Noah Wyle stars as Tom Mason, a college professor who became an unlikely resistance leader. Bloodgood is Dr. Ann Glass, [...]
http://www.dailyactor.com/2014/04/wondercon-falling-skies-interview-with-moon-bloodgood-seychelle-gabriel/
http://www.dailyactor.com/wp-content/uploads/2014/04/wondercon-dawn-of-the-planet-of.jpg
WonderCon: 'Dawn of the Planet of the Apes' Press Conference with Gary Oldman & Andy Serkis
Gary Oldman, Keri Russell, Andy Serkis and Director Matt Reeves were at WonderCon to talk about the upcoming, Dawn of the Planet of the Apes. I loved the first one and can't wait for this to come out. Serkis is terrific in everything and to watch him go to e-to-toe with Oldman will be a [...]
http://www.dailyactor.com/2014/04/wondercon-dawn-of-the-planet-of-the-apes-press-conference-with-gary-oldman-andy-serkis/
http://www.dailyactor.com/wp-content/uploads/2014/04/wondercon-how-to-train-your-drag.jpg
WonderCon: 'How To Train Your Dragon 2′ Press Conference with Jay Baruchel
Jay Baruchel and writer/director Dean DeBlois were at WonderCon to chat about the upcoming sequel, How To Train Your Dragon 2. In the press conference, they talk about the film, how Baruchel feels like he's taken ownership of his character and a bit about his acting career. The film is in theaters June 13th.
http://www.dailyactor.com/2014/04/wondercon-how-to-train-your-dragon-2-press-conference-with-jay-baruchel/
http://www.dailyactor.com/wp-content/uploads/2014/04/wondercon-sean-bean-tina-majorin.jpg
WonderCon: Sean Bean, Tina Majorino, Ali Larter & Morris Chestnut Talk 'Legends'
The cast and executive producer of TNT's new show, Legends held a press conference at WonderCon to talk about the show, their characters and more. Legends is based on the book by spy novelist Robert Littellon and stars Sean Bean (Game of Thrones, The Lord of the Rings) as Martin Odum, an undercover agent working [...]
http://www.dailyactor.com/2014/04/wondercon-sean-bean-tina-majorino-ali-larter-morris-chestnut-talk-legends/
http://www.dailyactor.com/wp-content/uploads/2014/04/john-turturro-narrates-a-scene-f.jpg
John Turturro Narrates a Scene from His New FIlm, 'Fading Gigolo'
John Turturro narrates a sequence from his film, Fading Gigolo. The film, which written and directed by Turturro and stars Woody Allen, Sharon Stone and Sophia Vergara, is about how Turturro's character falls into the becoming a gigolo, thanks to his "pimp", played by Allen.
http://www.dailyactor.com/2014/04/john-turturro-narrates-a-scene-from-his-new-film-fading-gigolo/