Kevin Nealon Talks Stand-Up, 'Weeds' and Why It's Important to Think Before You Speak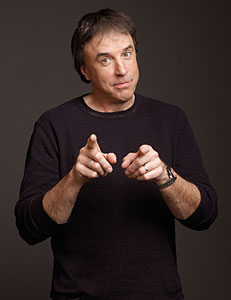 Comedian Kevin Nealon spent nearly a decade on Saturday Night Live, and though he hasn't been on the weekly comedy series in years he is in one of the busiest parts of his career in 2012. 
Not only is he a regular on Showtime's Weeds, but he also taped a comedy special for the same network last month.  He talks to the Detroit Free Press about juggling his two careers and also shares his thoughts on recent controversies that fellow comedians have faced with their material.
Though some comedians make it seem like their routines are laid-back and spontaneous, Nealon gives some perspective on preparing for a comedy special. 
He reveals, "I usually need about six months. I hit the road to work on the act. I'll write material weeks before the tour starts, and then while on tour, I'm writing throughout the week. But I'm always accumulating material, trying to figure out the best order. I'm always working on the tone of the show."
However, Nealon points out one of the benefits of that hard work that other forms of entertainment don't have: instant feedback.  He explains, "What's great about that is I'm getting an immediate response from the audience. It's not like a movie or a sitcom where you're waiting for months after to hear how people respond to the material."
Though Nealon is probably best known for his lengthy stint on SNL, there are those who show up to his comedy shows thinking that he is like Doug Wilson, his pot-smoking character on Weeds.  He says, "Yes, there's definitely some confusion when it comes to Kevin and Doug. Doug Wilson – what a complete irresponsible degenerate. It's been so much fun playing him and we're excited about the eighth season. … Sometimes people that come to my show are expecting Doug Wilson, but I'm not, thankfully, really the train wreck that he is."
As a stand-up comedian of some renown, Nealon is aware of the recent controversies comedians like Tracy Morgan and Gilbert Gottfried have had with jokes that civil rights groups and members of the public felt crossed the line (and in Gottfried's case, his tsunami jokes cost him his lucrative gig voicing the Aflac duck).  However, others have argued that comedy as a whole will suffer if every offended person spoke out against jokes deemed "too offensive."  Nealon has an interesting perspective on the issue, explaining, "I think that freedom of speech is very important in what we do. But it's important to also look at things from a wider perspective — like what other business ties do the comics have and how what you say in your act or on social media affects a wider audience. I actually think that everyone has a certain responsibility. I don't think you are allowed to be insensitive just because you're a comedian."
On how such controversies affect a comedian's business deals, he adds, "I just shot a pilot for NBC. … There was this meeting, a big discussion we had that was focused on sexual harassment, but it also included elements about what you're talking about publicly on social media like Twitter and Facebook. And, really, there is this responsibility that comes with representing your TV show or the network or the businesses you might be working with."  As Nealon points out, it isn't just comedians who find themselves in trouble by what they post on social networks — anyone involved in a production can soon find themselves out of a job if they say the wrong thing publicly.
Latest Videos
http://www.dailyactor.com/wp-content/uploads/2014/09/watch-david-mamet-in-the-1976-sh.jpg
Watch: David Mamet in the 1976 Short Documentary 'The Playwright Directs'
Though David Mamet is best known for his distinctive writing style in his scripts for the stage and screen, he has also directed theater and film. The 1976 short documentary titled The Playwright Directs depicts Mamet directing actors through several scenes at an almost frantic pace, dispensing pearls of wisdom throughout, like his thoughts on […]
http://www.dailyactor.com/2014/09/watch-david-mamet-1976-documentary-the-playwright-directs/
http://www.dailyactor.com/wp-content/uploads/2014/09/watch-marvels-agents-of-s-h-i-e.jpg
Watch: Marvel's Agents of S.H.I.E.L.D. Season 1 Bloopers
Forgetting lines? Corpsing? Delivering lines in Spanish? Unruly props? All in a day's work on the set of Marvel's Agents of S.H.I.E.L.D, apparently. Clark Gregg, Ming-Na Wen, and the rest of the cast find plenty of humor while playing super-serious secret agents in the Marvel Universe. While you're waiting for season 2 of the series […]
http://www.dailyactor.com/2014/09/watch-marvels-agents-of-s-h-i-e-l-d-season-1-bloopers/
http://www.dailyactor.com/wp-content/uploads/2014/09/audtion-tapes-robin-wright-and-h.jpg
Audition Tapes: Robin Wright and Haley Joel Osment Audition with Tom Hanks for 'Forrest Gump'
Check out Robin Wright auditioning for the role of Jenny from Forest Gump opposite Tom Hanks. Interestingly enough, Hanks doesn't quite have Gump's southern drawl down just yet while the other actors audition with him. In fact, Hanks would base Gump's voice on the voice of Michael Conner Humphreys, who played the young Forrest and […]
http://www.dailyactor.com/2014/09/audtion-tapes-robin-wright-haley-joel-osment-tom-hanks-forrest-gump/
http://www.dailyactor.com/wp-content/uploads/2014/08/bryan-cranston-emmy-award-speech.jpg
Watch: Bryan Cranston's Emmy Award Speech: "I love to act. It is a passion of mine and I will do it until my last breath."
The Emmy Awards weren't the most exciting awards show this year but with Bryan Cranston winning for Outstanding Actor in a Drama for Breaking Bad, we at least got to hear one heck of a fantastic acceptance speech. "I was a kid who always looked for the shortcut," he said. "I did happen to stumble […]
http://www.dailyactor.com/2014/08/watch-bryan-cranston-and-aaron-pauls-emmy-award-speeches/
http://www.dailyactor.com/wp-content/uploads/2014/08/audition-tapes-gerard-butler-aud.jpg
Audition Tapes: Gerard Butler Auditions for 'Dracula 2000′
Check out Gerard Butler auditioning for the role of Dracula in the movie, Dracula 2000. The film, about a group of thieves who break into a chamber expecting to find paintings, but instead find Dracula himself, also starred Christopher Plummer, Jonny Lee Miller and Nathan Fillion. Bulter has some sweet rock star hair, huh?
http://www.dailyactor.com/2014/08/audition-tapes-gerard-butler-dracula-2000/