Kevin Nealon Talks Stand-Up, 'Weeds' and Why It's Important to Think Before You Speak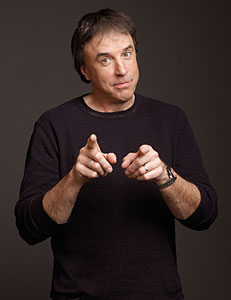 Comedian Kevin Nealon spent nearly a decade on Saturday Night Live, and though he hasn't been on the weekly comedy series in years he is in one of the busiest parts of his career in 2012. 
Not only is he a regular on Showtime's Weeds, but he also taped a comedy special for the same network last month.  He talks to the Detroit Free Press about juggling his two careers and also shares his thoughts on recent controversies that fellow comedians have faced with their material.
Though some comedians make it seem like their routines are laid-back and spontaneous, Nealon gives some perspective on preparing for a comedy special. 
He reveals, "I usually need about six months. I hit the road to work on the act. I'll write material weeks before the tour starts, and then while on tour, I'm writing throughout the week. But I'm always accumulating material, trying to figure out the best order. I'm always working on the tone of the show."
However, Nealon points out one of the benefits of that hard work that other forms of entertainment don't have: instant feedback.  He explains, "What's great about that is I'm getting an immediate response from the audience. It's not like a movie or a sitcom where you're waiting for months after to hear how people respond to the material."
Though Nealon is probably best known for his lengthy stint on SNL, there are those who show up to his comedy shows thinking that he is like Doug Wilson, his pot-smoking character on Weeds.  He says, "Yes, there's definitely some confusion when it comes to Kevin and Doug. Doug Wilson – what a complete irresponsible degenerate. It's been so much fun playing him and we're excited about the eighth season. … Sometimes people that come to my show are expecting Doug Wilson, but I'm not, thankfully, really the train wreck that he is."
As a stand-up comedian of some renown, Nealon is aware of the recent controversies comedians like Tracy Morgan and Gilbert Gottfried have had with jokes that civil rights groups and members of the public felt crossed the line (and in Gottfried's case, his tsunami jokes cost him his lucrative gig voicing the Aflac duck).  However, others have argued that comedy as a whole will suffer if every offended person spoke out against jokes deemed "too offensive."  Nealon has an interesting perspective on the issue, explaining, "I think that freedom of speech is very important in what we do. But it's important to also look at things from a wider perspective — like what other business ties do the comics have and how what you say in your act or on social media affects a wider audience. I actually think that everyone has a certain responsibility. I don't think you are allowed to be insensitive just because you're a comedian."
On how such controversies affect a comedian's business deals, he adds, "I just shot a pilot for NBC. … There was this meeting, a big discussion we had that was focused on sexual harassment, but it also included elements about what you're talking about publicly on social media like Twitter and Facebook. And, really, there is this responsibility that comes with representing your TV show or the network or the businesses you might be working with."  As Nealon points out, it isn't just comedians who find themselves in trouble by what they post on social networks — anyone involved in a production can soon find themselves out of a job if they say the wrong thing publicly.
Latest Videos
http://www.dailyactor.com/wp-content/uploads/2014/10/alex-sharp-curious-incident-of-the-dog.jpg
Alex Sharp Talks About His Broadway Debut in 'The Curious Incident of the Dog in the Night-Time' (video)
Alex Sharp went from working in a call-center and renovating houses to going to Julliard. And now, he's starring in one of the most talked about shows of the season, The Curious Incident of the Dog in the Night-Time. Check out this great, inspiring video!
http://www.dailyactor.com/2014/10/alex-sharp-broadway-debut-the-curious-incident-of-the-dog-in-the-night-time-video/
http://www.dailyactor.com/wp-content/uploads/2014/10/Its-only-a-play.jpg
Watch a Scene From Terrance McNally's, 'It's Only a Play', Featuring Nathan Lane and Micah Stock
Here's a quick scene from Terrance McNally's It's Only a Play, currently on Broadway at the Schoenfeld Theater. In this scene, Nathan Lane and Micah Stock meet for the first time. The show, about the opening night of a new play, also stars Matthew Broderick, Stockard Channing, F. Murray Abraham, Rupert Grint and Megan Mullally.
http://www.dailyactor.com/2014/10/watch-a-scene-terrance-mcnally-its-only-a-play-nathan-lane-micah-stock/
http://www.dailyactor.com/wp-content/uploads/2014/10/birdman-director-alejandro-g-ina.jpg
'Birdman' Director Alejandro G. Iñárritu Narrates a Scene from the Film Featuring Michael Keaton and Edward Norton
Director Alejandro G. Iñárritu narrates a scene from Birdman or The Unexpected Virtue of Ignorance that features stars Michael Keaton and Edward Norton. The film is wonderful and if it's playing in your town, definitely check it out!
http://www.dailyactor.com/2014/10/birdman-director-alejandro-g-inarritu-michael-keaton-edward-norton/
http://www.dailyactor.com/wp-content/uploads/2014/10/the-cast-of-mad-men-on-the-final.jpg
The Cast of 'Mad Men' on the Final Season and More
Though the AMC television series Mad Men might not carry the same cultural weight that it did a few years ago (splitting your final season over two years might do that to you), the second half of the show's final season is expected to be full of powerful performances from its ensemble cast. With the […]
http://www.dailyactor.com/2014/10/cast-of-mad-men-final-season/
http://www.dailyactor.com/wp-content/uploads/2014/10/behind-the-scenes-of-a-sex-scene.jpg
Behind the Scenes of a Sex Scene with Patrick Wilson, Brooklyn Decker and Director Joe Carnahan
Director Joe Carnahan is giving viewers an inside look at what it is like to film a big screen Hollywood sex scene, as confirmed by Gawker. Carnahan released a brief video clip taken from the set of his latest film Stretch starring supermodel and actress Brooklyn Decker and Patrick Wilson. The video showcases the two […]
http://www.dailyactor.com/2014/10/behind-the-scenes-of-a-sex-scene-patrick-wilson-brooklyn-decker-director-joe-carnahan/