Biography: Emily Blunt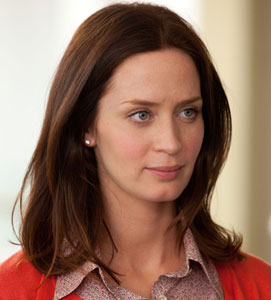 Emily Blunt shot to international prominence with her lead role in the multi award-winning British movie, My Summer of Love. Filmed in summer 2003, Blunt played the mysterious, privileged Tamsin, who becomes the obsession of a local girl in this intoxicating romance from Pawel Pawlikowski.
Blunt won the Most Promising Newcomer award at the 2004 Evening Standard Film Awards, was nominated in the Best Newcomer category at the 2004 British Independent Film Awards.
The critically-acclaimed Gideon's Daughter, in which Blunt starred alongside Bill Nighy and Miranda Richardson, was shot in October 2004. Blunt plays Natasha, the troubled daughter of a businessman who seems to be more dedicated to his career and girlfriend than to her. Set in the intense summer of 1997, against a backdrop of Labour's election victory and Princess Diana's death, the drama was directed by Stephen Poliakoff. Blunt won a Golden Globe® for Best Supporting Actress in Television at the 2007 Awards for her performance.
In 2005, Blunt flew to New York to start work on The Devil Wears Prada. An adaptation of the hugely-popular Lauren Weisberger novel, the film features Blunt as the intensely neurotic Emily Charlton, senior assistant at Runway Magazine, who is permanently on the verge of a nervous breakdown. Directed by David Frankel and co-starring Anne Hathaway, Meryl Streep and Stanley Tucci, the film opened to great acclaim in the US in June 2006 and made over $125 million at the US box office.
Blunt was nominated in the Breakthrough Female category at the 2006 Teen Choice Awards for her performance and was honored with the Breakthrough Award at the 2006 Movieline Young Hollywood Awards. She was also nominated in the Best Supporting Actress category at the Golden Globes® and the BAFTAs for the role. The movie ended up making over $320 million world-wide. Blunt went on to be nominated for the Rising Star Award at the 2007 BAFTAs.
In August 2006, Blunt started work on The Great Buck Howard. Written and directed by Sean McGinly and co-starring Tom Hanks, John Malkovich and Colin Hanks, Blunt plays Valerie, a self-assured publicist hired by a luckless magician trying to reinvigorate his career. The film premiered at the 2008 Sundance Film Festival and was released in the US in March 2009. Following this, Blunt filmed Dan in Real Life, with Steve Carell, Juliette Binoche and Dane Cook. It was released in the US on October 26th 2007.
Blunt went on to make The Jane Austen Book Club. She starred alongside Maria Bello, Frances McDormand, Kevin Zegers and Hugh Dancy as a secretive, unhappy teacher who yearns for more than life has given her.
Blunt next spent two months in Albuquerque, New Mexico filming Sunshine Cleaning. Produced by the team behind Little Miss Sunshine, the film is directed by Christine Jeffs and tells the story of two sisters who start up a successful business cleaning up crime scenes. Blunt's co-stars included Amy Adams and Alan Arkin and the film was Blunt's second at the 2008 Sundance Film Festival. It had a very successful release in the US in March 2009, when it opened with the highest screen-average of any release so far that year. Blunt was nominated for a Critic's Choice Award for Best Supporting Actress for the role.
In late 2007, Blunt was seen in Mike Nichols's Charlie Wilson's War with Tom Hanks, Julia Roberts and Philip Seymour Hoffman. The film was released in the US in December 2007.
Blunt next filmed the Martin Scorsese-produced biopic, The Young Victoria. Emily plays Britain's Queen Victoria in the early stages of her life and the film is written by Julian Fellowes and directed by Jean-Marc Vallee. The cast also includes Miranda Richardson, Jim Broadbent and Rupert Friend. The film was then picked to be the closing night film of the 2009 Toronto Film Festival, ahead of a January 2010 release. Blunt was nominated in the category of Best Actress at the 2010 Golden Globe Awards® and also in the same category at the Critic's Choice Awards for her performance.
In February 2010, Blunt was seen in the much-anticipated period thriller, The Wolfman. Directed by Joe Johnston, Blunt stars opposite Benicio del Toro and Anthony Hopkins, playing the female lead role of Gwen Conliffe, a woman mourning the death of her husband who becomes close to his brother as they hunt the werewolf that killed him.
Also in February 2010, Blunt voiced the female lead role of Juliet in Disney's 3D animation Gnomeo and Juliet, with James McAvoy voicing Gnomeo. The film is an animated retelling of William Shakespeare's Romeo and Juliet using Gnomes. Directed by Kelly Asbury, the film's soundtrack is written and produced by Elton John.
 
In December 2010, Blunt was seen playing Princess Lilliputia in the retelling of Jonathan Swift's iconic novel, Gulliver's Travels. Blunt stars alongside Jack Black and Jason Segel in the film, which follows the modern day adventures of travel writer Lemuel Gulliver, who takes an assignment in Bermuda, but ends up on the island of Lilliput.
In March 2011, Blunt appeared in the thriller, The Adjustment Bureau, directed by George Nolfi.
In October 2010, Blunt was confirmed to play the female lead in the time-travel thriller Looper. The film is centred on a group of killers who send bodies of their victims back in time. Blunt will play a single mother forced to go to great lengths to protect her son. Her co-stars are Bruce Willis and Joseph Gordon-Levitt, with Rian Johnson directing. The film is slated for a late 2012 release.
In December 2011, Blunt was recently seen in Disney's The Muppets. Ricky Gervais, Alan Arkin, Jack Black, Billy Crystal, Zach Galifianakis and Jean-Claude Van Damme, also lent their voices to the latest instalment, which sees the Muppets reunite to put on a show in order to save their movie studio from a developer. James Bobin directed from a script written by Jason Segel and Nicholas Stoller.
Following Salmon Fishing in the Yemen, Blunt will be seen in Five Year-Engagement in which she stars alongside Jason Segel, Alison Brie, Rhys Ifans and Chris Pratt. The film is directed by Nicholas Stoller and co-written by Nicholas and Jason Segel. It is slated to be released on April 27, 2012 in the US.
In September of 2011, Blunt shot Dante Ariola's as-yet-untitled dark comedy opposite Colin Firth.
Biography/Filmography courtesy of CBS Films and the film, Salmon Fishing in the Yemen
Latest Videos
http://www.dailyactor.com/wp-content/uploads/2014/04/director-david-gordon-greene-nar.jpg
Director David Gordon Green Narrates a Scene From 'Joe'
Director David Gordon Green narrates a sequence from his new film, Joe, featuring Nicolas Cage and Tye Sheridan. In the video, he mentions his reasons why he likes to hire non-traditional actors. He likes people who have real skill-sets and not actors who have the skills on their resume. He also talked about this in […]
http://www.dailyactor.com/2014/04/director-david-gordon-green-narrates-a-scene-from-joe/
http://www.dailyactor.com/wp-content/uploads/2014/04/david-gordon-green-joe.jpg
Director David Gordon Green: "I find actors in unusual places"
I keep missing screenings of director David Gordon Greene's new film, Joe. I hear it's really good so I'm looking forward to catching it at some point. Joe stars Nicholas Cage as ex-con Joe Ransom, who isn't the greatest of role models until he meets a 15-year-old boy (Mud's Tye Sheridan). In this featurette, Green […]
http://www.dailyactor.com/2014/04/director-david-gordon-green-i-find-actors-in-unusual-places/
http://www.dailyactor.com/wp-content/uploads/2014/04/judy-greer-i-dont-know-why-you-know-me-from.jpg
Please Don't Say These Things To Judy Greer (video)
Judy Greer - who we love here at Daily Actor – has a new book called, I Don't Know What You Know Me From (Confessions of a Co-Star), a series of essays about her life as an actress, friend and someone who everyone thinks they might know. Here's a blurb about the book: "Want to […]
http://www.dailyactor.com/2014/04/please-dont-say-these-things-to-judy-greer-video/
http://www.dailyactor.com/wp-content/uploads/2014/04/Captain-America-SamuelNick-Fury.jpg
How Samuel L. Jackson Learns His Lines for the Marvel Movies (video)
Samuel L. Jackson stopped by Good Morning America earlier this week to talk about Captain America: The Winter Soldier – which is terrific, by the way – and he told Robin Roberts that for the first Cap film, he had trouble learning his lines. "I sat at home and I did all my studying, and […]
http://www.dailyactor.com/2014/04/how-samuel-l-jackson-learns-his-lines-for-the-marvel-movies-video/
http://www.dailyactor.com/wp-content/uploads/2014/04/andy-karl-margot-seibert-rocky.jpg
Andy Karl and Margo Seibert Talk 'Rocky: The Musical' on 'Today'
Andy Karl and Margo Seibert, the stars of Rocky: The Musical, talked to Today's Matt Lauer about the new Broadway musical. Karl talks about the final fight and taking on the iconic role. This is Seibert's Broadway debut and she's asked about her callbacks (9 in all!) and more. Check it out!
http://www.dailyactor.com/2014/04/andy-karl-and-margo-seibert-talk-rocky-the-musical-on-today/