*SPOILERS* How Did The '21 Jump Street' Filmmakers Arrange Its Surprise Cameo?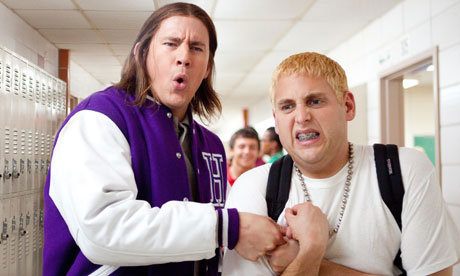 Although it isn't a huge secret now — and it was rumored for months during the film's production — the new film sequel to the 1980s television series 21 Jump Street features three surprise cameos, one of whom is among the most famous actors in the world. 
Surprisingly, the filmmakers had little difficulty getting the star to agree to the cameo and they spoke to Moviefone about not only writing the part, but how the superstar behaved during his one day on the set.
***SPOILERS BELOW***
Screenwriter Michael Bacall, who developed the movie's story with star Jonah Hill, reveals that Johnny Depp's cameo was always a goal since Depp starred as Officer Tom Hansen on the original television series.  Bacall says, "Jonah wanted to approach Johnny Depp very early in the process.  It took a while, but we kinda heard through the grapevine that he might be interested in it."
Depp was interested, but under one condition: he wanted to end the story of his character Tom Hanson in a very permanent way.
"It is such a funny idea," Bacall explains, "Huge credit to him for having that idea. Then we just immediately took that ball and ran with it, and wanted to take it as far as we could."
Phil Lord, one of the film's co-directors, confesses that although Depp was only on set for one day his impact on the production was immediate. 
He says, "That was our third day on the set.  Basically, on a movie set that we were supposed to be in charge, you realize how not in charge of anything you are. How crazy that can make a set. And then you realize instantly why someone like that is such a big movie star. He walks on set, there's no smoking on set. 'OK, no problem.' He's smoking. You're like, 'Of course!' That's what makes him awesome."  And although Depp wouldn't put out his cigarette (much like his idol Keith Richards, who openly smokes on stage when the Rolling Stones tour New York despite the city's "no indoor smoking in a public venue" policies), Lord has nothing but praise for Depp, saying, "Such a creative guy. Such a genuine person, great improviser. Game. Doesn't take himself so seriously. It was like, 'I understand why he makes a kajillion dollars.' He's awesome. Everything you would hope for in a movie star, he's it."
Latest Videos
http://www.dailyactor.com/wp-content/uploads/2014/07/bill-hader.jpg
Bill Hader: "I kind of fell into acting" (video)
Bill Hader, starring in the soon to be released The Skeleton Twins, talks about the film and how he fell into acting and then got "crazy lucky" in this quick video from USA Today. Share on Tumblr
http://www.dailyactor.com/2014/07/bill-hader-fell-into-acting-video/
http://www.dailyactor.com/wp-content/uploads/2014/07/director-john-carney-narrates-a.jpg
Director John Carney Narrates a Scene from 'Begin Again' Starring Kiera Knightley and Mark Ruffalo
Director John Carney (Once) narrates a scene from his new film, Begin Again. Starring Keira Knightley and Mark Ruffalo, the scene shows the first time the two characters meet. I haven't seen it yet but I've heard it's great.
http://www.dailyactor.com/2014/07/begin-again-scene-director-john-carney-keira-knightley-mark-ruffalo/
http://www.dailyactor.com/wp-content/uploads/2014/07/holler-if-you-hear-me-gma.jpg
Watch the Cast of Broadway's 'Holler If You Hear Me' Perform 'California Love' on GMA
The cast of Broadway's newest musical, Holler If You Hear Me with music from Tupac Shakur, performed on Good Morning America this morning. Singing 'California Love', the cast (including the teriffic Christopher Jackson – read our interview here), show why they're the most energetic and inspiring group of actors on Broadway. Holler If Ya Hear [...]
http://www.dailyactor.com/2014/07/watch-cast-broadways-holler-hear-perform-california-love-gma/
http://www.dailyactor.com/wp-content/uploads/2014/07/behind-the-scenes-of-dawn-of-the.jpg
Behind the Scenes of 'Dawn of the Planet of the Apes' with Performance Capture Actor Terry Notary
Actor Terry Notary is 1 of 5 actors playing the apes in the new Dawn of the Planet of the Apes. "When you see armies of apes," he says, that's "five of us." Check out the video where you can watch his performance capture work.
http://www.dailyactor.com/2014/07/dawn-planet-apes-performance-capture-actor-terry-notary/
http://www.dailyactor.com/wp-content/uploads/2014/07/melissa-mccarthy-daily-show.jpg
Melissa McCarthy and John Stewart Talk About Terrible Commercial Auditions on 'The Daily Show'
Melissa McCarthy stopped by The Daily Show last week to plug about her new movie, Tammy. She talked about how she loved working with her husband, Ben Falcone (director of Tammy) and then segued into talking about some horrible working situations. The always hilarious McCarthy then started to tell host John Stewart about a particular [...]
http://www.dailyactor.com/2014/07/melissa-mccarthy-john-stewart-commercial-auditions-the-daily-show/