*SPOILERS* How Did The '21 Jump Street' Filmmakers Arrange Its Surprise Cameo?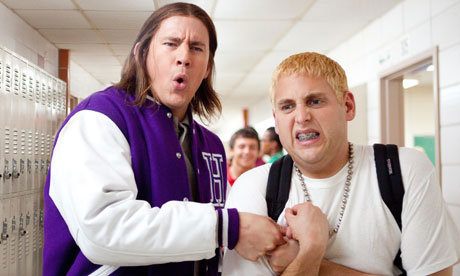 Although it isn't a huge secret now — and it was rumored for months during the film's production — the new film sequel to the 1980s television series 21 Jump Street features three surprise cameos, one of whom is among the most famous actors in the world. 
Surprisingly, the filmmakers had little difficulty getting the star to agree to the cameo and they spoke to Moviefone about not only writing the part, but how the superstar behaved during his one day on the set.
***SPOILERS BELOW***
Screenwriter Michael Bacall, who developed the movie's story with star Jonah Hill, reveals that Johnny Depp's cameo was always a goal since Depp starred as Officer Tom Hansen on the original television series.  Bacall says, "Jonah wanted to approach Johnny Depp very early in the process.  It took a while, but we kinda heard through the grapevine that he might be interested in it."
Depp was interested, but under one condition: he wanted to end the story of his character Tom Hanson in a very permanent way.
"It is such a funny idea," Bacall explains, "Huge credit to him for having that idea. Then we just immediately took that ball and ran with it, and wanted to take it as far as we could."
Phil Lord, one of the film's co-directors, confesses that although Depp was only on set for one day his impact on the production was immediate. 
He says, "That was our third day on the set.  Basically, on a movie set that we were supposed to be in charge, you realize how not in charge of anything you are. How crazy that can make a set. And then you realize instantly why someone like that is such a big movie star. He walks on set, there's no smoking on set. 'OK, no problem.' He's smoking. You're like, 'Of course!' That's what makes him awesome."  And although Depp wouldn't put out his cigarette (much like his idol Keith Richards, who openly smokes on stage when the Rolling Stones tour New York despite the city's "no indoor smoking in a public venue" policies), Lord has nothing but praise for Depp, saying, "Such a creative guy. Such a genuine person, great improviser. Game. Doesn't take himself so seriously. It was like, 'I understand why he makes a kajillion dollars.' He's awesome. Everything you would hope for in a movie star, he's it."
Latest Videos
http://www.dailyactor.com/wp-content/uploads/2014/08/bryan-cranston-emmy-award-speech.jpg
Watch: Bryan Cranston's Emmy Award Speech: "I love to act. It is a passion of mine and I will do it until my last breath."
The Emmy Awards weren't the most exciting awards show this year but with Bryan Cranston winning for Outstanding Actor in a Drama for Breaking Bad, we at least got to hear one heck of a fantastic acceptance speech. "I was a kid who always looked for the shortcut," he said. "I did happen to stumble […]
http://www.dailyactor.com/2014/08/watch-bryan-cranston-and-aaron-pauls-emmy-award-speeches/
http://www.dailyactor.com/wp-content/uploads/2014/08/audition-tapes-gerard-butler-aud.jpg
Audition Tapes: Gerard Butler Auditions for 'Dracula 2000′
Check out Gerard Butler auditioning for the role of Dracula in the movie, Dracula 2000. The film, about a group of thieves who break into a chamber expecting to find paintings, but instead find Dracula himself, also starred Christopher Plummer, Jonny Lee Miller and Nathan Fillion. Bulter has some sweet rock star hair, huh?
http://www.dailyactor.com/2014/08/audition-tapes-gerard-butler-dracula-2000/
http://www.dailyactor.com/wp-content/uploads/2014/08/interview-matt-dillon-and-carla.jpg
Interview: Matt Dillon and Carla Gugino Talk 'Wayward Pines'
FOX has a new limited-series that's got a terrific cast and interesting premise. It's called Wayward Pines and stars Matt Dillon, Carla Gugino, Melissa Leo, Toby Jones, Terrance Howard, Juliette Lewis, Tim Griffin and Shannyn Sossamon. The show, whose pilot was directed by M. Night Shyamalan, is about a Secret Service agent (Dillon) goes to […]
http://www.dailyactor.com/2014/08/interview-matt-dillon-carla-gugino-wayward-pines-comic-con/
http://www.dailyactor.com/wp-content/uploads/2014/08/interview-wayward-pines-stars-ti.jpg
Interview: 'Wayward Pines' Stars Tim Griffin and Shannyn Sossamon on the Show, Their Characters and More!
Griffin and Sossamonwere at Comic-Con where they sat in on some roundtable interviews to talk about the show.
http://www.dailyactor.com/2014/08/interview-wayward-pines-stars-tim-griffin-shannyn-sossamon-comic-con/
http://www.dailyactor.com/wp-content/uploads/2014/08/interview-m-night-shyamalan-talk.jpg
Interview: M. Night Shyamalan Talks 'Wayward Pines' and Why He Expanded a Young Actors Role on the Show
I talked to Shyamalan at Comic-Con in a roundtable interview where he talked about the cast, what he learned from working in TV and how young actor Charlie Tahan started out with a small part but as the story grew, so did his role.
http://www.dailyactor.com/2014/08/interview-m-night-shyamalan-wayward-pines-comic-con/