Watch: The First 12-Minutes of 'Sound Of My Voice' starring Brit Marling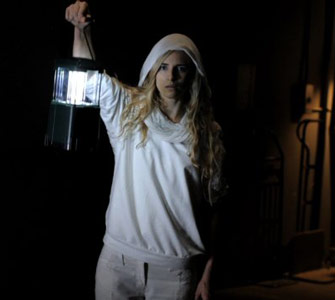 Last week, we posted a preview of the first 2-minutes of Fox Searchlight's Sound of My Voice with Brit Marling. 
Now, they've posted the first 12 minutes, or Chapter 1 as they are calling it. You can watch it below or go to the films website and watch it in full screen: http://www.soundofmyvoicemovie.com/
Also, the filmmakers are saying to pay special attention when watching the clip. It has "baked in" alternative content via interactive "hotspots" and this hints at story elements beyond the first chapter.
Synopsis: Peter (Christopher Denham) and Lorna (Nicole Vicius), a couple and documentary filmmaking team, infiltrate a mysterious group led by an enigmatic young woman named Maggie (Brit Marling). Intent on exposing her as a charlatan and freeing the followers from her grip, Peter and Lorna start to question their objective and each other as they unravel the secrets of Maggie's underworld.
Directed by: Zal Batmanglij
Written by:  Zal Batmanglij and Brit Marling
Starring: Brit Marling, Christopher Denham and Nicole Vicius
In theaters: April 27, 2012
http://www.dailyactor.com/wp-content/uploads/2015/05/Caitriona-Balfe-Outlander.jpg
Outlander's Caitriona Balfe On The Emotional Toll of Filming Violent Scenes
"Having to put yourself in that place is tough. To sit in that emotional space, especially when you're doing it day after day." - Caitriona Balfe
http://www.dailyactor.com/2015/05/outlander-catriona-balfe-emotional-toll-of-filming-violent-scenes/
http://www.dailyactor.com/wp-content/uploads/2015/05/Chrissie-Fit.jpg
Chrissie Fit on How She Landed Her Role in 'Pitch Perfect 2′
"I remember getting the audition and being like, "This might not happen," just because it is such a massive movie." - Chrissie Fit
http://www.dailyactor.com/2015/05/chrissie-fit-on-how-she-landed-her-role-in-pitch-perfect-2/
http://www.dailyactor.com/wp-content/uploads/2015/05/Sam-Elliott.jpg
Sam Elliot on How he "F–ked" Himself Out of a Career as a Lead Actor
The rugged Sam Elliot has most often cast in character actor roles throughout his long career in film, though the 70 year-old Elliot thinks it wasn't always meant to be that way.
http://www.dailyactor.com/2015/05/sam-elliot-on-how-he-f-ked-himself-out-of-a-career-as-a-lead-actor/
http://www.dailyactor.com/wp-content/uploads/2015/05/Anna-Kendrick-Pitch-Perfect-2.jpg
Anna Kendrick Talks Hollywood and its Gender Bias
"As an actress you're perpetually about to be unemployed." - Anna Kendrick
http://www.dailyactor.com/2015/05/anna-kendrick-talks-hollywood-and-its-gender-bias/
http://www.dailyactor.com/wp-content/uploads/2015/05/tom-hardy-mad-max-fury-road.jpg
Tom Hardy on Fame, Acting School, and His 'Mad Respect' for Michael Fassbender
"Do what you love doing, do it well—everything should fit into place." - Tom Hardy
http://www.dailyactor.com/2015/05/tom-hardy-fame-acting-school-michael-fassbender/