'The Descendants' Shailene Woodley Talks Getting Direction From Alexander Payne and Working at American Apparel on Her Hiatus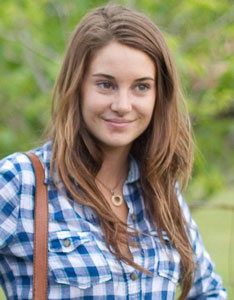 From the small screen, as the lead star of The Secret Life of The American Teenager,  to the big screen with George Clooney in The Descendants, twenty-year-old actress Shailene Woodley has come off the heels of what she calls a "mind blowing" awards season, she told Collider.
Prior to booking The Descendants, Woodley was working for an apparel store when she found out she was cast in her role.  "I had moved to New York over hiatus to do something different. I'm from Simi Valley. And, I was working at American Apparel, just to do something different, when I booked The Descendants, and I was terrified to have to quit my job. I hate having to go in and put in your two weeks notice. That's terrifying!  I had only been working there for two months, so I thought that she would be pissed that I took a job for two months then was quitting. But, she was very gracious and kind and considerate."
Shailene also shared what it was like to work under the direction of Alexander Payne.  "Every actor wants to work with him for a reason, and it's because he gives you the time that you need to get to an emotional state and he's always by the camera, talking you through the scene and helping you in times of difficulty," she said. "He's never stuck behind a monitor or yelling from across the stage, like most directors. He's really present and available for you." 
According to the actress, her underwater screaming scene was also a spur of the moment decision, a way to release a little stress.  "It was just another day on the set. It was actually really funny. The guy who actually filmed that is a world-renowned surf cinematographer, and he was in the pool with me while Alexander was indoors filming a different scene with George [Clooney]. He would come out, in between takes, to see what we were doing in the pool. We only did four takes, and Alexander told me to go underwater and do whatever I wanted to do. It was my own therapy session, to go underwater and scream."
A learning experience for Woodley, she was directed to speak louder and slower by Payne during filming.  "At the table read, Alexander is very meticulous with his casting and he told us all that he cast us for who we are, as human beings. I don't know what that says about us. So, he really gave us the creative freedom to be ourselves within the rules and restrictions of the characters. He always told me to speak slower because apparently I'm a speed talker and louder because I spoke on a very quiet level. Another day, he came up to me and said, "You're not being you. Be Shay."
Woodley, who calls Payne one of her five favorite people on the planet, called the process on set one of the best experiences.  "That was the best direction I've ever gotten in my life because acting, at least for me, is just an extension of myself.  So, it was really refreshing to have a director who got to know me so well as a human being that he could tell when I was starting to act versus when I was just being authentic to the character."
http://www.dailyactor.com/wp-content/uploads/2015/02/Larry-David.jpg
Larry David on Who he Wanted to Star in his Broadway Play 'Fish in the Dark': "Anybody but me"
"It's one of the reasons I didn't like acting. I don't like not being able to interject" – Larry David on acting with a script Who doesn't like Larry David? Well, to be honest, Larry David probably doesn't like Larry David. In fact, David didn't even want to cast himself in the lead of […]
http://www.dailyactor.com/2015/02/larry-david-on-who-he-wanted-to-star-broadway-play-fish-in-the-dark/
http://www.dailyactor.com/wp-content/uploads/2015/02/Helen-Mirren-The-Queen.jpg
Helen Mirren on Winning an Oscar: "It's an indescribable moment"
"It's hard to say, because you don't know what would have happened if you hadn't won" - Helen Mirren When Asked If Winning an Oscar Changed Her Career
http://www.dailyactor.com/2015/02/helen-mirren-on-winning-an-oscar/
http://www.dailyactor.com/wp-content/uploads/2015/02/anna-chlumsky-james-earl-jones.jpg
Anna Chlumsky on Her Broadway Debut: "For me, it was an opportunity to go in the direction that I hadn't played in a while"
"I think my personality lends itself to ensembles" - Anna Chlumsky
http://www.dailyactor.com/2015/02/anna-chlumsky-broadway-debut-ensemble/
http://www.dailyactor.com/wp-content/uploads/2015/02/joanne-froggatt-downton-abbey.jpg
'Downton Abbey' Star Joanne Froggatt on Creating Her Own Backstory and How She's "Not a Big-Budget Hollywood Type"
"They want the model type, classically beautiful, and I'm not" - Joanne Froggatt on Working in Hollywood
http://www.dailyactor.com/2015/02/downton-abbey-star-joanne-froggatt-character-backstory-hollywood/
http://www.dailyactor.com/wp-content/uploads/2015/01/al-pacino-the-humbling.jpg
Al Pacino on Acting: "It becomes such a part of your nature you rarely ever think about quitting"
After working infrequently in film over the last decade, Al Pacino appears in several films released in 2015, including The Humbling, an indie drama directed by Barry Levinson.
http://www.dailyactor.com/2015/02/al-pacino-on-acting-it-becomes-such-a-part-of-your-nature/