'The Descendants' Shailene Woodley Talks Getting Direction From Alexander Payne and Working at American Apparel on Her Hiatus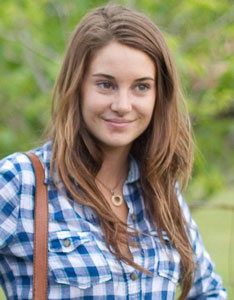 From the small screen, as the lead star of The Secret Life of The American Teenager,  to the big screen with George Clooney in The Descendants, twenty-year-old actress Shailene Woodley has come off the heels of what she calls a "mind blowing" awards season, she told Collider.
Prior to booking The Descendants, Woodley was working for an apparel store when she found out she was cast in her role.  "I had moved to New York over hiatus to do something different. I'm from Simi Valley. And, I was working at American Apparel, just to do something different, when I booked The Descendants, and I was terrified to have to quit my job. I hate having to go in and put in your two weeks notice. That's terrifying!  I had only been working there for two months, so I thought that she would be pissed that I took a job for two months then was quitting. But, she was very gracious and kind and considerate."
Shailene also shared what it was like to work under the direction of Alexander Payne.  "Every actor wants to work with him for a reason, and it's because he gives you the time that you need to get to an emotional state and he's always by the camera, talking you through the scene and helping you in times of difficulty," she said. "He's never stuck behind a monitor or yelling from across the stage, like most directors. He's really present and available for you." 
According to the actress, her underwater screaming scene was also a spur of the moment decision, a way to release a little stress.  "It was just another day on the set. It was actually really funny. The guy who actually filmed that is a world-renowned surf cinematographer, and he was in the pool with me while Alexander was indoors filming a different scene with George [Clooney]. He would come out, in between takes, to see what we were doing in the pool. We only did four takes, and Alexander told me to go underwater and do whatever I wanted to do. It was my own therapy session, to go underwater and scream."
A learning experience for Woodley, she was directed to speak louder and slower by Payne during filming.  "At the table read, Alexander is very meticulous with his casting and he told us all that he cast us for who we are, as human beings. I don't know what that says about us. So, he really gave us the creative freedom to be ourselves within the rules and restrictions of the characters. He always told me to speak slower because apparently I'm a speed talker and louder because I spoke on a very quiet level. Another day, he came up to me and said, "You're not being you. Be Shay."
Woodley, who calls Payne one of her five favorite people on the planet, called the process on set one of the best experiences.  "That was the best direction I've ever gotten in my life because acting, at least for me, is just an extension of myself.  So, it was really refreshing to have a director who got to know me so well as a human being that he could tell when I was starting to act versus when I was just being authentic to the character."
Latest Videos
http://www.dailyactor.com/wp-content/uploads/2014/08/seth-rudetsky-reveals-the-5-wors.jpg
Seth Rudetsky Reveals the 5 Worst Musical Theater Audition Mistakes (video)
Seth Rudetsky, actor, musician and a host on SiriusXM's Broadway channel, has been teaching auditioning master classes this summer and he's seen his share of bad auditions lately. In this video, he reveals the 5 worst audition mistakes you can make in a musical theater audition and how to choose the perfect 16-bar audition song. [...]
http://www.dailyactor.com/2014/08/seth-rudetsky-5-worst-audition-mistakes/
http://www.dailyactor.com/wp-content/uploads/2014/07/sir-ben-kingsley-talks-about-the.jpg
Sir Ben Kingsley Talks about the Unique Way He Voiced His Character in the Animated Film, 'The Boxtrolls' (video)
I could listen to Sir Ben Kingsley talk about acting and.. well, I could listen to him talk about anything. He's starring in the new Laika stop-motion animated film, The Boxtrolls, and he and some of the cast (along with the director) joined in on a Comic-Con panel about the film. The Boxtrolls is about [...]
http://www.dailyactor.com/2014/07/sir-ben-kingsley-the-boxtrolls-comic-con/
http://www.dailyactor.com/wp-content/uploads/2014/07/bill-hader.jpg
Bill Hader: "I kind of fell into acting" (video)
Bill Hader, starring in the soon to be released The Skeleton Twins, talks about the film and how he fell into acting and then got "crazy lucky" in this quick video from USA Today.
http://www.dailyactor.com/2014/07/bill-hader-fell-into-acting-video/
http://www.dailyactor.com/wp-content/uploads/2014/07/director-john-carney-narrates-a.jpg
Director John Carney Narrates a Scene from 'Begin Again' Starring Kiera Knightley and Mark Ruffalo
Director John Carney (Once) narrates a scene from his new film, Begin Again. Starring Keira Knightley and Mark Ruffalo, the scene shows the first time the two characters meet. I haven't seen it yet but I've heard it's great.
http://www.dailyactor.com/2014/07/begin-again-scene-director-john-carney-keira-knightley-mark-ruffalo/
http://www.dailyactor.com/wp-content/uploads/2014/07/holler-if-you-hear-me-gma.jpg
Watch the Cast of Broadway's 'Holler If You Hear Me' Perform 'California Love' on GMA
The cast of Broadway's newest musical, Holler If You Hear Me with music from Tupac Shakur, performed on Good Morning America this morning. Singing 'California Love', the cast (including the teriffic Christopher Jackson – read our interview here), show why they're the most energetic and inspiring group of actors on Broadway. Holler If Ya Hear [...]
http://www.dailyactor.com/2014/07/watch-cast-broadways-holler-hear-perform-california-love-gma/