Denzel Washington Was Actually Waterboarded During Filming of 'Safe House'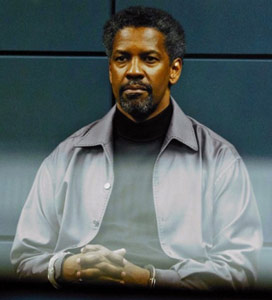 We're all aware that our favorite actors don't usually do their own stunts — not always because of a lack of desire, but because of insurance purposes.  Still, I doubt many A-list Hollywood actors would be willing to be actually waterboarded to prove their macho cred. 
Nonetheless, New York Magazine reveals that during the filming of Safe House Denzel Washington stepped up to the plate and agreed to be waterboarded for the film.
Waterboarding — for those of you that haven't watched a minute of news in the last few years — is either a form of torture or an "advanced interrogation technique" (depending on your political point-of-view, that is) which involves strapping someone down to a board and pouring water over his or her covered face to simulate the horrifying experience of drowning. It has also been used as a training exercise as a form of advanced survival training in the military.  Overall, it's regarded as a very unpleasant experience to say the least.
Following in the footsteps of Sylvester Stallone (who was waterboarded in The Expendables), Washington decided to do the stunt himself simply because, as he says, "I wanted to see what it would be like."  
Though the two-time Oscar winner was only waterboarded for a brief time (five seconds, according to his co-star Robert Patrick), he swears by it's effectiveness, revealing, "It's strange. You can't breathe in, because the water comes in, and it's filling up your mouth. And that was just one time for a short time. Imagine having that done for 20, 30 seconds? You will give up the answers! You may not necessarily tell the truth, but you will tell [your captors] whatever they want to hear."
I'm looking forward to a few more decades of powerful Denzel Washington performances, so I hope he doesn't decide to make a habit out of doing dangerous stunts!  As they say, leave it to the professionals.
Latest Videos
http://www.dailyactor.com/wp-content/uploads/2014/07/bill-hader.jpg
Bill Hader: "I kind of fell into acting" (video)
Bill Hader, starring in the soon to be released The Skeleton Twins, talks about the film and how he fell into acting and then got "crazy lucky" in this quick video from USA Today. Share on Tumblr
http://www.dailyactor.com/2014/07/bill-hader-fell-into-acting-video/
http://www.dailyactor.com/wp-content/uploads/2014/07/director-john-carney-narrates-a.jpg
Director John Carney Narrates a Scene from 'Begin Again' Starring Kiera Knightley and Mark Ruffalo
Director John Carney (Once) narrates a scene from his new film, Begin Again. Starring Keira Knightley and Mark Ruffalo, the scene shows the first time the two characters meet. I haven't seen it yet but I've heard it's great.
http://www.dailyactor.com/2014/07/begin-again-scene-director-john-carney-keira-knightley-mark-ruffalo/
http://www.dailyactor.com/wp-content/uploads/2014/07/holler-if-you-hear-me-gma.jpg
Watch the Cast of Broadway's 'Holler If You Hear Me' Perform 'California Love' on GMA
The cast of Broadway's newest musical, Holler If You Hear Me with music from Tupac Shakur, performed on Good Morning America this morning. Singing 'California Love', the cast (including the teriffic Christopher Jackson – read our interview here), show why they're the most energetic and inspiring group of actors on Broadway. Holler If Ya Hear [...]
http://www.dailyactor.com/2014/07/watch-cast-broadways-holler-hear-perform-california-love-gma/
http://www.dailyactor.com/wp-content/uploads/2014/07/behind-the-scenes-of-dawn-of-the.jpg
Behind the Scenes of 'Dawn of the Planet of the Apes' with Performance Capture Actor Terry Notary
Actor Terry Notary is 1 of 5 actors playing the apes in the new Dawn of the Planet of the Apes. "When you see armies of apes," he says, that's "five of us." Check out the video where you can watch his performance capture work.
http://www.dailyactor.com/2014/07/dawn-planet-apes-performance-capture-actor-terry-notary/
http://www.dailyactor.com/wp-content/uploads/2014/07/melissa-mccarthy-daily-show.jpg
Melissa McCarthy and John Stewart Talk About Terrible Commercial Auditions on 'The Daily Show'
Melissa McCarthy stopped by The Daily Show last week to plug about her new movie, Tammy. She talked about how she loved working with her husband, Ben Falcone (director of Tammy) and then segued into talking about some horrible working situations. The always hilarious McCarthy then started to tell host John Stewart about a particular [...]
http://www.dailyactor.com/2014/07/melissa-mccarthy-john-stewart-commercial-auditions-the-daily-show/