New York Asian-American Actors Look to Increase Their Presence in Theater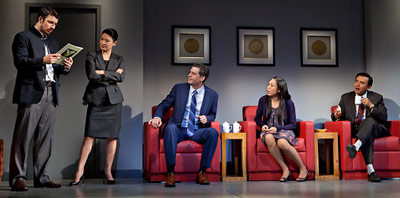 While we've certainly come a long way from white actors like John Wayne and Mickey Rooney portraying Asian characters in so-called "yellowface" makeup, roles for Asian-American actors on the Broadway stage are few in number, even as New York City's media is dominated by its newest sports sensation, Asian-American basketball player Jeremy Lin.
Sadly, the number of Asian-American actors in Broadway shows has actually declined since five years ago, the only minority group that has seen a decline. 
Why aren't there more roles for Asian-American actors on Broadway? 
That's a question that the RepresentAsian conference at New York's Fordham University attempted to answer on February 13.  According to the data presented at the conference, of the 6,639 New York theater roles in the last five theater seasons, only 54 Broadway roles featured Asian-American actors, and only 100 non-profit theater roles went to Asian-American actors.  With Asians making up 12.9% of New York City's population and growing, the plight of Asian-American actors is summed up by playwright Douglas Carter Beane, who said at the conference, "The stats baffle me.  Casting directors of every show I've worked on have always asked at some point, 'Can we open this up? Can this character be black, Latin or Asian?' … You want the stage to look like the street, not some fantasy world that doesn't exist."
Frustrated Asian-American actors have previously formed the Asian American Performers Action Coalition (AAPAC), a group devoted to increasing the number of roles filled by Asian-American actors.  However, the issue of course isn't just number of roles, as the AAPAC doesn't want to sacrifice quality for quantity.  For example, actress Anitha Gandhi points out, "When contemporary plays are produced, we're not looked upon for roles of the girlfriend, best friend, mom or father. I feel the color angle really does us a disservice. There is this patting-the-back mentality among producers and casting persons who will say, 'There is a black actor in my production.' … They don't look at us as being part of the fabric of the American story."
Possible issues the AAPAC has identified include the prevalence of "name" casting (i.e. Broadway shows casting film or television stars for roles to boost ticket sales), since there are also few roles for Asian-Americans on television and producers' fears that casting too many minorities of any background in production gives audiences the impression that it is a "conceptual" show. 
Still, perhaps the best way to turn the declining statistics around is by getting such information out there.  After all, if the newest unlikely New York basketball star playing only a few blocks away from the Theatre District can be a previously ignored Asian-American, surely increased Broadway success of Asian-Americans is possible, too!
via NPR
http://www.dailyactor.com/wp-content/uploads/2015/02/Larry-David.jpg
Larry David on Who he Wanted to Star in his Broadway Play 'Fish in the Dark': "Anybody but me"
"It's one of the reasons I didn't like acting. I don't like not being able to interject" – Larry David on acting with a script Who doesn't like Larry David? Well, to be honest, Larry David probably doesn't like Larry David. In fact, David didn't even want to cast himself in the lead of […]
http://www.dailyactor.com/2015/02/larry-david-on-who-he-wanted-to-star-broadway-play-fish-in-the-dark/
http://www.dailyactor.com/wp-content/uploads/2015/02/Helen-Mirren-The-Queen.jpg
Helen Mirren on Winning an Oscar: "It's an indescribable moment"
"It's hard to say, because you don't know what would have happened if you hadn't won" - Helen Mirren When Asked If Winning an Oscar Changed Her Career
http://www.dailyactor.com/2015/02/helen-mirren-on-winning-an-oscar/
http://www.dailyactor.com/wp-content/uploads/2015/02/anna-chlumsky-james-earl-jones.jpg
Anna Chlumsky on Her Broadway Debut: "For me, it was an opportunity to go in the direction that I hadn't played in a while"
"I think my personality lends itself to ensembles" - Anna Chlumsky
http://www.dailyactor.com/2015/02/anna-chlumsky-broadway-debut-ensemble/
http://www.dailyactor.com/wp-content/uploads/2015/02/joanne-froggatt-downton-abbey.jpg
'Downton Abbey' Star Joanne Froggatt on Creating Her Own Backstory and How She's "Not a Big-Budget Hollywood Type"
"They want the model type, classically beautiful, and I'm not" - Joanne Froggatt on Working in Hollywood
http://www.dailyactor.com/2015/02/downton-abbey-star-joanne-froggatt-character-backstory-hollywood/
http://www.dailyactor.com/wp-content/uploads/2015/01/al-pacino-the-humbling.jpg
Al Pacino on Acting: "It becomes such a part of your nature you rarely ever think about quitting"
After working infrequently in film over the last decade, Al Pacino appears in several films released in 2015, including The Humbling, an indie drama directed by Barry Levinson.
http://www.dailyactor.com/2015/02/al-pacino-on-acting-it-becomes-such-a-part-of-your-nature/