Q&A: James Wolk Talks His Guest Star Role on 'Happy Endings' and the Cancellation of 'Lone Star'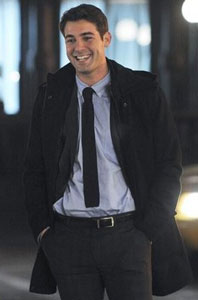 James Wolk starred in one of the most talked about series of last season, Fox's Lone Star. The show got great reviews and it looked like his career was about to skyrocket but, unfortunately, the show was quickly cancelled.
Calling the whole experience "humbling" and a "huge learning lesson', Wolk backed away from TV and appeared in Next Fall at the Los Angeles' Geffen Playhouse. Now, he's back on TV in Showtime's Shameless and has a 3-episode-arc on Happy Endings as Max's (Adam Pally) new/old boyfriend, Grant.
I talked to James on a conference call about working on Happy Endings, theater and surviving Lone Star's quick cancellation.
Happy Endings airs on Wednesdays at 9:30/8:30c on ABC
Happy Endings is a bit different from some of the other work you've been doing lately.
James Wolk: It does definitely differ from some of the work I've done in the past. And, you know, when I take a project on or go after a project or get excited about a particular show or film or something, to me it's all about who's acting in it, who's writing it, who am I surrounded by and what that's going to give me as an actor. 
Have you ever played gay character before?
James Wolk: Actually just prior to this – to Happy Endings I did a play that had just gotten off Broadway called Next Fall where my character was a gay male. And so I kind of went from that and then Happy Endings shortly after it.
So I have played a gay character before. And, you know, for me it has to not be different. You know and being like when I sit down and play this character, and we have these moments and we have these talks, Grant and Max's character, you know, Max played Adam Pally, Grant is who I'm playing on the show, you know, the moments have to be real.
And you – so to me it can't feel different. And I try to guide myself with that.
Right now, things are going great with you. You have a recurring role in Shameless and this show as well. But about a year and a half ago everything wasn't looking so good.  What's it like to be on a show like Lone Star where the reviews are great and then see it all come falling down in the span of like two weeks?
James Wolk: Wait, that happened? I'm just kidding. You know it's a very humbling experience. And I think there's a few ways to go when that happens.
But for me personally I can just say that it was a huge learning lesson as a human being which is maybe the most important thing that we do as we go on this journey. And so I'm actually, you know, something like that you never want to see happen.
But perhaps one day I'll be thankful for having that experience early on.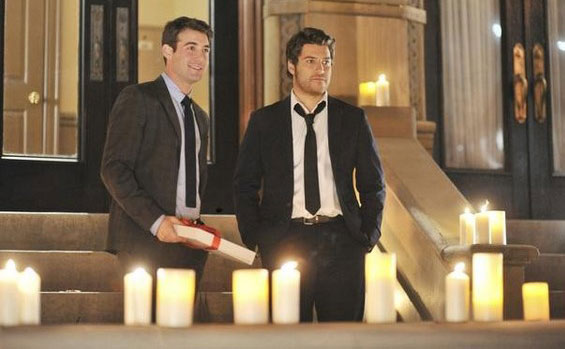 As a guest star, how easy is it to come in and work with a cast that's really clicking?
James Wolk: Yes. These guys they do have an amazing rhythm and it is, it's like a dance that everyone does on that set. And you just have to jump in.
And luckily these guys are so giving that you kind of jump in and they take you with them. But it was – I was coming off a play when I came onto the show. And that really helped because live theater I think is probably more liken to a comedic setting, a sitcom setting more than dramatic television or a film.
And so coming off the stage really helped me to just jump into that rhythm.
Now that you've done this guest spot, is comedy something you would want to do more of in the future?
James Wolk: Yes. I'd love more comedy in the future. It's a ton of fun as it would seem and it's a really great challenge. I thoroughly enjoyed doing it.
After Lone Star and, all the casting directors and executives and people who can hire you saw how great you were in the role, after that do you just get a ton of more opportunities to work? Like how did this role come to you?
James Wolk: Yes, I mean I think, you know, Lone Star though was short lived certainly, you know, it was a great thing for me in that people were able to kind of see what work I could do.
So, you know, when – like with any job once you expose yourself and once you work, you know, good work gets work or at least gets, you know, doors open.
And so Lone Star, you know, though short lived was a great experience. And as far as this particular project goes I think it's just about awareness. I mean I knew of the show and I think or at least I hope they were aware of me. And, you know, it was kind of like hey, we're both really interested and both really excited.
And it's a great show. I mean Happy Endings, and I'm not just saying that because we're doing press and I'm on it. It's a great show. I watch it. People I know in my life love it and so I was just excited to be on it and thankfully they were excited about me as well.
And you mentioned you were in Next Fall. Any thoughts about maybe heading to New York and doing some theatre there?
James Wolk: Yes, you know, I grew up doing theater. I studied theater in college. And this play for me was the first time I'd been back to the stage since college and was a really invigorating experience. It was like being plugged into a wall going on the stage. And I'd love to when the time is right.
And, you know, so going back to the stage would be great. And I'd love to find time to get to New York and do it there because what better place to do it than New York.
What's your advice to actors?
James Wolk: Just work hard and then work harder and believe in your self.
You said about starting theater in college. Were in the U of M Theater School?  
James Wolk: I was in the University of Michigan Theater School. And prior to that I had just done, you know, local theater in my hometown in Michigan and did theater in high school. And I had some really great high school theater director that inspired me a lot when I was a teenager, yes.
On the show, did you get to do a lot of improv or did you keep mostly to the script?
James Wolk: Yes, there is a good deal of improv on the show. I think as a guest star you feel like, you know, you kind of want to stick more closely to the script for the writer's sake and when they created this character and it's like you're – it's kind of like you're coming into someone else's home. You want to be a polite houseguest. You know you're not just going to like use your hands and not use your napkin.
That being said it was so much fun that you end up doing a little bit of that. And so a lot of it is scripted but we played a little bit as well and it's great to be on a set where they encourage that.
http://www.dailyactor.com/wp-content/uploads/2015/02/Larry-David.jpg
Larry David on Who he Wanted to Star in his Broadway Play 'Fish in the Dark': "Anybody but me"
"It's one of the reasons I didn't like acting. I don't like not being able to interject" – Larry David on acting with a script Who doesn't like Larry David? Well, to be honest, Larry David probably doesn't like Larry David. In fact, David didn't even want to cast himself in the lead of […]
http://www.dailyactor.com/2015/02/larry-david-on-who-he-wanted-to-star-broadway-play-fish-in-the-dark/
http://www.dailyactor.com/wp-content/uploads/2015/02/Helen-Mirren-The-Queen.jpg
Helen Mirren on Winning an Oscar: "It's an indescribable moment"
"It's hard to say, because you don't know what would have happened if you hadn't won" - Helen Mirren When Asked If Winning an Oscar Changed Her Career
http://www.dailyactor.com/2015/02/helen-mirren-on-winning-an-oscar/
http://www.dailyactor.com/wp-content/uploads/2015/02/anna-chlumsky-james-earl-jones.jpg
Anna Chlumsky on Her Broadway Debut: "For me, it was an opportunity to go in the direction that I hadn't played in a while"
"I think my personality lends itself to ensembles" - Anna Chlumsky
http://www.dailyactor.com/2015/02/anna-chlumsky-broadway-debut-ensemble/
http://www.dailyactor.com/wp-content/uploads/2015/02/joanne-froggatt-downton-abbey.jpg
'Downton Abbey' Star Joanne Froggatt on Creating Her Own Backstory and How She's "Not a Big-Budget Hollywood Type"
"They want the model type, classically beautiful, and I'm not" - Joanne Froggatt on Working in Hollywood
http://www.dailyactor.com/2015/02/downton-abbey-star-joanne-froggatt-character-backstory-hollywood/
http://www.dailyactor.com/wp-content/uploads/2015/01/al-pacino-the-humbling.jpg
Al Pacino on Acting: "It becomes such a part of your nature you rarely ever think about quitting"
After working infrequently in film over the last decade, Al Pacino appears in several films released in 2015, including The Humbling, an indie drama directed by Barry Levinson.
http://www.dailyactor.com/2015/02/al-pacino-on-acting-it-becomes-such-a-part-of-your-nature/