Denzel Washington Talks About Preparing For His 'Safe House' Role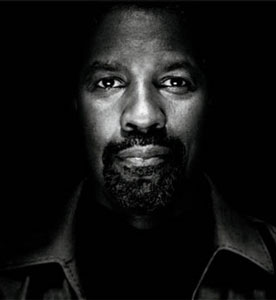 Denzel Washington might have built his well-deserved reputation on dramatic roles in theater and film — he won his first Oscar for his role in Glory — but Washington has also played some scary, tough dudes — like his character in Training Day, for which Washington won his second Oscar. Washington appears in a similar role opposite Ryan Reynolds in Safe House, as rogue CIA agent Tobin Frost.
Washington admits that the role is a bit of a throwback to intimidating characters he has played in the past, pointing out, "Safe House was an opportunity to revisit ways of working that I used to do." 
Though Washington wanted to immerse himself in the role, he purposely avoided doing research on CIA agents.  He explains, "I didn't want to do a lot of CIA research because Tobin Frost wasn't CIA anymore. He hated everything about the CIA, and I wanted to discover his dark side."  Instead, Washington focused on studying sociopaths, which he felt ultimately Frost was.  He says, "Scott [Stuber, the film's producer] gave me some great books to read, one of which was The Sociopath Next Door, which became my bible that I would refer to in developing the character. I felt Tobin was a sociopath. When you think 'sociopath,' you think violence, and the majority of sociopaths aren't violent but they want to win and manipulate. I thought he was a great liar, a great manipulator and perfect for the CIA."
Washington definitely pulled it off  — I have even found his cold stares on the movie's posters that are hanging in the subways around here intimidating!
Safe House opens in theaters on February 10.
Latest Videos
http://www.dailyactor.com/wp-content/uploads/2014/08/seth-rudetsky-reveals-the-5-wors.jpg
Seth Rudetsky Reveals the 5 Worst Musical Theater Audition Mistakes (video)
Seth Rudetsky, actor, musician and a host on SiriusXM's Broadway channel, has been teaching auditioning master classes this summer and he's seen his share of bad auditions lately. In this video, he reveals the 5 worst audition mistakes you can make in a musical theater audition and how to choose the perfect 16-bar audition song. [...]
http://www.dailyactor.com/2014/08/seth-rudetsky-5-worst-audition-mistakes/
http://www.dailyactor.com/wp-content/uploads/2014/07/sir-ben-kingsley-talks-about-the.jpg
Sir Ben Kingsley Talks about the Unique Way He Voiced His Character in the Animated Film, 'The Boxtrolls' (video)
I could listen to Sir Ben Kingsley talk about acting and.. well, I could listen to him talk about anything. He's starring in the new Laika stop-motion animated film, The Boxtrolls, and he and some of the cast (along with the director) joined in on a Comic-Con panel about the film. The Boxtrolls is about [...]
http://www.dailyactor.com/2014/07/sir-ben-kingsley-the-boxtrolls-comic-con/
http://www.dailyactor.com/wp-content/uploads/2014/07/bill-hader.jpg
Bill Hader: "I kind of fell into acting" (video)
Bill Hader, starring in the soon to be released The Skeleton Twins, talks about the film and how he fell into acting and then got "crazy lucky" in this quick video from USA Today.
http://www.dailyactor.com/2014/07/bill-hader-fell-into-acting-video/
http://www.dailyactor.com/wp-content/uploads/2014/07/director-john-carney-narrates-a.jpg
Director John Carney Narrates a Scene from 'Begin Again' Starring Kiera Knightley and Mark Ruffalo
Director John Carney (Once) narrates a scene from his new film, Begin Again. Starring Keira Knightley and Mark Ruffalo, the scene shows the first time the two characters meet. I haven't seen it yet but I've heard it's great.
http://www.dailyactor.com/2014/07/begin-again-scene-director-john-carney-keira-knightley-mark-ruffalo/
http://www.dailyactor.com/wp-content/uploads/2014/07/holler-if-you-hear-me-gma.jpg
Watch the Cast of Broadway's 'Holler If You Hear Me' Perform 'California Love' on GMA
The cast of Broadway's newest musical, Holler If You Hear Me with music from Tupac Shakur, performed on Good Morning America this morning. Singing 'California Love', the cast (including the teriffic Christopher Jackson – read our interview here), show why they're the most energetic and inspiring group of actors on Broadway. Holler If Ya Hear [...]
http://www.dailyactor.com/2014/07/watch-cast-broadways-holler-hear-perform-california-love-gma/