Filmography: Brendan Gleeson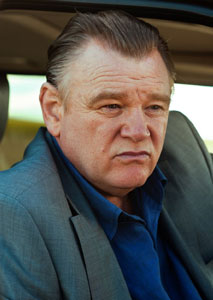 Brendan Gleeson is currently receiving raves and accolades, including a British Independent Film Award nomination, for John Michael McDonagh's The Guard, in which he stars opposite Don Cheadle. He also received Golden Globe, BAFTA and British Independent Film Award nominations for his performance in Martin McDonagh's In Bruges, in which he starred opposite Colin Farrell. Gleeson won an Emmy and received a Golden Globe Award nomination for his portrayal of Winston Churchill in the 2009 HBO movie Into the Storm.
Gleeson's upcoming projects include Robert Redford's The Company You Keep, with Shia LaBeouf and Julie Christie; The Raven, a fictionalized account of the final days of Edgar Allan Poe's life; and Aardman Animations' The Pirates! Band of Misfits. He can currently be seen in the period drama Albert Nobbs, starring Glenn Close.
Gleeson is perhaps most recognized now as the brilliant and eccentric Alastor "Mad-Eye" Moody, the role he first played in Harry Potter and the Goblet of Fire, and reprised in Harry Potter and the Order of the Phoenix and in the penultimate movie of the blockbuster series, Harry Potter and the Deathly Hallows: Part 1. 
Gleeson made his feature film debut in Jim Sheridan's The Field, followed by small roles in such films as Mike Newell's Into the West and Ron Howard's Far and Away.
He first gained attention for his performance in Mel Gibson's Oscar®-winning film Braveheart, and he went on to appear in Neil Jordan's Michael Collins and The Butcher Boy and starred in the independent film Angela Mooney, executive produced by John Boorman.
In 1998, Boorman directed Gleeson in the role of real-life Irish folk hero Martin Cahill in the biopic The General. For his performance, Gleeson won several acting honors, including the London Film Critics' Circle Award for British Actor of the Year. He has since collaborated with John Boorman on the films The Tailor of Panama, In My Country and The Tiger's Tail.
Gleeson's additional film credits include John Woo's Mission: Impossible II; Harrison's Flowers; Wild About Harry; Steven Spielberg's A.I. Artificial Intelligence; Danny Boyle's 28 Days Later…; Martin Scorsese's Gangs of New York; Anthony Minghella's Cold Mountain; Wolfgang Petersen's Troy; M. Night Shyamalan's The Village; Ridley Scott's Kingdom of Heaven; Neil Jordan's Breakfast on Pluto; Robert Zemeckis' Beowulf; Paul Greengrass' Green Zone; and Perrier 's Bounty.
Born in Ireland, Gleeson started out as a teacher but left the profession to pursue an acting career, and joined the Irish theater company Passion Machine. His stage credits include productions of King of the Castle, The Plough and the Stars, Prayers of Sherkin, The Cherry Orchard, Juno and the Paycock and On Such As We.
Biography courtesy of Universal Studios in conjunction with the film, Safe House.
Latest Videos
http://www.dailyactor.com/wp-content/uploads/2014/04/director-david-gordon-greene-nar.jpg
Director David Gordon Green Narrates a Scene From 'Joe'
Director David Gordon Green narrates a sequence from his new film, Joe, featuring Nicolas Cage and Tye Sheridan. In the video, he mentions his reasons why he likes to hire non-traditional actors. He likes people who have real skill-sets and not actors who have the skills on their resume. He also talked about this in […]
http://www.dailyactor.com/2014/04/director-david-gordon-green-narrates-a-scene-from-joe/
http://www.dailyactor.com/wp-content/uploads/2014/04/david-gordon-green-joe.jpg
Director David Gordon Green: "I find actors in unusual places"
I keep missing screenings of director David Gordon Greene's new film, Joe. I hear it's really good so I'm looking forward to catching it at some point. Joe stars Nicholas Cage as ex-con Joe Ransom, who isn't the greatest of role models until he meets a 15-year-old boy (Mud's Tye Sheridan). In this featurette, Green […]
http://www.dailyactor.com/2014/04/director-david-gordon-green-i-find-actors-in-unusual-places/
http://www.dailyactor.com/wp-content/uploads/2014/04/judy-greer-i-dont-know-why-you-know-me-from.jpg
Please Don't Say These Things To Judy Greer (video)
Judy Greer - who we love here at Daily Actor – has a new book called, I Don't Know What You Know Me From (Confessions of a Co-Star), a series of essays about her life as an actress, friend and someone who everyone thinks they might know. Here's a blurb about the book: "Want to […]
http://www.dailyactor.com/2014/04/please-dont-say-these-things-to-judy-greer-video/
http://www.dailyactor.com/wp-content/uploads/2014/04/Captain-America-SamuelNick-Fury.jpg
How Samuel L. Jackson Learns His Lines for the Marvel Movies (video)
Samuel L. Jackson stopped by Good Morning America earlier this week to talk about Captain America: The Winter Soldier – which is terrific, by the way – and he told Robin Roberts that for the first Cap film, he had trouble learning his lines. "I sat at home and I did all my studying, and […]
http://www.dailyactor.com/2014/04/how-samuel-l-jackson-learns-his-lines-for-the-marvel-movies-video/
http://www.dailyactor.com/wp-content/uploads/2014/04/andy-karl-margot-seibert-rocky.jpg
Andy Karl and Margo Seibert Talk 'Rocky: The Musical' on 'Today'
Andy Karl and Margo Seibert, the stars of Rocky: The Musical, talked to Today's Matt Lauer about the new Broadway musical. Karl talks about the final fight and taking on the iconic role. This is Seibert's Broadway debut and she's asked about her callbacks (9 in all!) and more. Check it out!
http://www.dailyactor.com/2014/04/andy-karl-and-margo-seibert-talk-rocky-the-musical-on-today/