Jesse Eisenberg Sues Lionsgate for Using His Image to Promote a Movie He Barely Appears In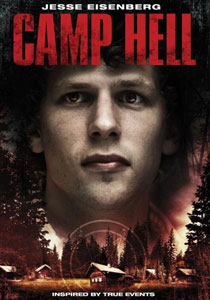 In 1997, Sylvester Stallone sued the producers of a movie titled The Good Life, which starred his brother, Frank Stallone. Sly appeared in the film in an cameo role for less than ten minutes (it was shot in a day) as a favor to Frank, but was surprised when the  promotional trailer for the movie essentially promoted The Good Life as a film starring Sylvester Stallone!  Lawsuits were filed back and forth, and to this day the film has never been released because of the legal wrangling.
So what's that have to do with The Social Network star Jesse Eisenberg?
Well, Eisenberg is involved in a similar experience of false promotion, too. IndieWire reports that Eisenberg is suing Lionsgate for listing his name and slapping his mug on the awful DVD cover of the low-budget horror film Camp Hell, which was shot in 2007 and released on DVD in August. 
While Eisenberg does appear in the film, his appearance lasts about five minutes. Eisenberg only received $3000 for the cameo, and while the lawsuit is for $3 million the lawyers claim the main purpose of the suit is "to warn his fans and the public that, contrary to [the film's advertising], Eisenberg is not the star of and does not appear in a prominent role in Camp Hell."  Similar to the Sylvester Stallone/The Good Life quagmire, Eisenberg is also heavily featured in the trailer, which you can view below.  The film actually stars Dana Delaney and Andrew McCarthy, so yeah, I get why Lionsgate decided to promote Eisenberg's appearance instead.  Still, this would be like the producers of Zombieland slapping Bill Murray's face on the DVD cover.
Obviously at the very least Lionsgate is going to have to do something about that cover.  Pretty stupid move on the studio's part, since I doubt Jesse Eisenberg's creepy cover art sold enough copies to cover what the settlement will likely be.  And like I pointed out, it's not like there isn't a precedent for this kind of thing… though judging by the awful reviews of Camp Hell, perhaps it should have received the same unreleased treatment that The Good Life received…
Latest Videos
http://www.dailyactor.com/wp-content/uploads/2014/08/audition-tapes-gerard-butler-aud.jpg
Audition Tapes: Gerard Butler Auditions for 'Dracula 2000′
Check out Gerard Butler auditioning for the role of Dracula in the movie, Dracula 2000. The film, about a group of thieves who break into a chamber expecting to find paintings, but instead find Dracula himself, also starred Christopher Plummer, Jonny Lee Miller and Nathan Fillion. Bulter has some sweet rock star hair, huh? [...]
http://www.dailyactor.com/2014/08/audition-tapes-gerard-butler-dracula-2000/
http://www.dailyactor.com/wp-content/uploads/2014/08/interview-matt-dillon-and-carla.jpg
Interview: Matt Dillon and Carla Gugino Talk 'Wayward Pines'
FOX has a new limited-series that's got a terrific cast and interesting premise. It's called Wayward Pines and stars Matt Dillon, Carla Gugino, Melissa Leo, Toby Jones, Terrance Howard, Juliette Lewis, Tim Griffin and Shannyn Sossamon. The show, whose pilot was directed by M. Night Shyamalan, is about a Secret Service agent (Dillon) goes to [...]
http://www.dailyactor.com/2014/08/interview-matt-dillon-carla-gugino-wayward-pines-comic-con/
http://www.dailyactor.com/wp-content/uploads/2014/08/interview-wayward-pines-stars-ti.jpg
Interview: 'Wayward Pines' Stars Tim Griffin and Shannyn Sossamon on the Show, Their Characters and More!
Griffin and Sossamonwere at Comic-Con where they sat in on some roundtable interviews to talk about the show.
http://www.dailyactor.com/2014/08/interview-wayward-pines-stars-tim-griffin-shannyn-sossamon-comic-con/
http://www.dailyactor.com/wp-content/uploads/2014/08/interview-m-night-shyamalan-talk.jpg
Interview: M. Night Shyamalan Talks 'Wayward Pines' and Why He Expanded a Young Actors Role on the Show
I talked to Shyamalan at Comic-Con in a roundtable interview where he talked about the cast, what he learned from working in TV and how young actor Charlie Tahan started out with a small part but as the story grew, so did his role.
http://www.dailyactor.com/2014/08/interview-m-night-shyamalan-wayward-pines-comic-con/
http://www.dailyactor.com/wp-content/uploads/2014/08/interview-wayward-pines-producer.jpg
Interview: 'Wayward Pines' Producers and Writer Talk Casting and the 10-Episode Format
FOX's upcoming limited series Wayward Pines looks very cool. The show is supposed to be very Twin Peaks-ish in tone which, just hearing that, definitely sparks my interest. The pilot was directed by M. Night Shyamalan and stars Matt Dillon, Carla Gugino, Melissa Leo, Toby Jones, Terrance Howard and Juliette Lewis and is about a [...]
http://www.dailyactor.com/2014/08/interview-wayward-pines-creators-comic-con/