Jesse Eisenberg Sues Lionsgate for Using His Image to Promote a Movie He Barely Appears In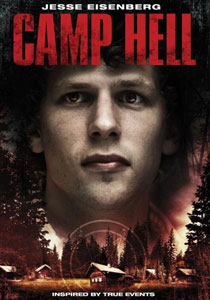 In 1997, Sylvester Stallone sued the producers of a movie titled The Good Life, which starred his brother, Frank Stallone. Sly appeared in the film in an cameo role for less than ten minutes (it was shot in a day) as a favor to Frank, but was surprised when the  promotional trailer for the movie essentially promoted The Good Life as a film starring Sylvester Stallone!  Lawsuits were filed back and forth, and to this day the film has never been released because of the legal wrangling.
So what's that have to do with The Social Network star Jesse Eisenberg?
Well, Eisenberg is involved in a similar experience of false promotion, too. IndieWire reports that Eisenberg is suing Lionsgate for listing his name and slapping his mug on the awful DVD cover of the low-budget horror film Camp Hell, which was shot in 2007 and released on DVD in August. 
While Eisenberg does appear in the film, his appearance lasts about five minutes. Eisenberg only received $3000 for the cameo, and while the lawsuit is for $3 million the lawyers claim the main purpose of the suit is "to warn his fans and the public that, contrary to [the film's advertising], Eisenberg is not the star of and does not appear in a prominent role in Camp Hell."  Similar to the Sylvester Stallone/The Good Life quagmire, Eisenberg is also heavily featured in the trailer, which you can view below.  The film actually stars Dana Delaney and Andrew McCarthy, so yeah, I get why Lionsgate decided to promote Eisenberg's appearance instead.  Still, this would be like the producers of Zombieland slapping Bill Murray's face on the DVD cover.
Obviously at the very least Lionsgate is going to have to do something about that cover.  Pretty stupid move on the studio's part, since I doubt Jesse Eisenberg's creepy cover art sold enough copies to cover what the settlement will likely be.  And like I pointed out, it's not like there isn't a precedent for this kind of thing… though judging by the awful reviews of Camp Hell, perhaps it should have received the same unreleased treatment that The Good Life received…
Latest Videos
http://www.dailyactor.com/wp-content/uploads/2014/07/bill-hader.jpg
Bill Hader: "I kind of fell into acting" (video)
Bill Hader, starring in the soon to be released The Skeleton Twins, talks about the film and how he fell into acting and then got "crazy lucky" in this quick video from USA Today. Share on Tumblr
http://www.dailyactor.com/2014/07/bill-hader-fell-into-acting-video/
http://www.dailyactor.com/wp-content/uploads/2014/07/director-john-carney-narrates-a.jpg
Director John Carney Narrates a Scene from 'Begin Again' Starring Kiera Knightley and Mark Ruffalo
Director John Carney (Once) narrates a scene from his new film, Begin Again. Starring Keira Knightley and Mark Ruffalo, the scene shows the first time the two characters meet. I haven't seen it yet but I've heard it's great.
http://www.dailyactor.com/2014/07/begin-again-scene-director-john-carney-keira-knightley-mark-ruffalo/
http://www.dailyactor.com/wp-content/uploads/2014/07/holler-if-you-hear-me-gma.jpg
Watch the Cast of Broadway's 'Holler If You Hear Me' Perform 'California Love' on GMA
The cast of Broadway's newest musical, Holler If You Hear Me with music from Tupac Shakur, performed on Good Morning America this morning. Singing 'California Love', the cast (including the teriffic Christopher Jackson – read our interview here), show why they're the most energetic and inspiring group of actors on Broadway. Holler If Ya Hear [...]
http://www.dailyactor.com/2014/07/watch-cast-broadways-holler-hear-perform-california-love-gma/
http://www.dailyactor.com/wp-content/uploads/2014/07/behind-the-scenes-of-dawn-of-the.jpg
Behind the Scenes of 'Dawn of the Planet of the Apes' with Performance Capture Actor Terry Notary
Actor Terry Notary is 1 of 5 actors playing the apes in the new Dawn of the Planet of the Apes. "When you see armies of apes," he says, that's "five of us." Check out the video where you can watch his performance capture work.
http://www.dailyactor.com/2014/07/dawn-planet-apes-performance-capture-actor-terry-notary/
http://www.dailyactor.com/wp-content/uploads/2014/07/melissa-mccarthy-daily-show.jpg
Melissa McCarthy and John Stewart Talk About Terrible Commercial Auditions on 'The Daily Show'
Melissa McCarthy stopped by The Daily Show last week to plug about her new movie, Tammy. She talked about how she loved working with her husband, Ben Falcone (director of Tammy) and then segued into talking about some horrible working situations. The always hilarious McCarthy then started to tell host John Stewart about a particular [...]
http://www.dailyactor.com/2014/07/melissa-mccarthy-john-stewart-commercial-auditions-the-daily-show/