Broadway Review: 'Lysistrata Jones'
With a book by Douglas Carter Beane and music and lyrics by Lewis Flinn, Lysistrata Jones, based on Aristophanes Greek comedy, follows the awful Athens University basketball team who haven't won a game in years. When Lysistrata jones transfers to the school, she joins the cheerleading squad and then challenges the girls to stop "giving it up" to their player boyfriends till they win a game.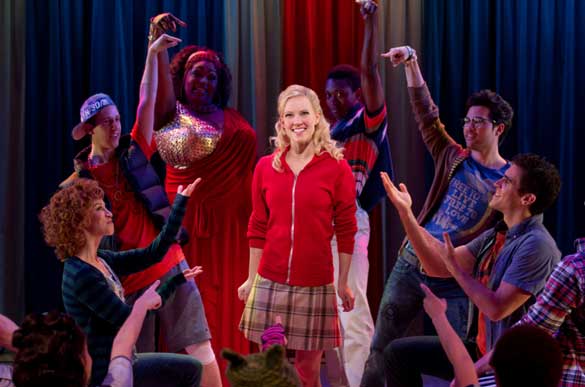 Go see this show now!
Because it'll probably be closing very soon.   
The show was originally staged last summer in a church gym in downtown New York. It had great reviews and was quickly scheduled to move to the Walter Kerr Theatre where it opened on December 14th. But, in the move uptown, it lost its magic.  The show doesn't have the most challenging of stories but with a musical comedy, you don't need a hugely complicated plot. You just need it to be fun, entertaining and filled with a winning cast.
None of which this show has and unfortunately I blame some of the cast.
There are genuinely funny moments and catchy songs but the cast just didn't sell it. With the exception of the absolutely wonderful Patti Murin, as Lysistrata, most of the cast boggled my mind on how they ended up on a Broadway stage. At times, I felt like I was watching a bad, yet eager, high school production. Particularly head-scratching were some of the male cast members; they were singing off-key, not hitting jokes and just plain awful acting. The cast came with the transfer and maybe because they've done it so long now they are just bored with it because that's what I was… bored.
But, at least with Murin front and center, the audience has something to latch on to. Whenever she's on stage, her tiny body suddenly becomes 12 feet high and you can't take your eyes off of her. Sure, she's a knockout but her performance was everything you want it to be in a show like this: fun, spunky and bursting with personality.
Lysistrata Jones is currently playing at the Walter Kerr Theatre. But catch it quick because it may not be there too much longer.
Latest Videos
http://www.dailyactor.com/wp-content/uploads/2014/08/seth-rudetsky-reveals-the-5-wors.jpg
Seth Rudetsky Reveals the 5 Worst Musical Theater Audition Mistakes (video)
Seth Rudetsky, actor, musician and a host on SiriusXM's Broadway channel, has been teaching auditioning master classes this summer and he's seen his share of bad auditions lately. In this video, he reveals the 5 worst audition mistakes you can make in a musical theater audition and how to choose the perfect 16-bar audition song. [...]
http://www.dailyactor.com/2014/08/seth-rudetsky-5-worst-audition-mistakes/
http://www.dailyactor.com/wp-content/uploads/2014/07/sir-ben-kingsley-talks-about-the.jpg
Sir Ben Kingsley Talks about the Unique Way He Voiced His Character in the Animated Film, 'The Boxtrolls' (video)
I could listen to Sir Ben Kingsley talk about acting and.. well, I could listen to him talk about anything. He's starring in the new Laika stop-motion animated film, The Boxtrolls, and he and some of the cast (along with the director) joined in on a Comic-Con panel about the film. The Boxtrolls is about [...]
http://www.dailyactor.com/2014/07/sir-ben-kingsley-the-boxtrolls-comic-con/
http://www.dailyactor.com/wp-content/uploads/2014/07/bill-hader.jpg
Bill Hader: "I kind of fell into acting" (video)
Bill Hader, starring in the soon to be released The Skeleton Twins, talks about the film and how he fell into acting and then got "crazy lucky" in this quick video from USA Today.
http://www.dailyactor.com/2014/07/bill-hader-fell-into-acting-video/
http://www.dailyactor.com/wp-content/uploads/2014/07/director-john-carney-narrates-a.jpg
Director John Carney Narrates a Scene from 'Begin Again' Starring Kiera Knightley and Mark Ruffalo
Director John Carney (Once) narrates a scene from his new film, Begin Again. Starring Keira Knightley and Mark Ruffalo, the scene shows the first time the two characters meet. I haven't seen it yet but I've heard it's great.
http://www.dailyactor.com/2014/07/begin-again-scene-director-john-carney-keira-knightley-mark-ruffalo/
http://www.dailyactor.com/wp-content/uploads/2014/07/holler-if-you-hear-me-gma.jpg
Watch the Cast of Broadway's 'Holler If You Hear Me' Perform 'California Love' on GMA
The cast of Broadway's newest musical, Holler If You Hear Me with music from Tupac Shakur, performed on Good Morning America this morning. Singing 'California Love', the cast (including the teriffic Christopher Jackson – read our interview here), show why they're the most energetic and inspiring group of actors on Broadway. Holler If Ya Hear [...]
http://www.dailyactor.com/2014/07/watch-cast-broadways-holler-hear-perform-california-love-gma/