Seth Rogen and Will Reiser talk '50/50′ and the last minute casting of Joseph Gordon-Levitt: "He literally, within a matter of days, became this character"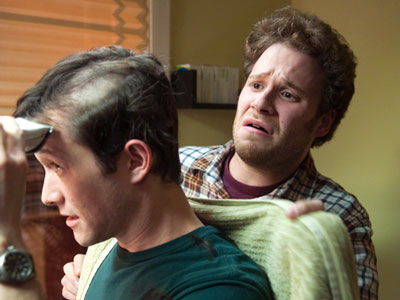 Seth Rogen and writer/producer Will Reiser are, if you didn't know, two real-life friends and collaborators on the humorous, but sad film that loosely follows the days after Reiser's diagnosis with cancer.
50/50, was directed by Jonathan Levine and stars Joseph Gordon Levitt, who only "had one week to prepare", for his portrayal of Will. 
"We didn't have anyone in mind when writing. It was kinda just like Will," Rogen explained, but after what the two says was a very short discussion about Will himself playing the role", ultimately the long time friends decided to go with someone else. "It would have been a horrible idea," Reiser shared, while Rogan also agreed, "a very bad idea." 
Originally "James McAvoy was going to do it, but he had to leave because of a family emergency, and then I had known Joe [Levitt]. We thought he could be incredible, and he seemed really excited about it. He actually jumped into the role with very little prep time. It was incredibly impressive to watch. As an actor, I have to say, it's the type of role a lot of people would want to work on for months and do research. He literally, within a matter of days, became this character. It was kind of miraculous."   Although you would assume filming on the set of a movie that centers mainly around cancer would be difficult, first time producer Rogen and Reiser, who plays the supporting character Greg in the movie, shared that "it felt like we were making a student film, because it was so relaxed. We were all collaborating. It was really nice.  We're not those people who think work needs to be harder than it needs to be. We really tried to have a relaxed environment on set, and we're somewhat competent in our process — as competent as we need to be — and we hope it goes right. We really try to include everyone. We try to make it really fun. It was really great to set the tone — because I think producers do set the tone on set. Everyone is wondering, "Is this something I'll get yelled at for? Is this the kind of thing people will go crazy about?" When everyone realizes that it's fun, I think the whole movie becomes better."
Now six years after hearing those terrible words Reiser's cancer story will be retold by Seth Rogen the only way the two friends knew how – with humor.  50/50 will hit theaters on September 30th.
via Movieline
Latest Videos
http://www.dailyactor.com/wp-content/uploads/2014/07/bill-hader.jpg
Bill Hader: "I kind of fell into acting" (video)
Bill Hader, starring in the soon to be released The Skeleton Twins, talks about the film and how he fell into acting and then got "crazy lucky" in this quick video from USA Today. Share on Tumblr
http://www.dailyactor.com/2014/07/bill-hader-fell-into-acting-video/
http://www.dailyactor.com/wp-content/uploads/2014/07/director-john-carney-narrates-a.jpg
Director John Carney Narrates a Scene from 'Begin Again' Starring Kiera Knightley and Mark Ruffalo
Director John Carney (Once) narrates a scene from his new film, Begin Again. Starring Keira Knightley and Mark Ruffalo, the scene shows the first time the two characters meet. I haven't seen it yet but I've heard it's great.
http://www.dailyactor.com/2014/07/begin-again-scene-director-john-carney-keira-knightley-mark-ruffalo/
http://www.dailyactor.com/wp-content/uploads/2014/07/holler-if-you-hear-me-gma.jpg
Watch the Cast of Broadway's 'Holler If You Hear Me' Perform 'California Love' on GMA
The cast of Broadway's newest musical, Holler If You Hear Me with music from Tupac Shakur, performed on Good Morning America this morning. Singing 'California Love', the cast (including the teriffic Christopher Jackson – read our interview here), show why they're the most energetic and inspiring group of actors on Broadway. Holler If Ya Hear [...]
http://www.dailyactor.com/2014/07/watch-cast-broadways-holler-hear-perform-california-love-gma/
http://www.dailyactor.com/wp-content/uploads/2014/07/behind-the-scenes-of-dawn-of-the.jpg
Behind the Scenes of 'Dawn of the Planet of the Apes' with Performance Capture Actor Terry Notary
Actor Terry Notary is 1 of 5 actors playing the apes in the new Dawn of the Planet of the Apes. "When you see armies of apes," he says, that's "five of us." Check out the video where you can watch his performance capture work.
http://www.dailyactor.com/2014/07/dawn-planet-apes-performance-capture-actor-terry-notary/
http://www.dailyactor.com/wp-content/uploads/2014/07/melissa-mccarthy-daily-show.jpg
Melissa McCarthy and John Stewart Talk About Terrible Commercial Auditions on 'The Daily Show'
Melissa McCarthy stopped by The Daily Show last week to plug about her new movie, Tammy. She talked about how she loved working with her husband, Ben Falcone (director of Tammy) and then segued into talking about some horrible working situations. The always hilarious McCarthy then started to tell host John Stewart about a particular [...]
http://www.dailyactor.com/2014/07/melissa-mccarthy-john-stewart-commercial-auditions-the-daily-show/