Review: 'Closer' at the Sargent Theater (NYC)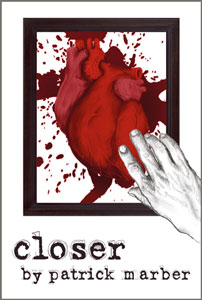 It's typical for a small theater company to present original work – so typical that you could see a dozen off-off Broadway originals in New York without seeing something truly captivating.  It takes a lot of guts – not to mention talent – for a small company to perform an award-winning play that was later turned into an award-winning film starring Natalie Portman, Julia Roberts, Jude Law, and Clive Owen.  There's an added level of intense pressure to perform for an audience that comes in prepared with expectations of a work that they may have seen before done on a much higher budget with faces they recognize in the lead roles. 
For a theatre company like The Seeing Place, which is currently performing Patrick Marber's Closer at the Sargent Theater, it means making an audience focus on what's going on in front of them and not the preconceived impressions they walk in with.
Closer can be a grating, tedious play as we watch the four characters self-destruct their emotional lives by jumping into sexual relationships without considering the consequences.  As a result, a poor performance by any of the actors could turn this play about four generally unlikable characters into an unbearable whine-fest.  This is a challenge that The Seeing Place obviously considered before deciding to produce Closer, and the strength of the four actors makes the occasional tedium of the source material moot.
The play – which demonstrates that there's nothing more emotionally childish than trying to be "adult" about extraneous sexual relationships – demands the actors to drive their performances with the subtleties of body language and pained expressions, which often say a lot more than the actual dialogue (shouted or otherwise).  All four of the actors more than adequately fulfill the challenge.  Brandon Walker, as the obsessive obituary writer/failed writer Daniel easily jumps from devastated to being drunkenly obnoxious whenever he is unhappy with his current relationship status (which is often).  Much of this emotion is focused on Alice (Elyse Fisher), the subject of his novel and whom he is indecisive about his love for.  Alice is the central character, but despite have an enigmatic past she is the least interesting character (through no fault of Fisher, who has the coquettish charm of the type of sexually uninhibited dream girl who seems to only exist in fiction).  Rounding out the cast is Erin Cronican as Anna, who as a woman torn between two men has the heaviest role although Cronican shows an incredible range of emotion with her expressive voice and features, and Nick Velkov as Dr. Larry, who has fantastic timing with some of the play's best lines which allows you to ignore his obvious issues with maintaining a consistent accent (it's difficult to figure out if he's supposed to be English like the other characters or something else entirely).  The entire cast maintains undeniable chemistry despite the fact that all four characters never seem to interact as a whole group during the entire play.

In fact, perhaps the biggest complement I could give The Seeing Place is that you actually might consider skipping Closer to instead see one of the group's original shows (such as Scotch Kiss, written by this show's star Brandon Walker which runs at the same theater from September 26 to October 9), as any weakness of this production stems from the nature of the original play itself, which is a huge compliment to the cast's collective abilities.  The fact that The Seeing Place offers its tickets at $10 – a bargain you hardly even find at bad high school productions of musicals – makes the case even stronger.  Nonetheless, its production of Closer is a rare but welcome example of a cast which is stronger than its material, so I doubt anyone would find himself or herself disappointed with buying a ticket whose value is far more than its face value.
Closer runs at ATA's Sargent Theater (314 W 54th Street, New York) until October 9.  Performances run Wednesday through Sunday.  Check out http://www.seeingplacetheater.com for more information.

http://www.dailyactor.com/wp-content/uploads/2015/02/Larry-David.jpg
Larry David on Who he Wanted to Star in his Broadway Play 'Fish in the Dark': "Anybody but me"
"It's one of the reasons I didn't like acting. I don't like not being able to interject" – Larry David on acting with a script Who doesn't like Larry David? Well, to be honest, Larry David probably doesn't like Larry David. In fact, David didn't even want to cast himself in the lead of […]
http://www.dailyactor.com/2015/02/larry-david-on-who-he-wanted-to-star-broadway-play-fish-in-the-dark/
http://www.dailyactor.com/wp-content/uploads/2015/02/Helen-Mirren-The-Queen.jpg
Helen Mirren on Winning an Oscar: "It's an indescribable moment"
"It's hard to say, because you don't know what would have happened if you hadn't won" - Helen Mirren When Asked If Winning an Oscar Changed Her Career
http://www.dailyactor.com/2015/02/helen-mirren-on-winning-an-oscar/
http://www.dailyactor.com/wp-content/uploads/2015/02/anna-chlumsky-james-earl-jones.jpg
Anna Chlumsky on Her Broadway Debut: "For me, it was an opportunity to go in the direction that I hadn't played in a while"
"I think my personality lends itself to ensembles" - Anna Chlumsky
http://www.dailyactor.com/2015/02/anna-chlumsky-broadway-debut-ensemble/
http://www.dailyactor.com/wp-content/uploads/2015/02/joanne-froggatt-downton-abbey.jpg
'Downton Abbey' Star Joanne Froggatt on Creating Her Own Backstory and How She's "Not a Big-Budget Hollywood Type"
"They want the model type, classically beautiful, and I'm not" - Joanne Froggatt on Working in Hollywood
http://www.dailyactor.com/2015/02/downton-abbey-star-joanne-froggatt-character-backstory-hollywood/
http://www.dailyactor.com/wp-content/uploads/2015/01/al-pacino-the-humbling.jpg
Al Pacino on Acting: "It becomes such a part of your nature you rarely ever think about quitting"
After working infrequently in film over the last decade, Al Pacino appears in several films released in 2015, including The Humbling, an indie drama directed by Barry Levinson.
http://www.dailyactor.com/2015/02/al-pacino-on-acting-it-becomes-such-a-part-of-your-nature/