"Glee" Stars Lea Michele, Cory Monteith and Chris Colfer Will Graduate During Show's Third Season
The only problem with doing a television show about high school kids is that most only take four years to finish the curriculum. Already pushing it with a 29-year-old and a 25-year-old playing high school seniors, Glee creator Ryan Murphy announced that stars Cory Monteith, Lea Michele and recent Emmy Nominee Chris Colfer will leave the cast after graduating from twelfth grade at the end of the Fox hit's third season.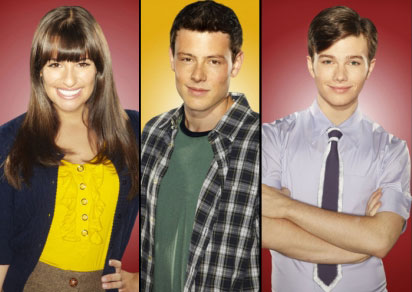 "You can keep them on the show for six years and people will criticize you for not being realistic, or you can be really true to life and say when they started the show they were very clearly sophomores and they should graduate at the end of their senior year," said Murphy.
The 29-year-old Monteith will portray Finn Hudson for one more season, while 25-year-old Lea Michele will finish up Rachel Berry's story line over the next 20 or so episodes. Colfer is one of the few Glee stars who's approximately the same age as his character — he'll be 21 when his Kurt Hummel graduates next year.
"We made that decision and I involved Chris and Lea and they thought that was a good idea. They both trust the writing and trust me and felt that it would be great to have an open and closed experience for them to go out while they were on top," continued Murphy. As for Monteith? "He knows he was a sophomore when the show started."
The trio won't be the only characters bidding farewell to the show next May. Murphy also reported in the interview that "more characters are leaving than are staying." More graduation information will be revealed in Glee's September 20 third season premiere.
Latest Videos
http://www.dailyactor.com/wp-content/uploads/2014/07/bill-hader.jpg
Bill Hader: "I kind of fell into acting" (video)
Bill Hader, starring in the soon to be released The Skeleton Twins, talks about the film and how he fell into acting and then got "crazy lucky" in this quick video from USA Today. Share on Tumblr
http://www.dailyactor.com/2014/07/bill-hader-fell-into-acting-video/
http://www.dailyactor.com/wp-content/uploads/2014/07/director-john-carney-narrates-a.jpg
Director John Carney Narrates a Scene from 'Begin Again' Starring Kiera Knightley and Mark Ruffalo
Director John Carney (Once) narrates a scene from his new film, Begin Again. Starring Keira Knightley and Mark Ruffalo, the scene shows the first time the two characters meet. I haven't seen it yet but I've heard it's great.
http://www.dailyactor.com/2014/07/begin-again-scene-director-john-carney-keira-knightley-mark-ruffalo/
http://www.dailyactor.com/wp-content/uploads/2014/07/holler-if-you-hear-me-gma.jpg
Watch the Cast of Broadway's 'Holler If You Hear Me' Perform 'California Love' on GMA
The cast of Broadway's newest musical, Holler If You Hear Me with music from Tupac Shakur, performed on Good Morning America this morning. Singing 'California Love', the cast (including the teriffic Christopher Jackson – read our interview here), show why they're the most energetic and inspiring group of actors on Broadway. Holler If Ya Hear [...]
http://www.dailyactor.com/2014/07/watch-cast-broadways-holler-hear-perform-california-love-gma/
http://www.dailyactor.com/wp-content/uploads/2014/07/behind-the-scenes-of-dawn-of-the.jpg
Behind the Scenes of 'Dawn of the Planet of the Apes' with Performance Capture Actor Terry Notary
Actor Terry Notary is 1 of 5 actors playing the apes in the new Dawn of the Planet of the Apes. "When you see armies of apes," he says, that's "five of us." Check out the video where you can watch his performance capture work.
http://www.dailyactor.com/2014/07/dawn-planet-apes-performance-capture-actor-terry-notary/
http://www.dailyactor.com/wp-content/uploads/2014/07/melissa-mccarthy-daily-show.jpg
Melissa McCarthy and John Stewart Talk About Terrible Commercial Auditions on 'The Daily Show'
Melissa McCarthy stopped by The Daily Show last week to plug about her new movie, Tammy. She talked about how she loved working with her husband, Ben Falcone (director of Tammy) and then segued into talking about some horrible working situations. The always hilarious McCarthy then started to tell host John Stewart about a particular [...]
http://www.dailyactor.com/2014/07/melissa-mccarthy-john-stewart-commercial-auditions-the-daily-show/