Movie Review: "Submarine"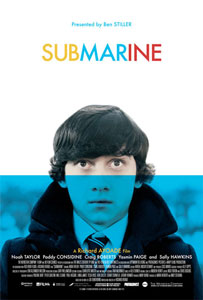 Have you ever been home on a rainy Sunday afternoon, flipped on the TV and randomly discovered a movie so good that you're glad you were stuck on the couch for 2 hours?
Submarine is this movie.
The film, adapted from Joe Dunthorne's 2008 novel, is the directorial debut of Richard Ayoade, a British actor best known to American audiences for his role as Moss on the British sitcom The IT Crowd.
It's a coming-of-age film story about 15 year old Oliver Tate (wonderfully played by Craig Roberts), who is too smart, too cynical and too judgmental for his own good. Think of him as a British Holden Caulfield.
Oliver has to learn how to deal with his very first girlfriend, the aloof Jordana (Yasmin Paige) while trying to cope with his parents increasingly bad marriage (Sally Hawkins of Never Let Me Go and Flirting's Noah Taylor). Adding to the mix is the new neighbor (Red Riding's Paddy Considine) and mom's ex-boyfriend, things are quickly going to hell for Oliver.
For being a first time director, Ayoade has made something special. He's got a great sense of style and unlike most American coming-of-age stories, this one never bows down to the audience in order to make things simple and easy.
Ayoade and Roberts (last seen in Jane Eyre), craft a character who's sanity you often question. Oliver is emotionless throughout most of the film, but you're never not rooting for him to make things right.
This film could have easily been a piece of absurd nonsense but Ayoade' s casting is so spot-on and true that you just smile watching the actors carry out these incredibly ridiculous scenes. The mullet-wearing Considine, mom Hawkins and dad Taylor are particularly fun to watch.
Don't go to the theater expecting some escapist fun, watch this to see something unique and leave the theater hoping there is more from Ayoade to come.
http://www.dailyactor.com/wp-content/uploads/2015/03/alec-baldwin.jpg
Alec Baldwin On Keeping SNL Fresh, His Daily Routine and His Ideal Role
Alec Baldwin is an ordinary guy. Well, that's what he said in a recent Reddit AMA, anyway. The actor took the chance to open up about what his average day was like, holding the public's interest and why he chooses not to do many films any more. "My average day is pretty ordinary," he says. […]
http://www.dailyactor.com/2015/04/alec-baldwin-snl-daily-routine-his-ideal-role/
http://www.dailyactor.com/wp-content/uploads/2015/03/steve-buscemi-boardwalk-empire.jpg
Steve Buscemi's "Ask Me Anything" Chat on Reddit: "I don't think you can point to any one character and say that that's 'me'"
"With any role I play, I only have myself" - Steve Buscemi
http://www.dailyactor.com/2015/03/steve-buscemi-ask-me-anything-chat-on-reddit/
http://www.dailyactor.com/wp-content/uploads/2015/03/sally-field-hello-my-name-is-doris.jpg
Sally Field On Improvisation, How She Chooses Her Roles and 'Hello, My Name is Doris'
"There's a dearth of roles for women. I turn down a lot of stuff because there's just nothing in it for me to do." – Sally Field Actress Sally Field put in an appearance at SXSW last week to promote her new film, Hello My Name is Doris. Michael Showalter has directed the movie […]
http://www.dailyactor.com/2015/03/sally-field-improvisation-roles-hello-my-name-is-doris/
http://www.dailyactor.com/wp-content/uploads/2015/03/Will-Ferrell-Get-Hard.jpg
Will Ferrell on His Comedy Roots, 'Get Hard' and His Favorite Roles to Play
Ferrell was on hand to take part in a Q&A and spoke more about how working with Hart came about. When asked if he chooses his projects based on who he wants to work with, or the script itself, Ferrell explained that each project was different.
http://www.dailyactor.com/2015/03/will-ferrell-on-his-comedy-roots-get-hard-and-his-favorite-roles-to-play/
http://www.dailyactor.com/wp-content/uploads/2015/03/daniel-dae-kim.jpg
Hawaii Five-0's Daniel Dae Kim Talks Directorial Debut: "The first day I had to yell action, it was kind of odd"
Hawaii Five-0's Daniel Dae Kim, who fans know best as Chin Ho Kelly, recently made his directorial debut on the CBS series. Kim shared his experience with The Hollywood Reporter, saying that his experience was "weird at first," as he had to direct his co-stars. "The first day I had to yell action, it was […]
http://www.dailyactor.com/2015/03/hawaii-five-0-daniel-dae-kim-directorial-debut/