Movie Review: "Submarine"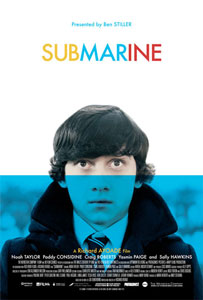 Have you ever been home on a rainy Sunday afternoon, flipped on the TV and randomly discovered a movie so good that you're glad you were stuck on the couch for 2 hours?
Submarine is this movie.
The film, adapted from Joe Dunthorne's 2008 novel, is the directorial debut of Richard Ayoade, a British actor best known to American audiences for his role as Moss on the British sitcom The IT Crowd.
It's a coming-of-age film story about 15 year old Oliver Tate (wonderfully played by Craig Roberts), who is too smart, too cynical and too judgmental for his own good. Think of him as a British Holden Caulfield.
Oliver has to learn how to deal with his very first girlfriend, the aloof Jordana (Yasmin Paige) while trying to cope with his parents increasingly bad marriage (Sally Hawkins of Never Let Me Go and Flirting's Noah Taylor). Adding to the mix is the new neighbor (Red Riding's Paddy Considine) and mom's ex-boyfriend, things are quickly going to hell for Oliver.
For being a first time director, Ayoade has made something special. He's got a great sense of style and unlike most American coming-of-age stories, this one never bows down to the audience in order to make things simple and easy.
Ayoade and Roberts (last seen in Jane Eyre), craft a character who's sanity you often question. Oliver is emotionless throughout most of the film, but you're never not rooting for him to make things right.
This film could have easily been a piece of absurd nonsense but Ayoade' s casting is so spot-on and true that you just smile watching the actors carry out these incredibly ridiculous scenes. The mullet-wearing Considine, mom Hawkins and dad Taylor are particularly fun to watch.
Don't go to the theater expecting some escapist fun, watch this to see something unique and leave the theater hoping there is more from Ayoade to come.
Latest Videos
http://www.dailyactor.com/wp-content/uploads/2014/07/bill-hader.jpg
Bill Hader: "I kind of fell into acting" (video)
Bill Hader, starring in the soon to be released The Skeleton Twins, talks about the film and how he fell into acting and then got "crazy lucky" in this quick video from USA Today. Share on Tumblr
http://www.dailyactor.com/2014/07/bill-hader-fell-into-acting-video/
http://www.dailyactor.com/wp-content/uploads/2014/07/director-john-carney-narrates-a.jpg
Director John Carney Narrates a Scene from 'Begin Again' Starring Kiera Knightley and Mark Ruffalo
Director John Carney (Once) narrates a scene from his new film, Begin Again. Starring Keira Knightley and Mark Ruffalo, the scene shows the first time the two characters meet. I haven't seen it yet but I've heard it's great.
http://www.dailyactor.com/2014/07/begin-again-scene-director-john-carney-keira-knightley-mark-ruffalo/
http://www.dailyactor.com/wp-content/uploads/2014/07/holler-if-you-hear-me-gma.jpg
Watch the Cast of Broadway's 'Holler If You Hear Me' Perform 'California Love' on GMA
The cast of Broadway's newest musical, Holler If You Hear Me with music from Tupac Shakur, performed on Good Morning America this morning. Singing 'California Love', the cast (including the teriffic Christopher Jackson – read our interview here), show why they're the most energetic and inspiring group of actors on Broadway. Holler If Ya Hear [...]
http://www.dailyactor.com/2014/07/watch-cast-broadways-holler-hear-perform-california-love-gma/
http://www.dailyactor.com/wp-content/uploads/2014/07/behind-the-scenes-of-dawn-of-the.jpg
Behind the Scenes of 'Dawn of the Planet of the Apes' with Performance Capture Actor Terry Notary
Actor Terry Notary is 1 of 5 actors playing the apes in the new Dawn of the Planet of the Apes. "When you see armies of apes," he says, that's "five of us." Check out the video where you can watch his performance capture work.
http://www.dailyactor.com/2014/07/dawn-planet-apes-performance-capture-actor-terry-notary/
http://www.dailyactor.com/wp-content/uploads/2014/07/melissa-mccarthy-daily-show.jpg
Melissa McCarthy and John Stewart Talk About Terrible Commercial Auditions on 'The Daily Show'
Melissa McCarthy stopped by The Daily Show last week to plug about her new movie, Tammy. She talked about how she loved working with her husband, Ben Falcone (director of Tammy) and then segued into talking about some horrible working situations. The always hilarious McCarthy then started to tell host John Stewart about a particular [...]
http://www.dailyactor.com/2014/07/melissa-mccarthy-john-stewart-commercial-auditions-the-daily-show/