Los Angeles Actors – Find Your Missing Link!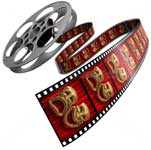 Find Your Missing Link!

A Free Seminar that Will Change Your Acting Life brought to you by The Savvy Actor

Three dates in June to find YOURS!
By now you've figured out that being a working actor is more than going to auditions, mailing out headshots and landing that agent.
So what's missing?

"The Savvy Actor has changed my life! This is the stuff they don't teach you that you MUST know if you plan to have a career in this business. I know where I'm going and I know how to get there! It's completely and utterly empowering!" 
– Michael Howell, Actor
Odds are you can relate to one of the following  -
You walk in the audition room and  get caught up in figuring out what 'they' want and driving yourself crazy.
You have an agent but still aren't getting in all the doors you want.
You feel like you're doing a lot for your career, submitting yourself for everything you can,  but you feel a bit stuck and overwhelmed.
This seminar is your answer, your reality check, your key to what it takes to get your acting career out of limbo and on the fast track to living your dreams.

"The SAVVY ACTOR is by the far the best time and money I have spent towards the business side of my career. My spirits were uplifted by the SAVVY team – they really empower you and instill in you that your career really is in YOUR CONTROL." 
– Hayley Richelson
Join NYC's Branding and Marketing experts for this free hour to learn what no other 'acting business' workshop is talking about -
The missing link that is the foundation for any successful career.
The #1 rule of business that most actors leave out.
The Six Business Fundamentals that will completely change your acting life!
"Whether you have been in this business 1 year, 10 years, or 30 years, I could not give you better advice than GET YOURSELF to the Savvy Actor . Any actor, ANY AGE can benefit from The Savvy Actor."
– Chris Nichols, Agent, Kerin-Goldberg Associates
RSVP today and Find YOUR Missing Link!
"Having been in the business for about 30 years, I found The Savvy Actor MBA to be one of the most helpful, informative, instructive practical and pragmatic courses I have ever taken. If I had known about these 'business' skills and practices 20 years ago well ……… you know the rest!"
- Paul McGrane
Click Here to SIGN UP NOW!
Tues, June 14th  7:30-8:30pm
Wed, June 15th  1:00-2:00pm
Tues, June 21st  1:00-2:00pm

Don't miss out on this innovative seminar that will completely revolutionize the way LA actors do business!
Go to www.TheSavvyActor.com for more info.
http://www.dailyactor.com/wp-content/uploads/2015/01/watch-al-pacino-talks-the-humbli.jpg
Watch: Al Pacino Talks 'The Humbling' and His Extraordinary Career
In this conversation with Al Pacino talks about his role in The Humbling -- including working with Greta Gerwig -- and his historic acting career
http://www.dailyactor.com/2015/01/watch-al-pacino-extraordinary-career/
http://www.dailyactor.com/wp-content/uploads/2015/01/watch-oscar-nominee-steve-carell.jpg
Watch: Oscar Nominee Steve Carell Talks Improv, Auditioning for 'The Office' and 'Foxcatcher'
Carell talks about his entire career as an actor, including his background in improv, how he landed the Michael Scott role on The Office, and Foxcatcher
http://www.dailyactor.com/2015/01/oscar-nominee-steve-carell-improv-auditioning-for-the-office-foxcatcher/
http://www.dailyactor.com/wp-content/uploads/2015/01/ethan-hawke-ellar-coltrane-boyhood.jpg
Ethan Hawke Calls 'Boyhood' the "most special endeavor of my life"
Ethan Hawke is riding high with his fourth Oscar nomination for the Richard Linklater-directed Boyhood. In a recent "Ask Me Anything" on Reddit, the 44-year-old actor gave some thoughtful insight into his career and the 12-year creative endeavor that became the biggest film of the Oscar season. When asked what was the most difficult thing about […]
http://www.dailyactor.com/2015/01/ethan-hawke-boyhood-reddit-amaife/
http://www.dailyactor.com/wp-content/uploads/2015/01/martha-plimpton-a-delicate-balance.jpg
Martha Plimpton Takes a Refreshing Approach to a Long-Lasting Career
Martha Plimpton is an actress who enjoys the work, she's not in it for the fame. The proof is in her continually excellent work that she is doing on-screen and on the stage. She's currently starring in A Delicate Balance on Broadway. It's the audience who gives her the ultimate thrill. "I try to get […]
http://www.dailyactor.com/2015/01/martha-plimpton-long-lasting-career/
http://www.dailyactor.com/wp-content/uploads/2015/01/watch-michael-keaton-talks-candi.jpg
Watch: Michael Keaton Talks Candidly About His Career and His Approach to Acting in 'Birdman'
In this nearly 90 minute conversation, Michael Keaton is his usual affable self but is also remarkably candid about his career and his approach to acting.
http://www.dailyactor.com/2015/01/michael-keaton-career-approach-to-acting-birdman/