'Thank You' Cards – Politeness Goes A Long Way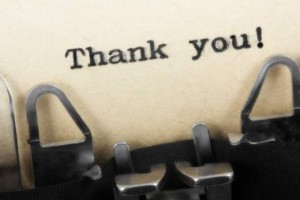 There are so many different rumors about how to do something in the acting world, and everyone has their own opinion on them.  Although this industry works for many people in many different ways, it's important that we take in all the information that we've gathered and come up with a general consensus on how you want to approach "your business."
I was speaking with a casting director (who will remain unnamed for now) the other day about 'Thank You' Cards in our industry.  We discussed the reasoning behind this, and it became very clear that these can be important.  Most of all it boils down to the simplest of all mannerisms… being polite.
Yes, something that most of us do everyday: opening doors for people, saying "please", even saying "bless you."  Although, I've easily seen actors skip this step when it comes to the audition process: Do you greet everyone with a smile and hello? Are you patient, even if you got there early and you've been waiting a while? Do you thank your reader? Did you acknowledge everyone in the room?
These are all simple things to think about. [on top of remembering our sides, getting into character, and taking adjustments, etc. ]  With some practice, you can do these simple things and the weird part about it is – PEOPLE NOTICE!  It's as simple as being polite and giving it your best shot.  This just increases your chance of the producers and casting directors rooting for you to do the great job they are looking for.
'Thank You' cards can go a long way with this process as well.  Sending cards not only acknowledges that you are thankful for being given the opportunity to audition, but also reminds the casting director of your name and face (which can really come in handy later.)  It also lets them know that you took the time to send this and that you would like to work for them in the future as well.  Don't break the bank on these.  Just sending something with your picture and saying "Thank You" is enough.  This will also help you keep the casting director in your files.  Next time you audition or do mailings, you can remind that person of the work you have done since auditioning for the role.
Remember, this industry is built on relationships. Being polite and sending cards are just a means to help strengthen them.
Break a leg, guys!!
Latest Videos
http://www.dailyactor.com/wp-content/uploads/2014/08/seth-rudetsky-reveals-the-5-wors.jpg
Seth Rudetsky Reveals the 5 Worst Musical Theater Audition Mistakes (video)
Seth Rudetsky, actor, musician and a host on SiriusXM's Broadway channel, has been teaching auditioning master classes this summer and he's seen his share of bad auditions lately. In this video, he reveals the 5 worst audition mistakes you can make in a musical theater audition and how to choose the perfect 16-bar audition song. [...]
http://www.dailyactor.com/2014/08/seth-rudetsky-5-worst-audition-mistakes/
http://www.dailyactor.com/wp-content/uploads/2014/07/sir-ben-kingsley-talks-about-the.jpg
Sir Ben Kingsley Talks about the Unique Way He Voiced His Character in the Animated Film, 'The Boxtrolls' (video)
I could listen to Sir Ben Kingsley talk about acting and.. well, I could listen to him talk about anything. He's starring in the new Laika stop-motion animated film, The Boxtrolls, and he and some of the cast (along with the director) joined in on a Comic-Con panel about the film. The Boxtrolls is about [...]
http://www.dailyactor.com/2014/07/sir-ben-kingsley-the-boxtrolls-comic-con/
http://www.dailyactor.com/wp-content/uploads/2014/07/bill-hader.jpg
Bill Hader: "I kind of fell into acting" (video)
Bill Hader, starring in the soon to be released The Skeleton Twins, talks about the film and how he fell into acting and then got "crazy lucky" in this quick video from USA Today.
http://www.dailyactor.com/2014/07/bill-hader-fell-into-acting-video/
http://www.dailyactor.com/wp-content/uploads/2014/07/director-john-carney-narrates-a.jpg
Director John Carney Narrates a Scene from 'Begin Again' Starring Kiera Knightley and Mark Ruffalo
Director John Carney (Once) narrates a scene from his new film, Begin Again. Starring Keira Knightley and Mark Ruffalo, the scene shows the first time the two characters meet. I haven't seen it yet but I've heard it's great.
http://www.dailyactor.com/2014/07/begin-again-scene-director-john-carney-keira-knightley-mark-ruffalo/
http://www.dailyactor.com/wp-content/uploads/2014/07/holler-if-you-hear-me-gma.jpg
Watch the Cast of Broadway's 'Holler If You Hear Me' Perform 'California Love' on GMA
The cast of Broadway's newest musical, Holler If You Hear Me with music from Tupac Shakur, performed on Good Morning America this morning. Singing 'California Love', the cast (including the teriffic Christopher Jackson – read our interview here), show why they're the most energetic and inspiring group of actors on Broadway. Holler If Ya Hear [...]
http://www.dailyactor.com/2014/07/watch-cast-broadways-holler-hear-perform-california-love-gma/