'Thank You' Cards – Politeness Goes A Long Way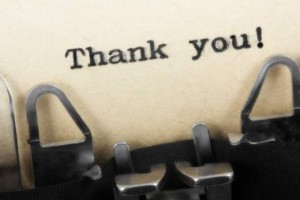 There are so many different rumors about how to do something in the acting world, and everyone has their own opinion on them.  Although this industry works for many people in many different ways, it's important that we take in all the information that we've gathered and come up with a general consensus on how you want to approach "your business."
I was speaking with a casting director (who will remain unnamed for now) the other day about 'Thank You' Cards in our industry.  We discussed the reasoning behind this, and it became very clear that these can be important.  Most of all it boils down to the simplest of all mannerisms… being polite.
Yes, something that most of us do everyday: opening doors for people, saying "please", even saying "bless you."  Although, I've easily seen actors skip this step when it comes to the audition process: Do you greet everyone with a smile and hello? Are you patient, even if you got there early and you've been waiting a while? Do you thank your reader? Did you acknowledge everyone in the room?
These are all simple things to think about. [on top of remembering our sides, getting into character, and taking adjustments, etc. ]  With some practice, you can do these simple things and the weird part about it is – PEOPLE NOTICE!  It's as simple as being polite and giving it your best shot.  This just increases your chance of the producers and casting directors rooting for you to do the great job they are looking for.
'Thank You' cards can go a long way with this process as well.  Sending cards not only acknowledges that you are thankful for being given the opportunity to audition, but also reminds the casting director of your name and face (which can really come in handy later.)  It also lets them know that you took the time to send this and that you would like to work for them in the future as well.  Don't break the bank on these.  Just sending something with your picture and saying "Thank You" is enough.  This will also help you keep the casting director in your files.  Next time you audition or do mailings, you can remind that person of the work you have done since auditioning for the role.
Remember, this industry is built on relationships. Being polite and sending cards are just a means to help strengthen them.
Break a leg, guys!!
http://www.dailyactor.com/wp-content/uploads/2015/01/watch-al-pacino-talks-the-humbli.jpg
Watch: Al Pacino Talks 'The Humbling' and His Extraordinary Career
In this conversation with Al Pacino talks about his role in The Humbling -- including working with Greta Gerwig -- and his historic acting career
http://www.dailyactor.com/2015/01/watch-al-pacino-extraordinary-career/
http://www.dailyactor.com/wp-content/uploads/2015/01/watch-oscar-nominee-steve-carell.jpg
Watch: Oscar Nominee Steve Carell Talks Improv, Auditioning for 'The Office' and 'Foxcatcher'
Carell talks about his entire career as an actor, including his background in improv, how he landed the Michael Scott role on The Office, and Foxcatcher
http://www.dailyactor.com/2015/01/oscar-nominee-steve-carell-improv-auditioning-for-the-office-foxcatcher/
http://www.dailyactor.com/wp-content/uploads/2015/01/ethan-hawke-ellar-coltrane-boyhood.jpg
Ethan Hawke Calls 'Boyhood' the "most special endeavor of my life"
Ethan Hawke is riding high with his fourth Oscar nomination for the Richard Linklater-directed Boyhood. In a recent "Ask Me Anything" on Reddit, the 44-year-old actor gave some thoughtful insight into his career and the 12-year creative endeavor that became the biggest film of the Oscar season. When asked what was the most difficult thing about […]
http://www.dailyactor.com/2015/01/ethan-hawke-boyhood-reddit-amaife/
http://www.dailyactor.com/wp-content/uploads/2015/01/martha-plimpton-a-delicate-balance.jpg
Martha Plimpton Takes a Refreshing Approach to a Long-Lasting Career
Martha Plimpton is an actress who enjoys the work, she's not in it for the fame. The proof is in her continually excellent work that she is doing on-screen and on the stage. She's currently starring in A Delicate Balance on Broadway. It's the audience who gives her the ultimate thrill. "I try to get […]
http://www.dailyactor.com/2015/01/martha-plimpton-long-lasting-career/
http://www.dailyactor.com/wp-content/uploads/2015/01/watch-michael-keaton-talks-candi.jpg
Watch: Michael Keaton Talks Candidly About His Career and His Approach to Acting in 'Birdman'
In this nearly 90 minute conversation, Michael Keaton is his usual affable self but is also remarkably candid about his career and his approach to acting.
http://www.dailyactor.com/2015/01/michael-keaton-career-approach-to-acting-birdman/