San Diego Repertory Theatre Seeking Actors for 'The Great American Trailer Park Musical'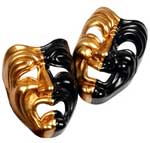 The Great American Trailer Park Musical
Music and Lyrics by David Nehls
Book by Betsy Kelso
Directed by Sam Woodhouse, Artistic Director of San Diego Repertory Theatre
Choreography by Javier Velasco
We are seeking both union and non-union performers.
About the Play
There's a new tenant at Armadillo Acres—and she's wreaking havoc all over Florida's most exclusive trailer park. When Pippi, the stripper on the run, comes between the Dr. Phil–loving, agoraphobic Jeannie and her tollbooth collector husband—the storms begin to brew. This is a hilarious tongue-in-cheek, satirical, country-rock and blues musical about adultery, '80s nostalgia, spray cheese, road kill, hysterical pregnancy, a broken electric chair, kleptomania, strippers, flan, and disco.
Performance Schedule
Rehearsals Begin:      October 10, 2011
Performance Dates:  November 5 – December 4, 2011
Last Day of Possible Extension:  December 18th, 2011
Performance Space: Lyceum Stage in Horton Plaza, downtown San Diego
We're currently seeking to cast 5 females and 2 males the following roles:
All actors must be strong actors/singers with skilled comedic timing and country/rock style vocals.
JEANNIE GARSTECKI 35-45, Belt and Legit Mezzo. Jeannie has lived in a trailer at Armadillo Acres for 20 years with her husband and high-school sweetheart, Norbert. She was 17 when she was married, 18 when her son was born, and 23 when he was kidnapped. This traumatic event turned her into an agoraphobic, and she hasn't left her trailer since, and the man she loves is drifting further and further away.
NORBERT GARSTECKI 35-45, High Baritone. Norbert is Jeannie's husband and collets tolls for a living. He tried to be as good a husband as one can be to an agoraphobic. He is a former high-school football star whose rugged good looks are marred by fatigue and the stress of his difficult marriage. He is a simple man who desperately wishes his wife could get out of the trailer but is not equipped with the emotional or intellectual tools to help her do it. Instead he ends up doing something he's never done before, sleeping with another woman who happens to be a professional stripper.
PIPPI 28-35, Large Belt. Pippi is a striking beauty with a great body and a taste for clothing that shows it off. She is a professional stripper who has gotten by on her looks and talents for dancing and petty theft. She means no harm and is ready to stop making bad choices and start making changes. She leaves her boyfriend and moves to the small town of Armadillo Acres to start over.
DUKE 20s, Rock Tenor. Duke is Pippi's obsessive, possessive, and excessive Magic-Marker-sniffing boyfriend; "ex"-boyfriend according to Pippi. Not so, according to Duke.
BETTY 30s-50s, Rough Belt. One of  "The Girls", Betty attended high school with Norbert and Jeannie Garstecki and has lived in Armadillo Acres for just as long. She now runs the leasing office and makes it her business to know everything about everybody who passes through the trailer park. Betty is the mother hen to the denizens of the trailer park. Of all of "The Girls", Betty is the most grounded, earthy and dry.
LINOLEUM "LIN" 30s, Belt. One of "The Girls." So-named because her mother gave birth to her on the kitchen floor, Linoleum has a husband on death row at the Florida State Prison. His fate is an electric chair that doesn't work properly unless most of the town's electricity is turned off. So Lin watches everyone's lights and appliances very closely in the hopes that she can keep the chair on the fritz. Sometimes self-absorbed and sometimes has a smart mouth, she hints at a wild, rock-and-roll past and is the fiercest of "The Girls."
DONNA "PICKLES" late teens-early 20s, Belt. One of "The Girls." A newlywed, Donna is called "Pickles" because she is perpetually hysterically pregnant—that is, she's so convinced she should be pregnant she's exhibiting symptoms. Her husband is a lot fancier than she is, as he is from the big city of Jacksonville. His parents haven't been very supportive of his marital choice, so Pickles is desperate to give her husband a family of his own—even if she has to fake it. The dimmest of "The Girls," Pickles is airy, sweet, and blissfully ignorant.
Submission Process:     Please send headshot and resume to Casting Director, Jessica Bird (no web site links, please):
Email:      casting@sdrep.org, or
Mail:        Casting: Trailer Park
San Diego Repertory Theatre
79 Horton Plaza
San Diego, CA  92101
Questions?  Please call Jessica at (619) 231-3586 x 638
Latest Videos
http://www.dailyactor.com/wp-content/uploads/2014/04/wondercon-falling-skies-intervie.jpg
WonderCon: 'Falling Skies' Interview with Moon Bloodgood & Seychelle Gabriel
Moon Bloodgood and Seychelle Gabriel were at WonderCon to talk about the upcoming season of TNT's 'Falling Skies'. The show is the story of life and survival in the wake of a catastrophic alien invasion. Noah Wyle stars as Tom Mason, a college professor who became an unlikely resistance leader. Bloodgood is Dr. Ann Glass, [...]
http://www.dailyactor.com/2014/04/wondercon-falling-skies-interview-with-moon-bloodgood-seychelle-gabriel/
http://www.dailyactor.com/wp-content/uploads/2014/04/wondercon-dawn-of-the-planet-of.jpg
WonderCon: 'Dawn of the Planet of the Apes' Press Conference with Gary Oldman & Andy Serkis
Gary Oldman, Keri Russell, Andy Serkis and Director Matt Reeves were at WonderCon to talk about the upcoming, Dawn of the Planet of the Apes. I loved the first one and can't wait for this to come out. Serkis is terrific in everything and to watch him go to e-to-toe with Oldman will be a [...]
http://www.dailyactor.com/2014/04/wondercon-dawn-of-the-planet-of-the-apes-press-conference-with-gary-oldman-andy-serkis/
http://www.dailyactor.com/wp-content/uploads/2014/04/wondercon-how-to-train-your-drag.jpg
WonderCon: 'How To Train Your Dragon 2′ Press Conference with Jay Baruchel
Jay Baruchel and writer/director Dean DeBlois were at WonderCon to chat about the upcoming sequel, How To Train Your Dragon 2. In the press conference, they talk about the film, how Baruchel feels like he's taken ownership of his character and a bit about his acting career. The film is in theaters June 13th.
http://www.dailyactor.com/2014/04/wondercon-how-to-train-your-dragon-2-press-conference-with-jay-baruchel/
http://www.dailyactor.com/wp-content/uploads/2014/04/wondercon-sean-bean-tina-majorin.jpg
WonderCon: Sean Bean, Tina Majorino, Ali Larter & Morris Chestnut Talk 'Legends'
The cast and executive producer of TNT's new show, Legends held a press conference at WonderCon to talk about the show, their characters and more. Legends is based on the book by spy novelist Robert Littellon and stars Sean Bean (Game of Thrones, The Lord of the Rings) as Martin Odum, an undercover agent working [...]
http://www.dailyactor.com/2014/04/wondercon-sean-bean-tina-majorino-ali-larter-morris-chestnut-talk-legends/
http://www.dailyactor.com/wp-content/uploads/2014/04/john-turturro-narrates-a-scene-f.jpg
John Turturro Narrates a Scene from His New FIlm, 'Fading Gigolo'
John Turturro narrates a sequence from his film, Fading Gigolo. The film, which written and directed by Turturro and stars Woody Allen, Sharon Stone and Sophia Vergara, is about how Turturro's character falls into the becoming a gigolo, thanks to his "pimp", played by Allen.
http://www.dailyactor.com/2014/04/john-turturro-narrates-a-scene-from-his-new-film-fading-gigolo/