Grace Park talks about Hawaii Five-O and how she got the part of Kona
Podcast: Play in new window | Download (Duration: 6:09 — 4.3MB)
Grace Park is probably best known for her work on Battlestar Gallactica. Or maybe you caught her on Stargate, The Dead Zone or in the Benjamin Bratt series, The Cleaner. Regardless of where you've seen her, you know she can hold her own against strong male characters.
Well, she's about to do it again in the re-boot of Hawaii Five-O.
She plays Kona, who in the original series was a man. We talked at Comic-Con (in a roundtable format so most of the questions aren't mine) about her character, how she got the part and more!
How has the character of Kona changed from the original series? Can you talk about who Kona is?
Grace Park: I think Kona adds an interesting element because you could have Hawaii Five-0 be a team of four men and that would be great, but it's always great to be able to have more tools at your disposal. And if you do have a woman on the team there's things they may or may not be able to access because of the sheer fact that she's a woman. You can disarm people, that kind of thing.
She is a rookie cop that's going to join this new forming team and she's related to Chin Ho Kelly (Daniel Dae Kim) and she gets to meet Danno (Scott Caan) and McGarrett (Alex O'Loughlin) right off the bat. She participates in something she probably wouldn't be able to on her own because she would be just a rookie out of the academy and into the police force. But, she gets thrust into this world of crime but really cutting-edge, like, at the forefront, and probably not following all the rules but they get done what they need to get done and it's kind-of the nature of this new team, Hawaii Five-0.
What is her role in the team and what's her personality like?
I think you're going to see that she's a bit of a–she's pretty hands on, she's a tomboy, she likes to roll with the boys, but, at the same time, she is a woman. But being a little bit younger than maybe some of her other counterparts, she's discovering who she is–that kind of thing. But, I think for the most part you're going to see her involved in gunfights and one-on-one fights and hopefully a little bit of this technology as well in solving the crimes.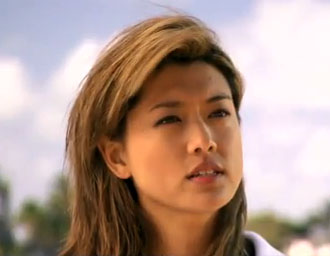 Do you feel any pressure playing Kona? Because in the original series, he was a man.

You know, I think if I was playing Katee Sackhoff's role as Starbuck in the original and there was a lot of animosity maybe I'd have some similar feelings, but like Boomer, Kona was an important character in the original show, but not necessarily front and center. So, I think there's less attention drawn to the role. I think it's kind-of an interesting tidbit.
Doing remakes is not a guaranteed thing, as we've seen many come and go. But with the people attached to this project behind the scene and in front, there's a lot of talent and skill. I mean, you can't foretell the future but if you look at the things that they have worked on you get a sense of their work ethic and what they have in mind, and I liked what I saw before. I was blown away so I wanted to be a part of it.
Did you audition for this role or did they just want you immediately?
It would have been nice if they had just wanted me immediately, but, no. [LAUGHTER] I met with Meg Lieberman who is the studio head of casting at CBS.  Then she told me that she came to Vancouver to see all the talent up there just as a general, and at that time I heard there was some excitement but then I didn't hear anything for months and I just thought they passed me by. And then I got a call for a screen-test offer, which, the word "offer" is in there but it's still– you skip maybe, like, six steps; pre-screen, the director, the producer. That kind of stuff. And you go straight to the end.
But then it's almost more daunting in a way because you step in front of, like, twenty executives at the biggest network in America, and if you fall flat on your face there then it's like, in one fell swoop it's done. [LAUGHTER] So…
http://www.dailyactor.com/wp-content/uploads/2015/01/watch-al-pacino-talks-the-humbli.jpg
Watch: Al Pacino Talks 'The Humbling' and His Extraordinary Career
In this conversation with Al Pacino talks about his role in The Humbling -- including working with Greta Gerwig -- and his historic acting career
http://www.dailyactor.com/2015/01/watch-al-pacino-extraordinary-career/
http://www.dailyactor.com/wp-content/uploads/2015/01/watch-oscar-nominee-steve-carell.jpg
Watch: Oscar Nominee Steve Carell Talks Improv, Auditioning for 'The Office' and 'Foxcatcher'
Carell talks about his entire career as an actor, including his background in improv, how he landed the Michael Scott role on The Office, and Foxcatcher
http://www.dailyactor.com/2015/01/oscar-nominee-steve-carell-improv-auditioning-for-the-office-foxcatcher/
http://www.dailyactor.com/wp-content/uploads/2015/01/ethan-hawke-ellar-coltrane-boyhood.jpg
Ethan Hawke Calls 'Boyhood' the "most special endeavor of my life"
Ethan Hawke is riding high with his fourth Oscar nomination for the Richard Linklater-directed Boyhood. In a recent "Ask Me Anything" on Reddit, the 44-year-old actor gave some thoughtful insight into his career and the 12-year creative endeavor that became the biggest film of the Oscar season. When asked what was the most difficult thing about […]
http://www.dailyactor.com/2015/01/ethan-hawke-boyhood-reddit-amaife/
http://www.dailyactor.com/wp-content/uploads/2015/01/martha-plimpton-a-delicate-balance.jpg
Martha Plimpton Takes a Refreshing Approach to a Long-Lasting Career
Martha Plimpton is an actress who enjoys the work, she's not in it for the fame. The proof is in her continually excellent work that she is doing on-screen and on the stage. She's currently starring in A Delicate Balance on Broadway. It's the audience who gives her the ultimate thrill. "I try to get […]
http://www.dailyactor.com/2015/01/martha-plimpton-long-lasting-career/
http://www.dailyactor.com/wp-content/uploads/2015/01/watch-michael-keaton-talks-candi.jpg
Watch: Michael Keaton Talks Candidly About His Career and His Approach to Acting in 'Birdman'
In this nearly 90 minute conversation, Michael Keaton is his usual affable self but is also remarkably candid about his career and his approach to acting.
http://www.dailyactor.com/2015/01/michael-keaton-career-approach-to-acting-birdman/